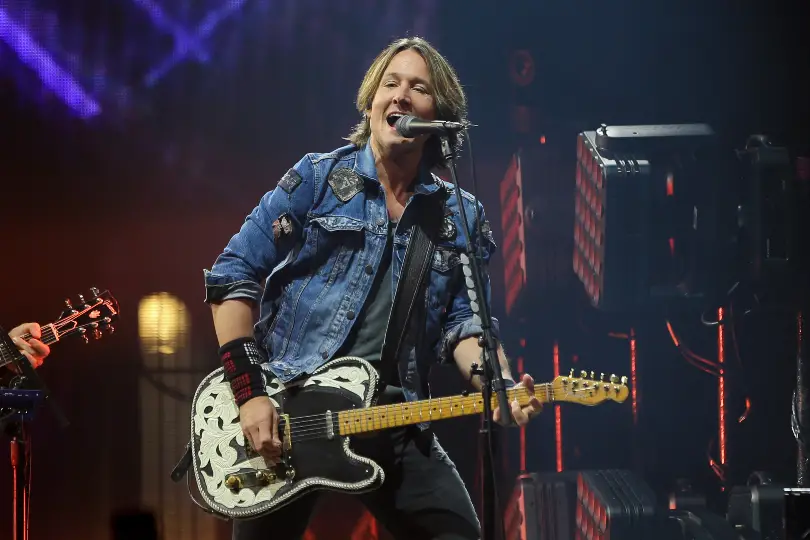 Keith Urban once couldn't imagine the life he has now, and now he can't imagine it any other way. A former alcoholic, who has been sober since 2006, the 54-year-old finds it hard to even remember what he was like when his life revolved around drugs and alcohol.
"I guess I used to do a thing where I'd work out the ramifications of whatever I did and then decide whether it was worth it — and most of the time I decided it was going to be despite the problems it would cause," Urban tells The Sun. "I'd go, 'I know this is going to cause this issue, but it will be bloody fun.' Nighttime me hates daytime me, it's so true. But the next morning nighttime me is nowhere to be found — he's totally unaccountable."
Urban, who has said he doesn't necessarily like to talk about his sobriety, doesn't have any tried and true methods that he can — or will — suggest to other people. He only knows what works for him, especially with his superstar career.
"These days I don't do anything religiously to live healthier — I just do what I have to so that I can live the life I want to live," Urban says. "Nothing more, nothing less. I want to be able to play for hours on stage effortlessly, and still feel good the next day … I don't lecture people on stuff, not at all. I want people to come to my shows and enjoy their night. They don't come to hear me tell them what to do, and everyone has to do what's right for them."
The husband of actress Nicole Kidman, and proud father to daughters Sunday, 13, and Faith, 11, is always mindful that he is responsible for more lives than just himself, with his impressionable children watching everything he says and does.
"Life is very different nowadays," Urban acknowledges. "I'm trying to set a good example for the kids, but I still don't know if I'm getting it right. I have made so many mistakes, but you have to work out what works for you. My message to them is always to do whatever they are passionate about, I don't care, as long as they work hard to achieve it. Both Nic and I worked really hard.
"For me, it was like paying dues twice," he continues. "I worked my way up through the clubs in Australia to get a record deal, and then moved to the US and had to start all over again from the bottom. Luckily things worked out a second time. I did other jobs along the way. I worked in a warehouse renting out lighting equipment to other bands, but I just wanted to play. I wasn't any good at anything else."
Urban is back on the road, complicating even more how to be present as a husband and a father, while also fulfilling his life's passion. It's a struggle he willingly embraces.
"Work-life balance is never really achieved, it is maintained," Urban says. "It can easily go out of whack. I've learned a lot about how to correct them. Umpteen years ago I never corrected things until it was too late, but now I see it starting to go out and I'm much better at catching it before things implode."
. Find a list of all of Urban's upcoming shows, as well as purchase his music, at KeithUrban.com.