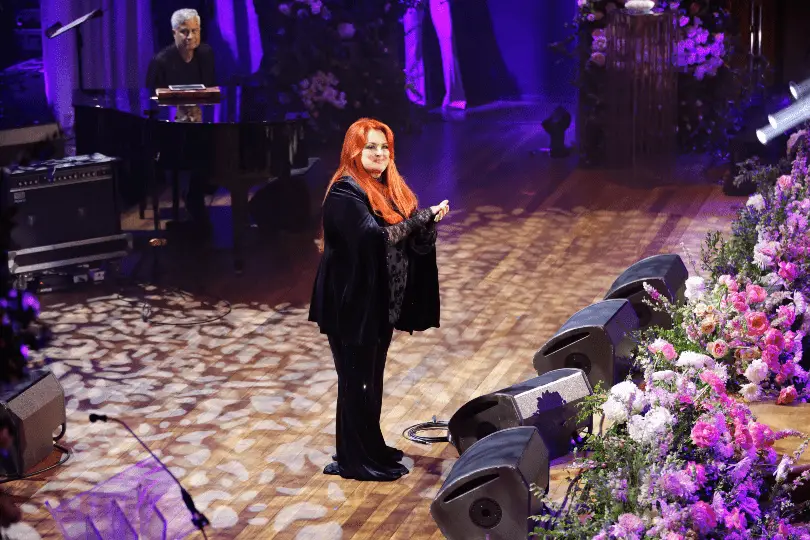 It was during the public memorial service, Naomi Judd: A River of Time Celebration for Naomi Judd that her daughter Wynonna announced that she would continue The Judds' planned farewell The Final Tour, in honor of her mother. Fortunately, Wynonna won't have to face the shows alone. The Kentucky native just announced an impressive rotating list of opening acts, including Faith Hill, Trisha Yearwood, Ashley McBryde, Little Big Town and Brandi Carlile, with more artists expected to be announced. Martina McBride, slated to serve as the opening act on select dates of the tour, will still serve as the opening act for some of the dates.
"I am humbled, once again, by the loyalty of the fans who have been with us for 38-plus years, who continue to show up for me when I need them the most," Wynonna says. "I am grateful that we will continue to honor The Judds legacy, together."
Naomi's husband, Larry Strickland, says he is thankful that the show will continue, even without his wife.
"I am so happy that in this time of grief for us all, Wynonna has agreed to move forward with this tour as my sweet wife Naomi would have wanted her to do," he adds.
The last stop on The Judds: The Final Tour will take place in Lexington, Kentucky on October 29, a fitting end in the state where The Judds' musical journey began. Hill will celebrate the last show with Wynonna, at Rupp Arena.
"What a full-circle moment it will be to end the tour in Kentucky where it all began," Wynonna says. "It means so much to have my sister-friend, Faith, join me for this musical celebration. It is pretty amazing – all of the people who have come forward to offer up their time and their gifts. I am feeling extra grateful."
Amid the somber occasion, Wynonna earned a thunderous standing ovation when she announced that she would continue the tour.
"I've lived my life publicly since I was 17, so it feels natural to be with my family of choice," Wynonna said from the stage. "Tonight is a celebration, and at the same time, I can't put into words how devastated I am …I said goodbye to her two weeks ago, kissed her on the forehead. Her eyebrows were still perfect. She was unlike anyone in our family. And I miss her so much. But I will continue to sing. I said I would and I will."
See a list of dates below. Find more information at TheJudds.com.
The Judds; The Final Tour Dates
Friday, September 30, Grand Rapids, MI, Van Andel Arena
Saturday, October 1, Toledo, OH, Huntington Center
Friday, October 7, Sioux Falls, SD, Denny Sanford PREMIER Center
Saturday, October 8, Green Bay, WI, Resch Center
Friday, October 14, Duluth, GA, Gas South Arena
Saturday, October 15, Huntsville, AL, Propst Arena @ The Von Braun Center
Friday, October 21, Durant, OK, Choctaw Grand Theater
Saturday, October 22, Ft. Worth, TX, Dickies Arena
Thursday, October 27, Biloxi, MS, Mississippi Coast Coliseum
Friday, October 28, Nashville, TN, Bridgestone Arena
Saturday, October 29, Lexington, KY, Rupp Arena