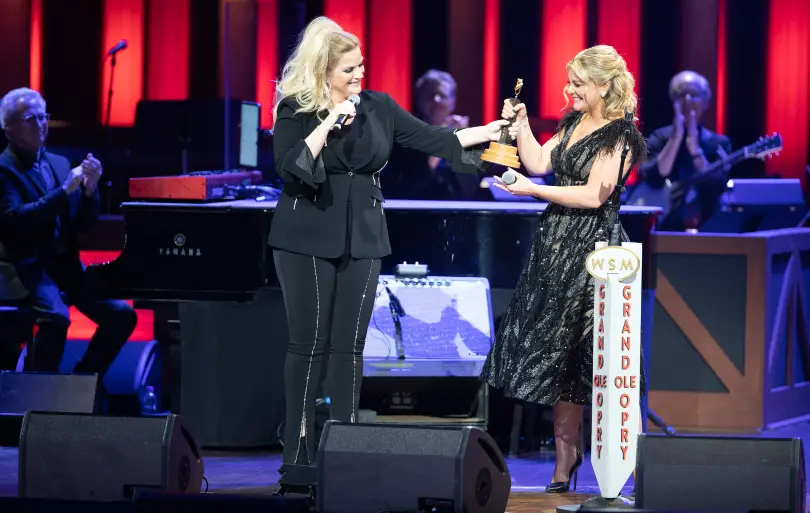 Lauren Alaina is officially a member of the Grand Ole Opry! The American Idol  alum, who was invited to join in December by Trisha Yearwood, was inducted by Yearwood on Saturday, February 12.
"Since I was a little girl I dreamed of this moment," Alaina said from the stage. "My family's very musical. My dad grew up playing the banjo, and he dreamed of playing the Grand Ole Opry. Both of my parents raised me with a huge appreciation for country music and all that it is, and all of the people  … who have come before me. I just want to say that I promise to do everything I can to represent country music. I heard today that I am now the youngest living member of the Grand Ole Opry. That's pretty cool.
"I promise to represent this family well," she continued. "I have felt like a family here as long as I remember … Everyone at the Opry has always made me feel like family, so for me to finally be officially in is the biggest dream come true of all time. Most little girls dreamed of their wedding; I dreamed of this. So hopefully now I can have a wedding, and we'll be set. God bless you guys and God bless country music."
Alaina was surprised prior to her induction by a video from her musical hero, Dolly Parton.
"You and I have a lot in common," Parton said. "We both started young, we love country music and we love the Grand Ole Opry. I'd give a million dollars if I could be there with Trisha and Garth and all the folks that love you to get you inducted into the Grand Ole Opry. There's nothing like it. I will never forget when I got to be on the Grand Ole Opry, and when I get to be a member in 1968, I guess? '69? Somewhere in there. But I loved it, and I love it still. I just want to wish you the best in your whole career. And good luck with the Grand Ole Opry. We love you."
Yearwood had plenty of praise for Alaina, who has become a close friend of hers in recent years.
"What I have gotten to observe in knowing you for the couple of years I have known you is how genuine you are," Yearwood gushed. "I said this when you were invited: I really do think country music is in good hands. You are exactly the kind of artist that the Opry loves, and wants and looks for. Usually, when somebody gets inducted, the person says, 'It's on behalf of all the members of the Grand Ole Opry,' and I'm going to say that, but I also want to say every single person from the house band, to the crew, to the guy that's parking cars, everybody tonight says how deserving you are and it's about time.
"So this is behalf of myself, all the members of the Opry, the crew, and everybody who is associated with the Opry, you are now officially a member of the Grand Ole Opry, Miss Lauren Alaina," she added.
The evening concluded with an appearance by Garth Brooks, who joined Alaina and Yearwood on stage to play guitar while the two sang a duet on "Walkaway Joe."
Alaina's induction begins at the 38:27 mark. Watch the video below.