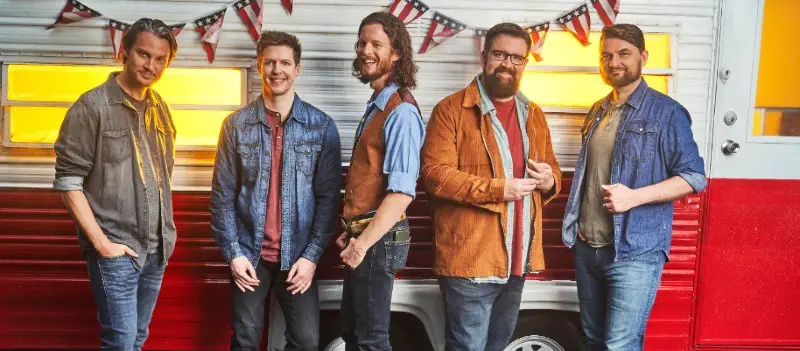 Happy Valentine's Day from Home Free! Only a few days after dropping their humorous "Make You Feel My Love" video, complete with a shirtless Tim Foust vacuuming, the all-vocal group shared a black-and-white video of the Righteous Brothers' "Unchained Melody," first released in 1955, which shows the five men singing — and typing — from a prison.
Home Free's videos, and their music, has earned them attention and accolades around the world, including performances at the Grand Ole Opry, selling out venues across the country and beyond, and collaborations with artists like the Oak Ridge Boys, Don McLean, Alabama, Lee Greenwood, the late Kenny Rogers and more. Their success has already far exceeded the dreams they had for themselves, when they were struggling just to get their music heard in the early years of their career.
"I hoped that we would get to a level where we could tour all over the world, but I never dreamed that we would be members of the Country Music Association," Foust told Everything Nash. "I never dreamed that we'd be regulars on the Grand Ole Opry, that we would be collaborating with absolute country music icons. All of that is just mind-blowing. I'm just buckled up and holding on for the ride."
It's Home Free founder Chris Rupp, who left the all-vocal group in 2016 to pursue other interests, whom Austin Brown credits with much of Home Free's continued success.
"Chris Rupp is one of the most tenacious people I have ever met in my life," Brown told YouTube's Jacob Restituto. "He's such a hard worker. And when they started the band, they just kept it going. And the things that they went through, they would have made 99.9 percent of the people in this world, would have quit … But for some reason, they kept going. There are several stories that they have about how they almost quit, because it was just so terrible, in the pouring down snow, minus 20 and the van breaks down, and the trailer pops a tire, and they're all falling trying to get stuff fixed, and they're stuck after losing money to go do a show.
"But they kept going, and I'm so grateful for that," he added. "Because when I was able to join the band in 2013, they had a good thing going at that point. It was a blessing for me to join at that point. I was like, 'This is awesome!'"
Home Free will resume their Dive Bar Saints Tour this week, on February 17 in Greensboro, North Carolina. The tour also includes several shows in Canada, which were rescheduled from last year. The tour is currently scheduled to wrap up on June 5 in Grand Rapids, Michigan. Find a list of all of Home Free's upcoming shows here.