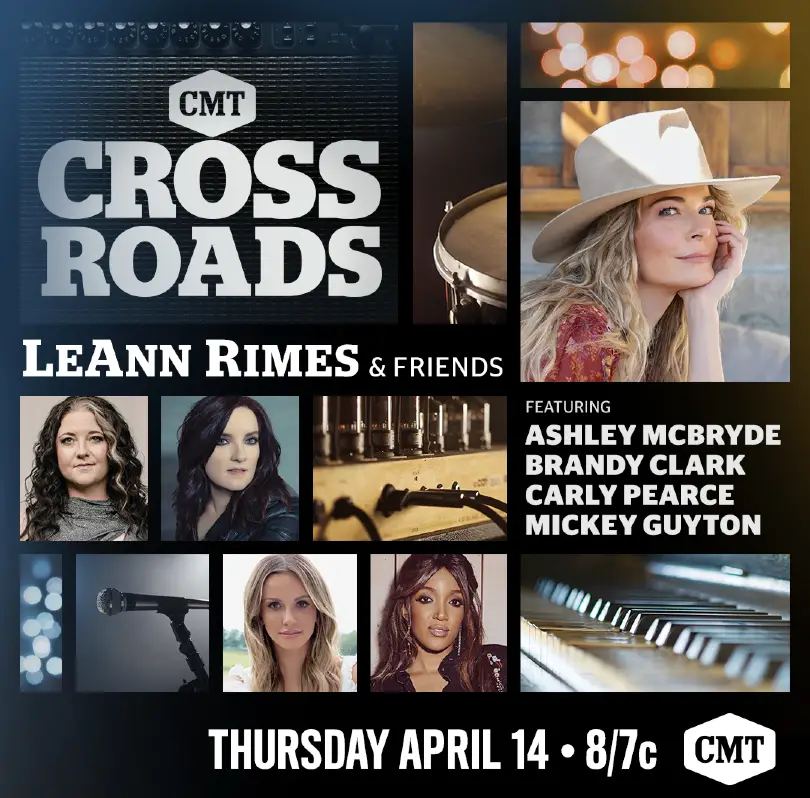 LeAnn Rimes will be the star of an upcoming CMT Crossroads special, LeAnn Rimes & Friends, where she will be joined by a few guests. The "Blue" singer will take the stage for one unforgettable night, along with Carly Pearce, Ashley McBryde, Mickey Guyton and Brandy Clark.
The news comes shortly after Rimes announced her upcoming tour, the story … so far, in support of her upcoming album, god's work.
"It was such a magical and surreal experience, celebrating the past 25 years of my music as a full installment of CMT Crossroads," Rimes shares. "And to share the stage with women who are each, so unique and truly standing in their own magnificence, to get to hear firsthand how I have, in some special way, influenced their artistry… it was humbling and special.
"This is such an expansive year for me, from my new album release later this year to my upcoming tour, and I could not think of a better way to kick it all off than to celebrate the past, present and future with this memorable show," she adds.
It seems fitting that Guyton is singing with Rimes, since it was Rimes who first influenced Guyton to become a country music singer.
"This is such a full-circle moment for me," Guyton said ahead of her own performance of the National Anthem at this year's Super Bowl. "I wanted to become a singer after I saw LeAnn Rimes sing the National Anthem at a Texas Rangers baseball game, and here I am as a grown woman that's going to be standing on that field singing this song, and my intentions are togetherness. There's so much divisiveness, and I just hope that everybody sees themself in this performance. That is my goal; that is where my heart is coming from and I'm just so grateful, so blessed. I am praise dancing. My God! Wow! I'm excited."
LeAnn Rimes & Friends will premiere on April 14 at 8:00 PM CT on CMT. For a list of all of Rimes' upcoming shows, visit her website.