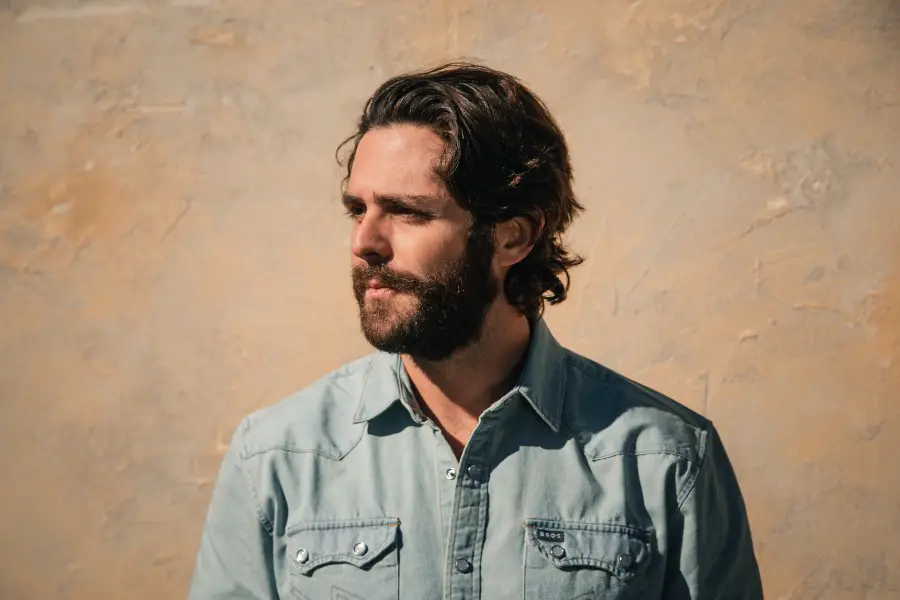 Thomas Rhett's Where We Started album, out on April 1, includes a collaboration with both Tyler Hubbard and Russell Dickerson  on "Death Row." It's a song Rhett wrote with Ashley Gorley and Zach Crowell, inspired by a visit all three men took to a prison around Christmas.
"I can still see it vividly," Rhett shared on his own Apple Music Country's Where We Started Radio, during a conversation with Hubbard and Dickerson. "I remember faces. I remember there were 30 people … on the bottom floor that got to be there on 'good behavior.' And then there were folks up top that literally had their feet chained to the ground and I was like, 'What the crap are we doing here?'"
Rhett was surprised when one of the men requested to hear "Christmas in the Country," a song that Rhett previously released during the holiday season.
"[He] was like, 'Well, we get to watch CMT for an hour every day,'" Rhett recalled. "So they knew every song that we sang. And man, when that dude came down and sang 'Amazing Grace,' I just remember being like, 'This is the most terrifying, most spiritual experience I've ever been a part of.'… That's a day that I will never forget and a day that's really hard to explain until you listen to this song."
The three went thanks to a mutual friend, Al Andrews, who has a ministry working in the prison system, and visits frequently.
"I remember driving there with you guys and Al, and just being like, 'What is this going to be like?'" Hubbard recounted. "We were a little nervous, a little excited; we had our guitars, and we were just going to go play some songs and hopefully minister to these guys and just give them a little love, and hear their story and just hang out. And man, what a special day that was. I can't help but keep thinking about the way we all felt. You said scared to death. We were all kind of nervous. And we were all asking Al all these questions, tell us, 'What are we about to get into?'
"When we were driving there, riding in the truck, riding in your truck. I just remember all feeling a little anxious, a little nervous, a little excited, but I can't help, but think about the way we felt when we left," he continued. "We were all just processing in the truck and talking about basically what had just happened and how it was making us feel, inside and outwardly. We were all kind of just taken back and surprised, but also inspired and grateful for that experience … I think we got to see firsthand the power of Jesus and the power of the Lord."
Like his friends, Dickerson was surprised by the connection they felt with the men in prison, even though nothing about their lives was similar.
"All we have is these documentaries on Netflix of [the] worst prisons in America, face tats, and stabbings and stuff," Dickerson shared. "That's why people are on death row … But as [Al Andrews] has given us his rundown, I'm like, 'This doesn't sound like that. This doesn't feel like that.' And just the gentleness that Al talked about these guys with; and sure enough, when we walk in, it's like, smiles everywhere, hugs everywhere.
"Every time I talk about this song, I end up quoting every line. It's like, 'turns out they are a whole lot like I am,'" he added. "They're us, man. They are totally normal dudes, but they're just stuck in a prison cell for the rest of their lives."
Rhett will embark on his Bring the Bar to You Tour in June. Order Where We Started, and find tour dates, at ThomasRhett.com.