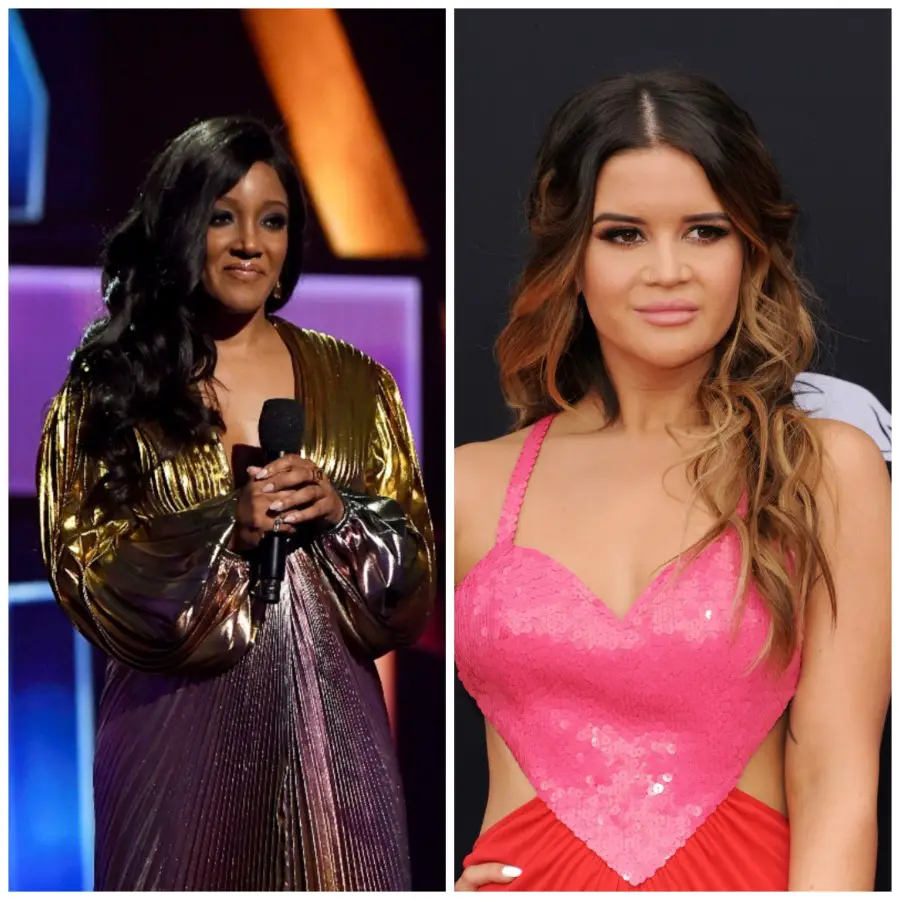 Maren Morris has nothing but praise for Mickey Guyton, after Guyton's role as co-host of the 2021 ACM Awards with Keith Urban. Morris, who won three ACM Awards during the ceremony, lauded the rising star — and new mom — for her flawless performance, both as a host, as well as her performance of the powerful song, "Hold On."
"Mickey just completely slayed it tonight," Morris told reporters backstage after the ACM Awards. "I can't even imagine with a newborn how much goes into hosting a show of this magnitude. And she pulled it off with such aplomb and grace and just wits – I would be so awkward up there. I already am in general, and she just is such a pro. And also her performance left me in tears. So she just killed it."
Morris also performed "Chasing You," with her husband, Ryan Hurd. The mother of one-year-old Hayes has been vocal about embracing body positivity, after her own body underwent changes due to her pregnancy and unexpected emergency C-section.
"It was important for me to realize it," Morris reflected of accepting her new, slightly curvier, body. "And I realized that if I am coming to grips with this realization, I can't be the only one. Especially as a new mother during COVID, I think that bouncing back and not just COVID, but any time, we're always extremely pressed to erase any evidence on our body that we had a child, that we housed a child for nine, 10 months.
"So I just realized how unhealthy that was for me and my workout journey to be like I need to get back to where I was before because that's not really the goal," she continued. "It shouldn't be the goal to just sort of erase the fact that you've had a kid … I'm really proud of where my body is right now, even if it is several pounds heavier."
Morris is even more a fan of powerful women, like Guyton, after the challenges of the previous year.
"I think just my appreciation and sort of innate fascination with women has made me feel like a stronger one in a very hard year of having a child during a pandemic – it being my first child – having a C-section, like all these things kind of went crazy awry," the 31-year-old reflected.
"I have looked to so many women in my life that are mothers and also that aren't mothers that are just bada– chicks that have given me so much respite in a year where so much didn't go as planned," she remarked. "I definitely couldn't have gotten through all of this or found my confidence through new motherhood without women in my life."