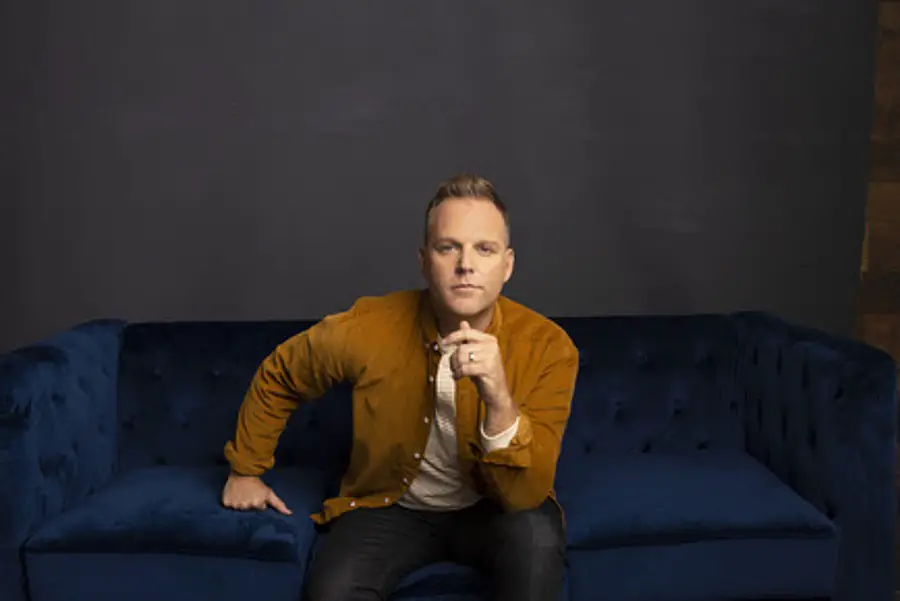 Matthew West will return this year to host the K-LOVE Fan Awards, taking place on May 30 at the Grand Ole Opry in Nashville. West is also nominated for Male Artist of the Year, a category he shares with Crowder, Danny Gokey, Tauren Wells, TobyMac and Zach Williams. West has been nominated for numerous awards over the years, including receiving five Grammy nods. While he is grateful for the recognition, the 44-year-old says that they hold very little significance in his career, especially now.
"It means it means everything. It's all about the awards. Nothing else matters except for recognition and fame," West tells Everything Nash with a laugh. "I'm saying that sarcastically, because I think after a year like what we've been through, I think awards matter less than they ever have. And I don't mean to like make light of an awards show. It's all fun and well and good. But this past year, I had two No. 1 songs that went No. 1 in the middle of a pandemic. And I'm going to tell you right now, you want to have a wake-up call in your life, see an entire world in turmoil.
"Your kids can't go to school, and you can't provide — you can't go play your shows," he continues. "And meanwhile, you're having this career highlight. It kind of puts everything in perspective. I don't know that it matters if I have a No. 1 song or not. What matters is, can my music impact somebody's life and help them find hope during what might be a hopeless season for a lot of people?'"
West has always been more focused on the message he is sharing than any industry recognition, a mindset that has never been more important than now.
"I think it's been really cool to kind of come back to home base in that, and just be reminded," West reflects. "I think really at our core, all of the artists in Christian music, we got into this in the beginning, not even thinking about an award. If we were thinking about awards, we would have probably pursued another genre. My perspective has continued to grow. But I will say, obviously it's always fun to honor artists and writers who have written and performed great music that has encouraged people. It's a fun night of celebration. And I always feel like when we're handing awards out, what we're really doing is we're celebrating what God has done. We're celebrating some really cool things in that sense. So that's kind of how I feel about it."
West has hosted the K-LOVE Fan Awards many times in the past, although the "Truth Be Told" singer admits that role is much different than performing in front of his fans.
"I do get a little bit nervous," West reveals. "I'm very comfortable doing it at this point. I've hosted the K-LOVE Awards I think six times. I'm more confident playing a song because I've put my 10,000 hours in doing that, but telling a joke and hoping it lands — at least Saturday Night Live gets a dress rehearsal, and then they throw out the stuff that's not funny. I don't have that safety net. So, I've got to deliver and bring my A-game whether I'm hosting or performing.
"But it is fun," he adds. "I've attended award shows in the past, and sometimes the difference between an entertaining show and a boring one is who's talking between the songs. And so, I definitely feel a lot of pressure to make sure that the show moves along and that people have a fun time for sure."
The K-Love Fan Awards will air on TBN on June 4, at both 8:00 PM ET and 10:00 PM ET. West will also perform at Lifest, a three-day Christian music festival taking place just outside of Nashville, on Friday, July 30. Keep track of all of West's upcoming shows here.