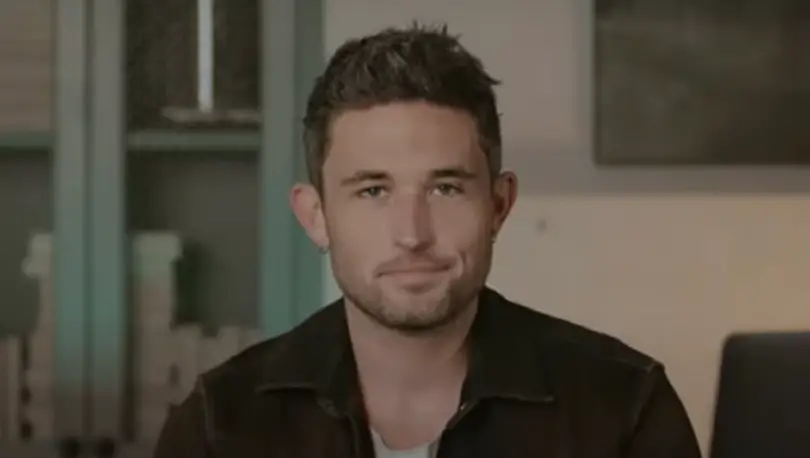 Happy birthday, Michael Ray! The singer turns 34 on April 29. We found 11 things to know about the country music hitmaker.
1. One of his first gigs was with his grandfather.
Ray developed his love of music from his late grandfather, Amos, who not only played Ray an eclectic list of artists, but also used him in his own band. His influence inspired Ray to name his sophomore album Amos.
"I played in my grandfather's band and spent so much time with him that all my friends were his friends," Ray told People. "My 16th-birthday party was me, three friends my age and a whole bunch of senior citizens because that's who I hung out with on the weekends!"
2. He was once on a reality TV talent show.
In 2012, Ray was on the short-lived reality TV talent show, The Next: Fame Is At Your Doorstep. The show included four celebrity mentors: Gloria Estefan, Joe Jonas, Nelly and John Rich. Ray ended up winning the show, and a recording contract with Atlantic Nashville. While the show was not quite the network success some hoped, it did get help Ray form a friendship with Rich, which landed him a single, "Run Away With You," on Big & Rich's 2014 Gravity album.
"They both have been great to me," Ray told The Boot. "I got to know John first, before Big Kenny. They're some of the most loyal dudes. They're all one big family."
"John and I started writing together, and I got two cuts on their new record, and their new single," he continued. "They taught me that Crown in the morning is fine, and they taught me how to start a great party. And even his charity events are awesome. They know how to make everybody feel comfortable, whether you're doing it for charity or [are] just here to play music."
3. He's a morning person.
While musicians tend to often be night owls, Ray doesn't mind seeing the sun come up.
"I'm a morning person," Ray told The Country Daily. "It's irritating to the majority of my band and anybody else that travels with us."
4. Since he is up early, he likes eggs, grits and toast for breakfast.
Ray loves breakfast, especially when he can get it at one of his favorite places in his hometown of Eustis, Florida.
"There's a little mom and pop place in my hometown in Eustis, Fla., called Jeannie's Place and their omelets there are killer," he also told The Country Daily. "That's my all-time favorite. You can't go wrong with eggs, grits and toast."
5. He has been open about his battle with anxiety.
Nothing makes a country music star more endearing than when they are willing to be vulnerable and share their own struggles, something Ray has gladly done.
"I battled anxiety my entire life – a drastic amount that I've hid. It caused ulcers as a kid," Ray told Rolling Stone. "I didn't know what was wrong with me. I was like, 'Why am I waking up and already feel this pressure on my chest?' I'm gonna put on a smile and do this, but on the inside, I'm scared. All this stupid stuff that's in your head and you can't get out," Ray says. "Then I started meeting fans."
"I'm realizing, 'We're all the same and this is me. This is the crap I went through. This is what I battle,'" he continued. "If I can say it, hopefully it inspires somebody through my music or maybe they see an interview or whatever it is, and they go, 'That's how I feel.' There were times where it wasn't the easiest, and I always try to be on and cool: 'Oh, I've got my sh– together.' But I don't."
6. He's in the Guinness Book of World Records.
Ray earned a surprising spot in the Guinness Book of World Records, thanks to a performance he once did in his home state.
"I played in Haines City, Florida a long time ago for the 4th of July," Ray recalls. "And the mayor came up to me and said, 'Hey, we're going to do something. We're going to break the Japan world record for the most sparklers lit at one time.' So I'm a part of it. I thought they were kidding me. The lady was there in the suit and the plaque, and the whole deal. The guy said, 'Where would you like us to send your plaque? You were a part of this.' And I was like, 'You're serious?' Sure enough, about a month later, I got a Guinness Book of World Records plaque."
7. He was inspired to get his numerous tattoos by his father.
Ray's arms are by now pretty covered with tattoos, but he likely isn't done yet. Ray and his father have the same sleeve of tattoos, a way for the two of them to bond, especially after one of his dad's health scares.
"We always joke – I'm like you know most father and sons go fishing. We got sleeve tattoos," Ray told PopCulture.com. "As bold as it could possibly be. But I love it and especially with him going through his second open heart surgery, not knowing the outcome of any surgery, but especially a surgery of that magnitude – I'm his only son, so having to step up and answer the phone and keep everybody informed and the surgery — it's about a four hour, five hour surgery and it took every bit of that.
"Everything went good, but during that time, when it's out of your hands and you really don't know what's going on …" he adds. "You see him wheeled back. One of the first times I was like … I've always been proud of it, but from that moment on I was like 'Yeah. So, it's my dad."
8. He once got in a teeny bit of legal trouble.
In 2017, Ray was arrested for DUI, after he accidentally bumped into another car while in a drive-thru at 3:30 in the morning. Fortunately, the charges were later dropped to just reckless driving, and Ray learned a valuable lesson.
"I want to apologize to my fans, family, and my hometown community for placing myself in this situation," Ray said in a statement after the arrest. "I am so very sorry for the disappointment these events have caused everyone. I know it will take time; however, I will do everything I can to rebuild your trust."
Later, Ray admitted the experience was eye-opening for him.
"I honestly never saw that coming, but with it there was that vulnerability and a side I never had experienced," Ray told Rolling Stone. "I've never been in trouble a day in my life. … I'm overthinking, anxiety-driven, so add that on top of it. I was like, 'What the hell just happened? Is this it? Is this going to mess everything up that we're doing?' Everything's going great, and boom, that happens. But through that, I never felt more love and support from fans or from my peers in country music."
9. He loves '90s country.
Ray loves all kinds of music, but especially '90s country. In fact, it is that era of music that inspired much of his upcoming third studio album.
"I just feel like it's part of our job, to continue to shine a light when you can on the men and women who have paved the way for the rest of us, the men and women that inspired us," Raytold MusicRow. "There are kids hearing me on the radio that maybe didn't grow up with Alabama, Tracy Lawrence, or Joe Diffie, but if I can make that kid find 'The Weekend' by Steve Wariner, now, all of a sudden, he's downloading all of [Wariner's] stuff."
10. He was quite the athlete in high school.
Ray loved playing sports in high school, before ultimately realizing that he was more talented in music than as an athlete.
"I played varsity basketball all four years of high school," Ray told Billboard. "I played soccer, baseball. But once I figured out and found out that my natural talent got surpassed by everybody else's, I realized that I wasn't ever going to be pro, so I focused more on music, and went that route."
11. He loves to be outdoors.
If Ray is fortunate enough to have a day off, chances are you'll find him doing something — anything — outside.
"When it's hunting season, I'm in the woods, as much as I can be," he told Everything Nash. "But a lot of times just taking the time to chill. We're on the road, and we have very few days that are actually all off. I'll take the roof off the Jeep and go trail riding. I'm either trail riding in the woods, or just chilling at the house."