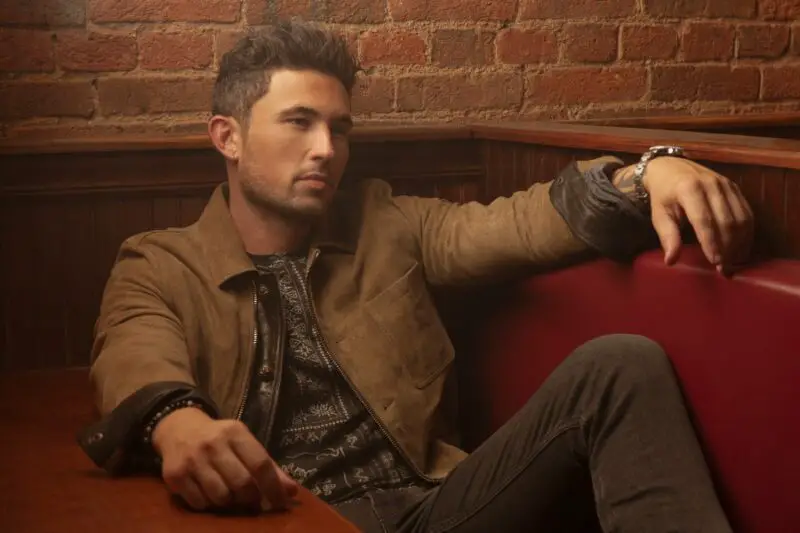 Michael Ray's current single, "Whiskey and Rain" is rapidly climbing the charts. The song, from his upcoming third studio album, is a throwback to the country music of the '90s that he grew up on, which he also alludes to in the video as well.
"Sean Hagwell directed that video, and he also directed 'The One That Got Away' video," Ray told Everything Nash. "I love working with him and the team. I love how his mind works. With this song having more of a throwback feel to it, I knew that he didn't grow up listening to the '90s country or country music at all, so he's bringing a different idea to this. He and I brainstormed, and he brought the idea to the table of, let's really shoot that thing to where it feels like it's back in the day, and feels like it's in the '90s, back when Travis Tritt and Tracy Lawrence did their videos, where they're like mini-movies."
The "Whiskey and Rain" video was also Ray's way of honoring the artists he grew up listening to, and had a large influence on his own career.
"I remember keeping CMT rolling all day long at my parents' house, just watching those videos," Ray recalled. "I felt like back then those videos were just outstanding. And I thought, if we could touch on that … So, we drew a lot of inspiration from those guys, from back in the day of those Reba videos and that type of thing. We did it with a different lens, so it had more of a fade. It made it more perfectly dated."
The "Whiskey and Rain" video begins with Ray holding a flip phone, in the middle of a torrential downpour. The 32-year-old reveals that they really did have to wait for a rainy day to film the beginning of the video, although they had a little help as well.
"In the video where I'm sitting in the rain is actual rain thunderstorm, when I'm in the car," Ray divulged. "It was actually raining, but there were also two guys in front of the car with a fertilizer pump, spraying water."
Ray previously disclosed that "Whiskey and Rain" is the first hint of a new musical chapter for him, one with more of the throwback sounds he loves.
"It's what I've always had in my head," Ray told Everything Nash. "I guess I always knew that I wanted  more of a traditional country sound. That's what I grew up on, what I listen to, to this day. And I just always felt like that was the record I wanted to make. It took this year, I guess, to really realize that on my own. So this song, it was just that catchy, hooky melody, that throwback to the Gary Allan. It sounds like Gary Allan, Dwight Yoakam — all of that. It just stood out. And really, we felt was a great way to introduce this new record and new sound."