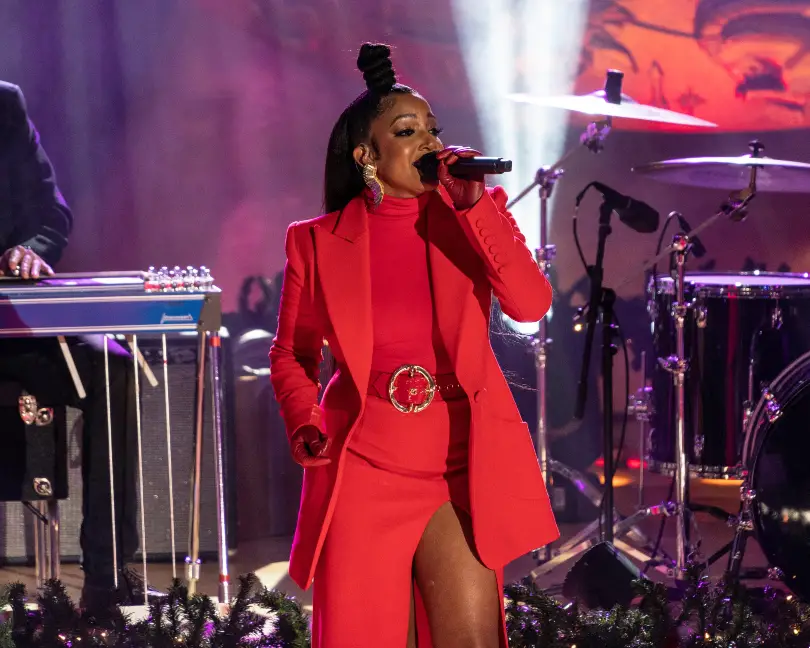 Mickey Guyton will help millions of Americans celebrate the Fourth of July. The Grammy-nominated singer will serve as the host of PBS' A Capitol Fourth. Now in its 42nd year, the show will air live from Washington, D.C. on Independence Day.
"It is absolutely a real honor," Guyton tells People, noting that it will also mark the first time the show will air live since 2019, due to the pandemic. "I'm so excited about that. And just the representation, me being a Black country singer on that stage: I just hope to bring fun and happiness to everybody — at home, at this event…To be asked to host such an event as this, in a really trying time in our country, I just feel like it could be a huge opportunity to try and encourage more togetherness in this time."
It feels especially appropriate to Guyton to host the patriotic event, since July 4th happens to be one of her favorite holidays of the year.
"I love Fourth of July – it was always one of my favorite holidays," the Texas native says. "Because Fourth of July was always so crazy, we would have 'Fifth of July' so that we could actually celebrate. We would always go out to my friend's house in the country and just shoot off fireworks. And it was just one of my favorite times, getting together and celebrating with your friends and family and America. It was always super cool."
Guyton spent years, and years, trying to get her music heard. The fact that her career now seems to be exploding, including singing the National Anthem at this year's Super Bowl LVI, is validation that her hard work is, finally, paying off.
"It means so much," she says. "We all have these dreams and aspirations of things that we want to do in our lives, and oftentimes we give up before we even start. And people have to realize, you have to keep going, no matter how hard it gets. I am the definition of that."
Guyton is not only working hard — harder than most — to get her music heard, but to make sure she is creating room and space for other Black artists who want to find a home in country music.
"I've been the only Black woman in the room from a very early age. As much change as we're seeing, there's still so much work to be done," Guyton tells Elle. "I remember when I first was pursuing country music, there was a meeting I took at a record label, and I could tell one of the label heads was questioning me and my authenticity, and grilling me on country music and if I knew it or not. Country music and gospel and R&B, they have a way closer relationship than people think. I mean, the banjo came from Africa. I realized that it was not enough to just see one Black person every 15 to 25 (or) 30 years make it. We need to see a sea of people of color — Black people — make it in this industry. That is how you truly find change."
A Capitol Fourth will air on PBS on Monday, July 4, from 8:00 to 9:30 PM ET. Musical acts and special guests will be announced in the near future. The show will also stream on YouTube and on the PBS website.