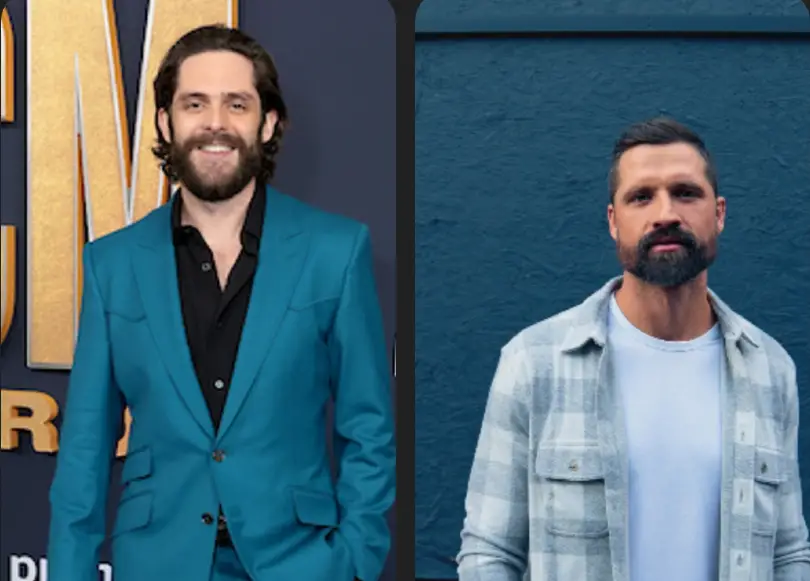 Thomas Rhett is a proud father of four, but even he is still figuring some things out. The 32-year-old reveals he reached out to Walker Hayes, who has six kids, for advice about one thing: how to travel on the road with his children, something Hayes started doing full-time after his "Fancy Like" success.
"I said, 'How can I do this?' He said, 'You can't,'" Rhett reveals to his record label. "And I think it's strictly 'cause of the age group. Walker's kids are older. They can eat by themselves, they can use the bathroom by themselves, they can put themselves to bed. Mine, on the other hand, are kind of all over the place age-wise."
Rhett may not be able to bring all of his kids out on the road on his Bring The Bar To You Tour, but he is looking forward to at least having his older two girls with him for some of the dates.
"I am excited about this year, 'cause I do think that Willa Gray and Ada James are old enough now to travel with me, and to actually let dad sleep until like nine," Rhett says. "If the other two came out there we'd be up at five. And we've done it before, and my voice struggles so bad when we've gotta get up super early on the road, So, I do plan on bringing Willa Gray and AJ out there a few times. And then my whole family will come to like Red Rocks and do some really cool bucket list moment type shows. But for the most part, we'll be out there writing songs, and when the kids do decide to come out we'll take melatonin."
Rhett's latest album, Where We Started, was released in April. The record includes his recent No. 1 hit, "Slow Down Summer," as well as his new single, "Half of Me," which is a collaboration with Riley Green. The song was written by Rhett, along with Josh Thompson and Will Bundy, and inspired by Thompson saying that half of him wanted a cold beer, and the other half did too.
"I remember I was like, 'We have to go write that right now,'" Rhett recalls. "So we went on the bus, and we literally sat there for 35 minutes, and this song fell out. And when we went into the studio to record it, I was like, 'This song is so cool. I love it. Who could we get on here to feature?' And Riley Green and I have become really good buddies over the last few years.
"I remember sending him that song, and I had forgotten that I had played it for him like a year previous, and we never talked about it again,' he adds. "I said, 'Man, would you feature on this?' and he was like, 'Absolutely.'"
Find music and tour dates at ThomasRhett.com.