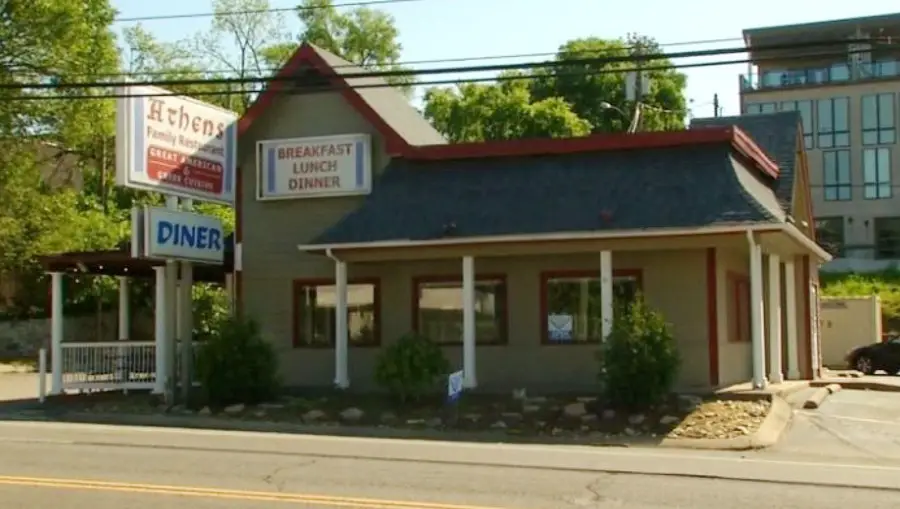 Athens Family Restaurant, a staple in Nashville for 16 years, will serve its last meal at its 8th Avenue location on May 30. The beloved Greek restaurant, made famous after appearing on Food Network's Diners, Drive-Ins and Dives in 2010, has lost its lease, marking the end of an era for one of Music City's favorite restaurants.
According to the Nashville Scene, the decision comes after the owner, Mohammed Rasras, missed two rent payments to Dina Kazakos-Elostta, his former business partner, who was subleasing him the space, which is owned by HNP Properties. Although Rasras received more than $191,000 from PPU loans, that money went towards payroll, causing him to be behind approximately $13,000 in rent, all because of financial difficulties brought on by the pandemic. But HNP Properties says that isn't the only reason they are not renewing the lease.
"These buildings should have been torn down 10 years ago," HNP's Bill Hostettler said (via the Nashville Post), speaking of Athens Family Restaurant and an adjacent property. "We've been gluing it back together. We need to tear it down and replace it."
While Rasras is of course disappointed in the decision, he insists he does understand, even if he hoped for a different outcome.
"I can appreciate their position," Rasras said of HNP's decision to terminate his lease. "But I was hoping they would give us some leeway. I think Nashville is losing a unique place."
Prior to losing his lease, Rasras had already started a GoFundMe account to cover his losses and keep Athens Family Restaurant in business. He is now hoping an investor will come in and help the restaurant move to a different location. But even if the restaurant can find a new location, Rasras vows to keep the menu and business model much the same, with great breakfast served all day, a combination of Greek and American food, and without a liquor license.
"Maybe there is a slim chance that something will come from it," Rasras says of his hopes. "After a year of COVID, this is not feasible on my own."
Current plans for the location include a 7000 square-foot commercial building, with 50 parking spaces. Several retailers have already expressed interest, including a coffee shop, a cell phone company, and a Whataburger, although the latter isn't likely since new drive-thrus are not allowed in the area.
Athens is located at 2526 8th Avenue (Franklin Road) in Nashville.