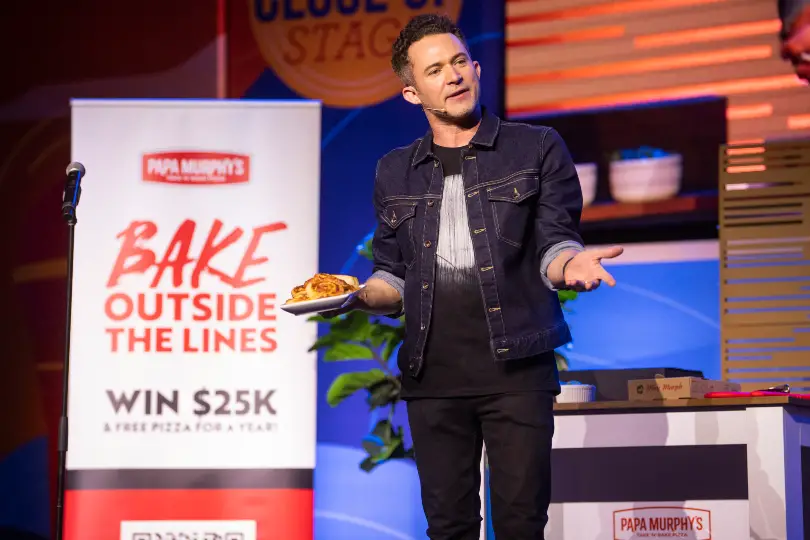 Justin Willman's job might take him all over the world, but he's always happy when it takes him to Music City. The magician, TV host, comedian and more, recently visited Nashville as part of CMA Fest, where he soaked up as much as he could of the city's energy and vibrancy.
"Nashville is one of my top three favorite cities in America," Willman tells Everything Nash. "I love the food, the music, the people, everything. I've had some of my favorite shows in Nashville over the years so I always look forward to coming back. Getting to headline CMA fest (as a non-musician) felt like a surreal dream."
Indeed, Willman wasn't at CMA Fest to sing, but to meet his fans, and partner with Papa Murphy's, for their Bake Outside the Lines contest, giving people a chance to win $25,000 and free pizza for a year. Willman combined his trademark magic with Papa Murphy's, to "highlight the mealtime magic of creating something new starting with Papa Murphy's Take N' Bake products." For Willman, it was a match made in pizza heaven.
"I love pizza and I love making dinner from scratch," Willman says of his partnership with Papa Murphy's. "But actually making pizza from scratch is a whole to-do. My kitchen always ends up looking like a bag of flour exploded. Papa Murphy's helps me create the 'illusion' that I made pizza from scratch, without all the carnage. It's baked just like I like it, it tastes just like I like it, and I don't need a cleaning crew at the end."
Willman began performing magic tricks as a child, after he broke both of his arms. He never could have imagined in those early years that his hobby and talent would evolve into becoming a celebrity, including creating and starring in Netflix's Magic for Humans. He also hosted Food Network's Cupcake Wars and Halloween Wars and Netflix's Baking Impossible, among other ventures. For Willman, it's less about making the right professional decisions, and much more about following his heart.
"The secret is to figure out a way to get paid for doing the things you do anyway for fun," explains the star. "For me it's magic, comedy and yelling at bakers."
Willman already has a lot that he's working on, but he doesn't have any interest in slowing down. In fact, the Missouri native says he has even more projects coming in the near future.
"I just started working on a new TV project coming to people's screens early next year," he teases. "Keep an eye out for it. In the meantime I'll be on tour as always, and hopefully coming back through Nashville very soon."
Details on Papa Murphy's Bake Outside the Lines contest can be found here. All of Willman's upcoming appearances are available by visiting his website.