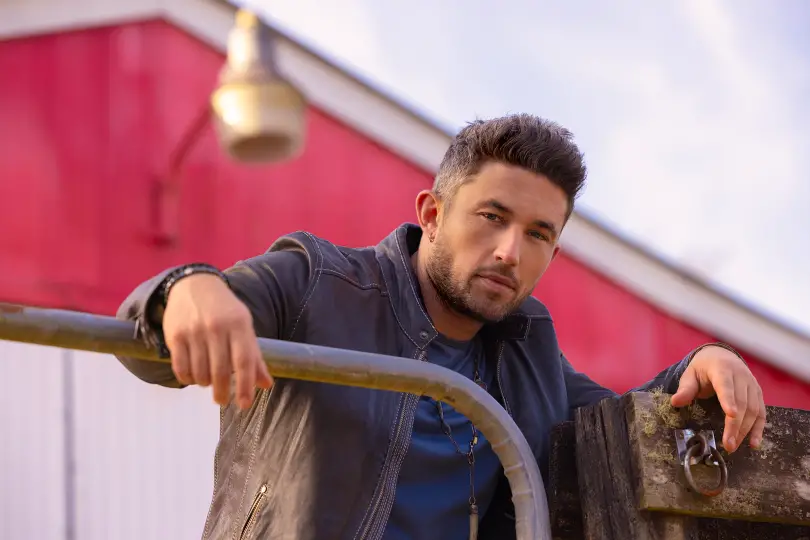 Michael Ray's "Whiskey and Rain"  is the gift that keeps on giving. The singer-songwriter is celebrating the multi-week No. 1 song becoming a platinum-selling hit, for sales in excess of one million units. The song, written by Jesse Frasure and Josh Thompson, is Ray's first song to spend more than one week at the top of the charts.
"When I first heard 'Whiskey And Rain,' I connected with the idea of letting yourself really live in a moment where it can wash over you," Ray says. "To say I'm proud of this song would be an understatement. I'm very grateful that it's found a home in the hearts of fans. I couldn't do this without them or the team I have behind me."
Ray shared an emotional video on social media shortly after the song became his fourth No. 1 hit. The success was even sweeter to Ray because it came during the pandemic, when he wasn't able to perform the song live like he normally would be able to do.
"It meant a lot to me, because I say it every night, now that we've been able to get back out on the road; we didn't get to promote this song like you normally do," Ray tells Everything Nash. "We didn't get to do shows. It was truly put it out there, do everything you can on your socials and digitally, but we really had to rely on fans a lot on this song. I mean, you always do, but there was no getting it out in a lot of ways that we normally do.
"And so to see it come from literally this crazy time of being recorded to fans and country radio getting behind it and believing in it — it took 64 weeks to get up there," he adds. "It's a special song, and I think it's gonna be the one that I really look back on and say,  'That's where a lot of stuff started to change.'"
Ray already has another hit at radio, this time with "Holy Water." But as that song also makes a quick ascent up the charts, the Florida native reveals he is hard at work on his next record.
"Some of the songs we're getting pitched have just been incredible," Ray reveals "I think finding my sound and finding my place has really helped me as a songwriter, and I think also helped publishers and songwriter buddies of mine, to send me songs that they feel fit where we're going. So it's been a cool process making this last part of this EP, as well as the first half. But this last half is really cool, coming off the success of 'Whiskey and Rain,' and feeling the love of 'Holy Water.' It gets you motivated for that next half, and you wanna keep it going. You have momentum going, and you want to keep it spinning."
Ray is currently serving as direct support for Lee Brice, on Brice's Label Me Proud Tour, as well as headlining plenty of his own shows. Find music and tour dates at MichaelRayMusic.com.