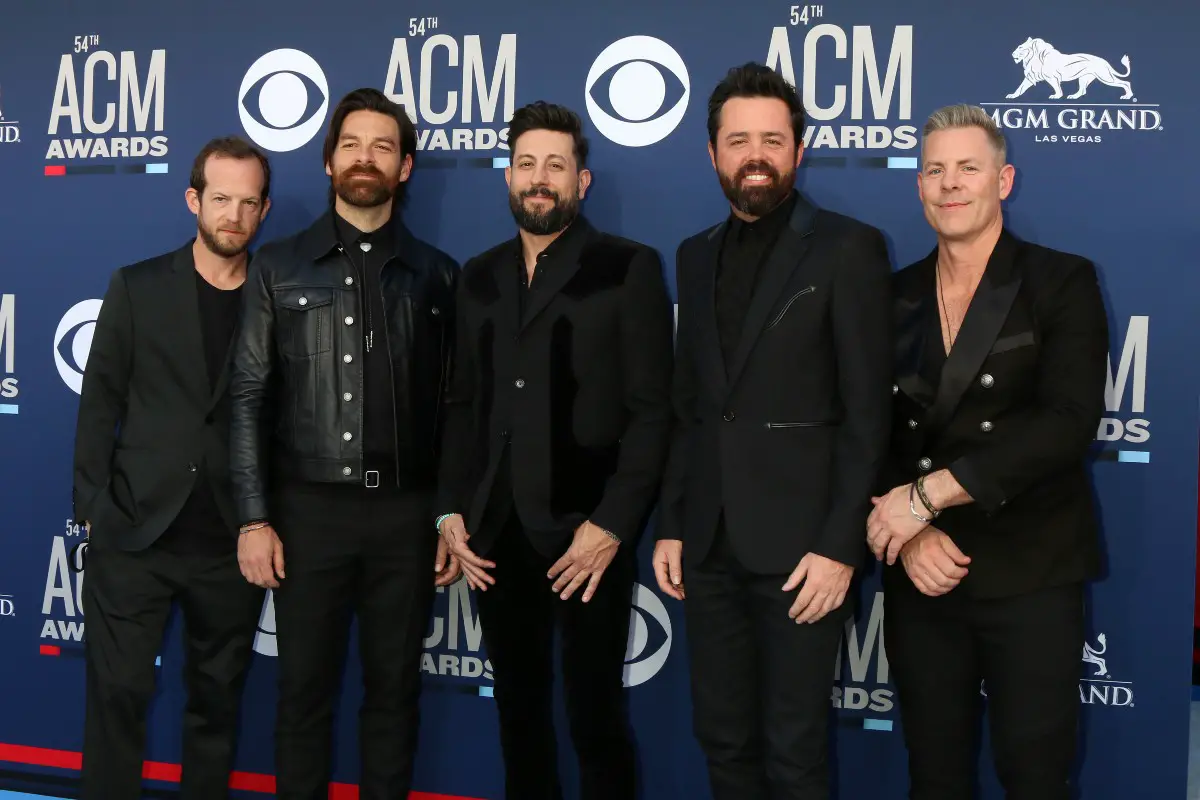 Old Dominion just announced they will embark on their seven-show Ballpark Tour in July. The tour is part of a busy season for the group, who will head back out on the road later this month, kicking off a busy season of playing fairs and festivals as well as their An Evening With Old Dominion: The Band Behind the Curtain Tour. The upcoming shows will mark the first time the five-man band has performed in front of a crowd in over a year, an unexpected — and largely unwelcome — break for the group.
"Not to get too deep, but it felt personally like we had worked really hard for a really long time to make this happen," lead singer Matt Ramsey shared with their record label. "We got as big as we could get at that moment. And then the rug sort of got ripped out from under us with all of this. So then there was no daily reminder that we were doing good. You know, those shows were where people were showing up and buying tickets and T shirts and singing the songs. That's how we really gauged our success. So then everything shut down, stopped. And it was like man, are we even a band anymore? They just felt so strange."
Not only did Ramsey forget, at least briefly, how well-loved Old Dominion really was, but he also forgot that he was famous.
"I was taking a walk," he recalled. "This was like eight months into the lockdown. I was taking a walk and this car pulls a U-turn and pulls up to me and she's like, 'What are you doing?' And I was like, 'What do you mean? What am I doing?' And she was like 'You're just out here taking taking a walk.' And I was like, 'Yeah,' and I just completely forgot that I was maybe a recognizable person. It just hadn't happened in a really long time. So, yeah, it is a little bit of, I hope people come back to us."
See y'all live from the ballpark this year with @ScottyMcCreery, @RandyHouser, @MattStellMusic, @blancobrown, @caitlynsmith & @WalkerCounty on select shows. Presale begins Wednesday at 10am. Public on sale Friday at 10am. More shows to be announced soon. https://t.co/yZ7qOUkwwz pic.twitter.com/PN86xrYYey

— Old Dominion (@OldDominion) May 18, 2021
Ramsey is recovering from a recent injury, when he fell off a ladder while changing a lightbulb, resulting in a broken rib, collapsed lung, and numerous scrapes and bruises.
Old Dominion will be joined by Scotty McCreery, Randy Houser, Matt Stell, Blanco Brown, Caitlyn Smith and Walker Country on their Ballpark Tour. Keep track of updates and find ticket information at WeAreOldDominion.com.