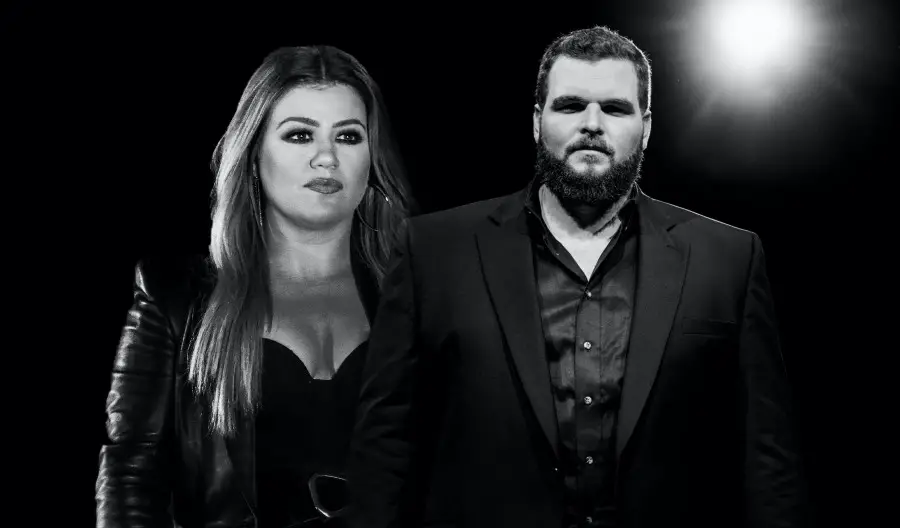 One day after Blake Shelton's killer performance of "Grow Up" with Season 19 finalist Ian Flanigan on The Voice, Season 17 winner Jake Hoot took to the same stage, this time to perform his current duet, "I Would've Loved You," with Kelly Clarkson, backed by an orchestra.
"I Would've Loved You" is from Hoot's debut EP, Love Out of Time. The rising star wrote the song with Lonestar's Dean Sams and Jamie Floyd.
"When we wrote it, I said, 'I think this would be awesome if we got Kelly to sing on this,'" Hoot told Everything Nash. "When I was on The Voice, she said, 'Hey, let's do something together.' So I sent it to her, and didn't hear anything. And then later on in the year, when we were seriously considering putting this on the album,  I said, 'You know what? I'm just going to text her again,' because I had to ask her a couple of questions about other things."
Fortunately, when Hoot sent it to Clarkson, it didn't take long for her to agree to sing on the powerful tune.
"She called me back immediately and she said, 'I want to shout this from the rooftops. Yes, I'm in," Hoot previously recalled. "Like, let's get this done. And so trying to coordinate her incredibly busy schedule with mine, recording everything and then also a wedding coming up and then having to fly to LA to record, or having to send stuff out there, it just all worked perfectly."
Clarkson has stayed very involved with Hoot ever since he won The Voice in 2019.
"You've got so many things going on, and the fact that you take time to reach out to people, and check on them — I know you've checked on me a few times, and just the help and stuff has been incredible," Hoot told Clarkson while they appeared together on the Today Show. "I can't speak to anybody else, as far as them helping people after the whole Voice experience, but Kelly's been great. The fact that we recorded this, and then she's the one who actually came up with the idea to record the music video, and so the fact that she did that as well is just amazing."
Purchase Love Out of Time at JakeHoot.com.
Read 11 Questions With Jake Hoot here.