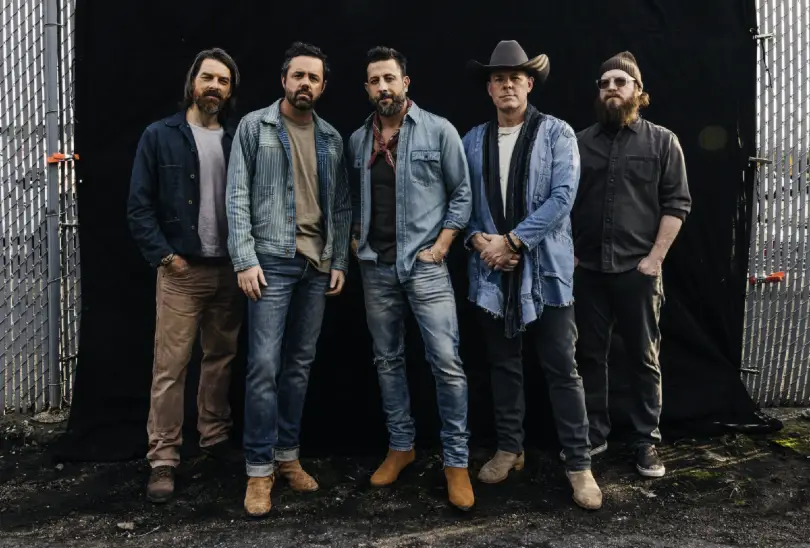 Old Dominion's video for "Memory Lane" is out! The song, written by band members Matthew Ramsey, Trevor Rosen and Brad Tursi, along with Jessie Jo Dillon, appears on their just-released Memory Lane (Sampler), ahead of their forthcoming new album.
"'Memory Lane' has already become such a special song for us," says Old Dominion's Matthew Ramsey. "This is one of the most ambitious videos we've ever put out as we took a different approach in telling our story visually. There are so many memories and very personal touches intertwined in the visuals. It's a special one to us and we hope it is to you too. Big thanks to Mason Allen, Nicki Fletcher, and GEMINI for knocking this out of the park!"
Lead singer Ramsey says the inspiration behind the pensive new single, which is already in the Top 25, came from thinking about people, things or places that evoke a feeling of nostalgia for him.
"Sometimes, when I'm feeling overwhelmed, or missing someone, or maybe just feel a little nostalgic, there are places in my mind I can go that are full of memories of simpler times," Ramsey explains. "It's a location, or a person, or a feeling that will always live in my memories and I can close my eyes and transport myself there anytime I want and experience it all again. I think we all have that time in our life that will remain forever perfect in our hearts. Sometimes we wish we could just stay there and never leave."
The Memory Lane (Sampler) also includes "Ain't Got A Worry," "Freedom Like You" and "Easier Said With Rum."
"We've been working on so much new music, and the response to 'Memory Lane' has been so energizing that we decided we're tired of sitting on it all!" Ramsey said when Memory Lane (Sampler) was released. "We're so excited to share three more songs heading into the No Bad Vibes Tour and the next chapter in our musical journey."
Old Dominion will continue their No Bad Vibes Tour on March 31 with three back-to-back shows in Key West, Florida. See a list of the remaining dates on their tour below. Find "Memory Lane" and all of their music at WeAreOldDominion.com.
No Bad Vibes Tour Dates:
3/31 Key West, FL / Coffee Butler Amphitheater
4/1 Key West, FL / Coffee Butler Amphitheater
4/2 Key West, FL / Coffee Butler Amphitheater
4/13 Reading, PA / Santander Arena
4/14 Albany, NY / MVP Arena
4/15 Bangor, ME / Cross Insurance Center
4/28 Tucson, AZ / AVA Amphitheater at Casino Del Sol
5/4 Savannah, GA / EnMarket Arena
5/5 Jacksonville, FL / Daily's Place Amphitheater
5/6 Estero, FL / Hertz Arena
5/27 Morrison, CO / Red Rocks Amphitheatre
5/28 Morrison, CO / Red Rocks Amphitheatre
6/10 Nashville, TN / Nissan Stadium (CMA Music Fest)
6/30 Lake Tahoe, NV / Lake Tahoe Outdoor Arena at Harvey's
7/1 Lake Tahoe, NV / Lake Tahoe Outdoor Arena at Harvey's
7/22 Cheyenne, WY / Cheyenne Frontier Days Arena (Cheyenne Frontier Days)
8/11 Springfield, IL / Illinois State Fair
Photo Credit: Courtesy of The Oriel Co. / Mason Allen