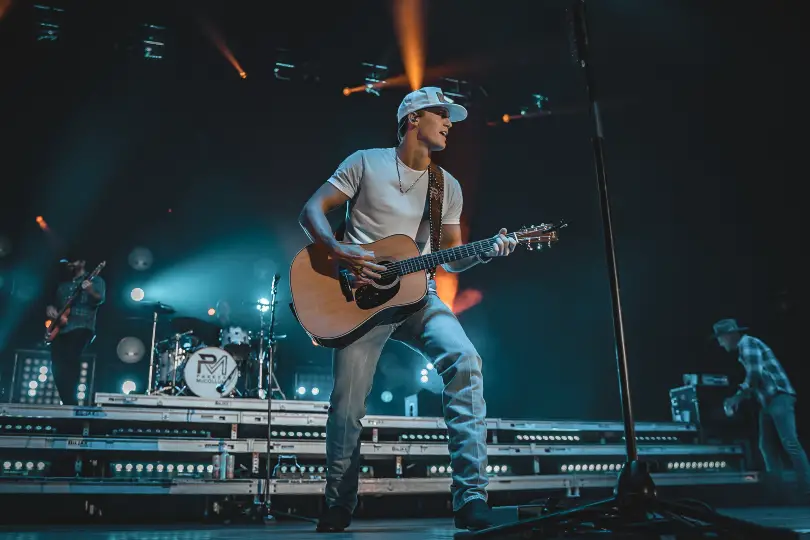 Parker McCollum had one of the coveted touring slots last year, serving as the opening act on Dierks Bentley's Beers on Me Tour. The rising star learned plenty by watching Bentley night after night, lessons he will now carry with him as he continues performing on the road.
"The number one thing I took away from Dierks really just kind of put me in awe," McCollum tells Everything Nash. "The first couple nights of the tour, I was like, okay, it's the first show. Everybody's excited. We haven't been on the road, and now we're back on the road. The energy's really good. Everybody's excited. It was just a great vibe. But by the 20th show, for him and his band, it was the same energy and the same vibe. And they're just as excited to play the 20th night of that tour as they were to play the first night. He's got 20-something No. 1 hits, and he's been doing it for 20-something years."
It's a lesson McCollum is taking to heart as he tours on his own in 2022, and beyond.
"I've been touring for six or seven years," McCollum reflects. "Hard touring, no doubt. I've played 140-plus shows a year for several years, which is a lot, but not to the demand that a superstar like Dierks does. I was extremely impressed. I have a lot of respect for him for how much energy and effort and time they put into that show that many nights in a row. That was really impressive. I sat there every night and watched almost the entire show every night. And I mean, it was like clockwork, what it was like every single night. It was like the last show he ever played. It was really impressive."
McCollum's career might be in its early stages, but he has big plans for the future, which includes someday being a member of the Country Music Hall of Fame.
"That's a tall drink of water. I know," McCollum tells Everything Nash. "I don't know if I've ever said that out loud, especially on record. But I think that's just the biggest thing for me. Everybody that I love, that I still listen to every day in my life, all the artists that I grew up listening to that were big-time in country music, are in the Country Music Hall of Fame."
While McCollum wants to be a Country Music Hall of Fame member, he isn't in any hurry for that prestigious honor to happen.
"I hope it takes me until I'm 90 to get there," the 29-year-old says. "I hope it's the longest slowest, most wonderful ride to the top. I don't want it to happen tomorrow, or the next day or anything like that."
McCollum's Gold Chain Cowboy album is out now. Find music and tour dates at ParkerMcCollum.com.