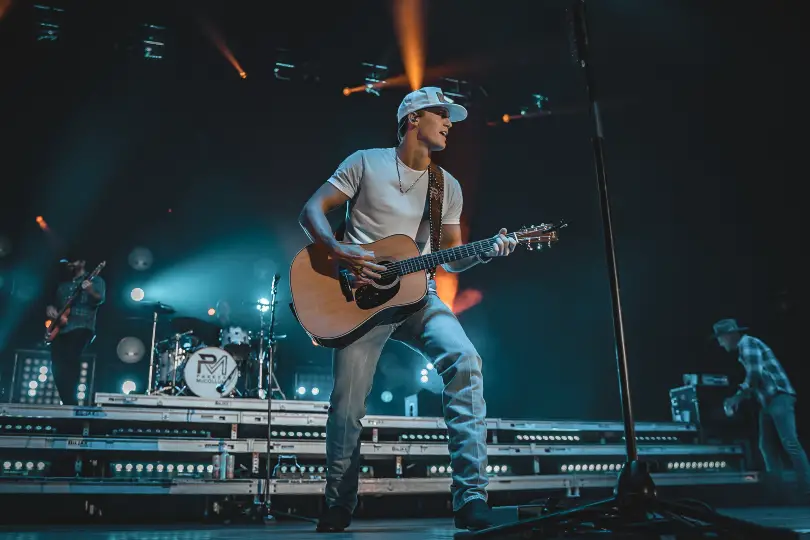 Some artists dream of No. 1 singles, platinum-selling albums and sold-out tours, but Parker McCollum has set his sights higher — much higher. The Texas native has one ultimate goal in mind: becoming a member of the Country Music Hall of Fame.
"That's a tall drink of water. I know," McCollum tells Everything Nash. "I don't know if I've ever said that out loud, especially on record. But I think that's just the biggest thing for me. Everybody that I love, that I still listen to every day in my life, all the artists that I grew up listening to that were big-time in country music, are in the Country Music Hall of Fame."
McCollum wants to be a member of the prestigious institution, but he hopes he has to be patient for a long, long time
"I hope it takes me until I'm 90 to get there," the 29-year-old says. "I hope it's the longest slowest, most wonderful ride to the top. I don't want it to happen tomorrow, or the next day or anything like that."
McCollum had already been releasing music before getting a record deal, so he was surprised when his debut single after signing with MCA Nashville, "Pretty Heart," became a platinum-selling, No. 1 hit. While the song was climbing up the charts, and helping McCollum's career take off, he was unaware that the entire trajectory of his life was even beginning to change.
"I'm not even sure I knew that it was close to No. 1 when it went No. 1," McCollum maintains. "I had no idea it would go platinum or gold. I didn't know what that would take to go platinum, or what it would take for it to do that. I didn't even know what platinum or gold meant. I just knew that those were really good words if they were tied to your music. So to be totally honest, I had no idea. And then we came back, and we have all these new fans who don't know my first two records, but they know this song, and they've kind of gone back through the first two records."
What makes McCollum's story even more unique is that his career began to explode just as the pandemic was shutting the touring world down, severely limiting McCollum's ability to perform for his fans.
'It's really been an interesting experience," reflects the singer. "It's something I don't think a lot of artists have ever gone through, with being forced to take a whole year off. And then all of a sudden you come back and you sell out shows all over the country. It's been really great though."
McColllum is back at radio with his new single, "To Be Loved By You," written by McCollum and Rhett Akins. He is spending much of 2022 on the road. Find music and tour dates here.
Photo Credit: Courtesy of True Public Relations / Chris Kleinmeier