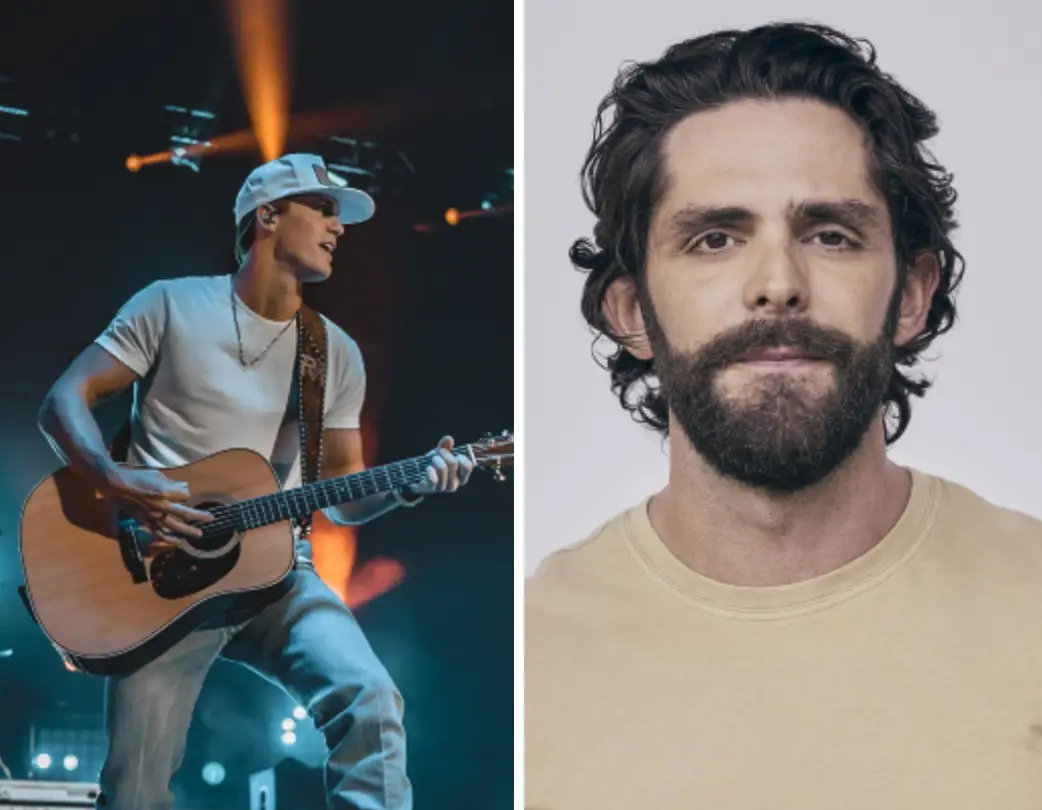 Parker McCollum earned one of the best touring spots of 2022, when he was invited to join Thomas Rhett on his Bring The Bar To You Tour, which kicks off in June. Although they are about to spend a lot of time together, the 29-year-old reveals he only recently met Rhett for the first time, and was blown away by his kindness.
"We had never met until we were both duck hunting in Arkansas," McCollum tells Everything Nash. "We ended up being in the same store, and then ended up hanging out that night and playing guitar all night and drinking beer, and had a really good time. He's an unbelievable human. He almost makes you feel bad about yourself, he's such a good guy."
McCollum recently opened for another country music superstar, when he joined  Dierks Bentley'on his Beers on Me Tour last year. Much as he likely will with Rhett, McCollum took plenty of notes while on the road with Bentley, learning valuable lessons he will use moving forward.
"The number one thing I took away from Dierks really just kind of put me in awe," McCollum tells Everything Nash. "The first couple nights of the tour, I was like, okay, it's the first show. Everybody's excited. We haven't been on the road, and now we're back on the road. The energy's really good. Everybody's excited. It was just a great vibe. But by the 20th show, for him and his band, it was the same energy and the same vibe. And they're just as excited to play the 20th night of that tour as they were to play the first night. He's got 20-something No. 1 hits, and he's been doing it for 20-something years."
McCollum himself is no stranger to life on the road. Still, the Texas native learned plenty by seeing how Bentley approached each show.
"I was extremely impressed," McCollum says of Bentley. "I have a lot of respect for him for how much energy and effort and time they put into that show that many nights in a row. That was really impressive. I sat there every night and watched almost the entire show every night. And I mean, it was like clockwork, what it was like every single night. It was like the last show he ever played. It was really impressive."
McCollum is also headlining several of his own shows in 2022, in addition to crossing the country on Rhett's Bring The Bar To You Tour, which kicks off on June 17. McCollum will serve as direct support on Rhett's tour, which also includes Conner Smith as an opening act. Find all of McCollum's upcoming shows here.