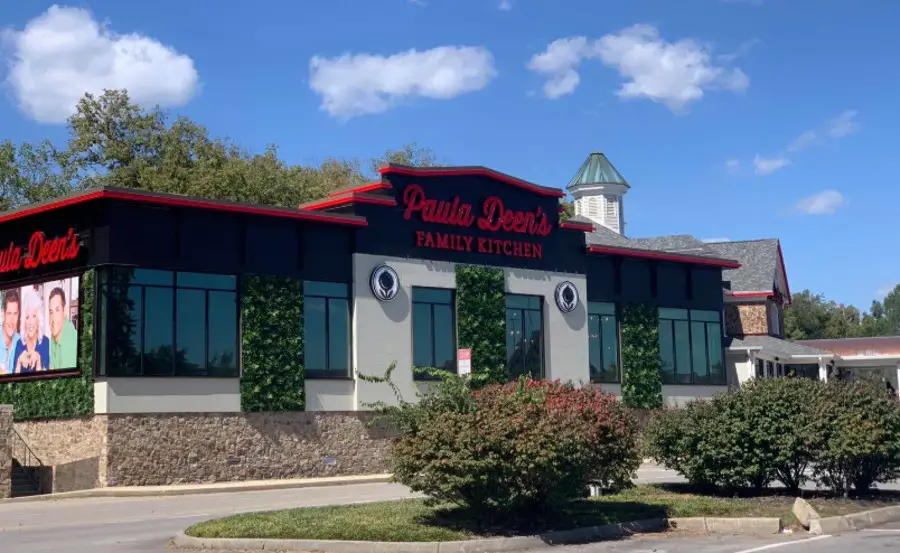 Paula Deen's Family Kitchen is officially open in Nashville! The restaurant chain, which already has locations in Pigeon Forge, Myrtle Beach, Branson and Foley, Alabama, has opened a new restaurant, this one by Opry Mills.
"I feel like a woman who's been pregnant for three years and the baby came today, weighing in at 35 pounds, so you know it's a painful birth," Paula told WKRN. "That's about the only way I can equate to our wait."
For Paula, opening a restaurant in Nashville has been a dream she has held for a long, long time.
"I adore country music!" the Georgia native told Sounds Like Nashville. "Other kinds of music, I can't understand the words, but with country I can hear the story."
"I've had the privilege of working with Little Big Town, and the blonde one, Kim [Schlapman] is a big cook. And I think she's got her own cooking show," she continued, referring to Kimberly and her Kimberly's Simply Southern Show, which aired on GAC. "I had Zac Brown on my show Paula's Best Dishes, and it was his first national television appearance. He had just written 'Chicken Fried,' and he sat down in my kitchen and played the whole song. I knew right then that boy was gonna be a star!"
Paula also met another future country music superstar, although no one hardly knew who he was at the time.
"When I was making Paula's Party, they brought a guy on the show and said, 'You don't know who this guy is yet, but he's going to hit it big real soon,'" the 73-year-old recounted. "It turned out to be Blake Shelton. He was just starting out, but he was such a sweet fellow."
Because of the coronavirus pandemic, the restaurant is serving food family style, instead of the buffets she created in the past.
"I don't know that buffets are ever coming back," Paula maintained. "We switched to family style at Lady & Sons because we couldn't come back from being closed with a buffet. We're so interested in our guests' safety. It's No. 1 for us! The serving utensils are just for your table, and nobody else will ever touch them. It's working out very well."
Menu items, served family style, include Best Ever Southern Fried Chicken, Chicken-Fried Pork Chops, Georgia Fried Catfish and more. Find more information by visiting the restaurant's website.
The famous chef celebrated the opening with donations to Second Harvest Food Bank of Middle Tennessee, as well as the Nashville Humane Society. The restaurant is located at 575 Opry Mills Drive in Nashville.