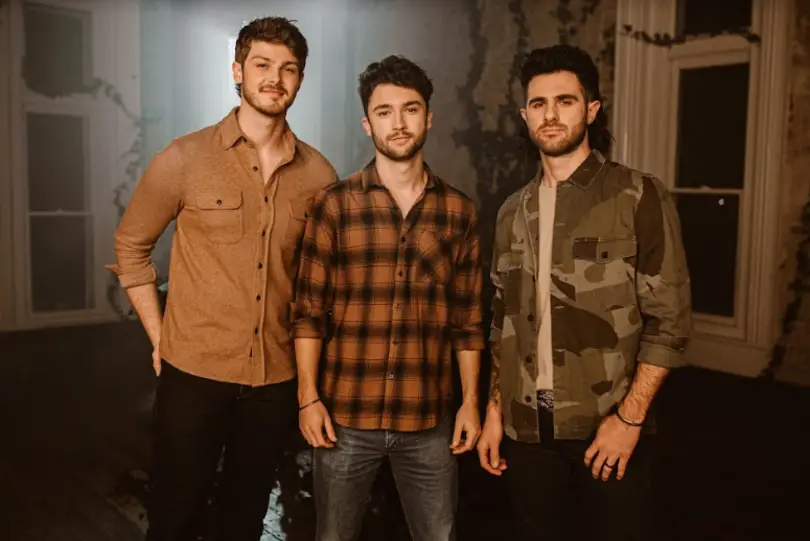 Restless Road is currently enjoying a hit single with "Growing Old With You," a success that they have been patiently waiting for for years. The trio, made up of Zach Beeken, Garret Nichols, and Colton Pack, first came together on The X Factor in 2013, and have been working hard since then to share their music with the world.
While the almost decade between then and now has been anything but idle, it was the perfect combination of the right time and the right song, with "Growing Old With You," which was written by Lady A's Charles Kelley, Jordan Minton and Jordan Reynolds.
"This was a song that got pitched to us about two years ago, and it was one that immediately, as soon as we heard it, struck a chord with us because we're all at different points in our relationship," Pack tells Everything Nash. "I'm married and have kids and Garrett's been in a long-term relationship and Zach's single. But I think what's really unique about the song is that no matter what point you are in your relationship, everybody longs to find that person that they want to grow old with. So I think it was kind of something that we immediately, as soon as we heard it, we had to cut it."
Ironically, when the Restless Road members were auditioning, first as individuals, on The X Factor, producers initially wanted the group to be a quartet, with the addition of Kane Brown. Brown didn't feel like it was a right fit for him, so he declined, later becoming involved in Restless Road's career in an entirely different, and unexpected, way.
"We auditioned individually, and somewhere along the way, we decided to form the band Restless Road," Beeken recalls. "And actually at the time, Kane Brown was a part of the TV show as well, and the idea was that Restless Road was going to be four people, and Kane was supposed to be that fourth member. We got to know him a little bit. Kane ultimately didn't want to be a part of a band. He wanted to do his own thing.
"So he left the show and we continued on and you know how it went for him. Most people do," Beeken remarks with a laugh. "We continued on as a band and we went through a bunch of ups and downs in the years following the TV show."
Those ups and downs included Pack leaving the band for a while, as Restless Road continued to try and get their music heard. In an ironic twist of fate, Brown and Pack started talking in 2018, with Brown ultimately becoming an integral part of Restless Road's future.
"One thing led to another, and we kind of all got back together as a band and all got back in contact and the rest has been history," Beeken says. "We got the opportunity to go on tour with Kane. We've signed with his label [1021 Entertainment], as well with Sony. It has just been a dream come true, and a big full-circle moment."
"Growing Old With You" is the first of many songs Restless Road is eager to share with their fans. They are also on their first headlining Bar Friends Tour, eager to spend as much time as possible with their fans, while also working on plenty of new music.
"We're always writing songs," Nichols says. "We're always recording songs. It's kind of a never-ending process to create those kind of things. When we're back home and off the road, we write, two or three days a week, and try to try to beat the songs we have. We try to think of new concepts. And that helps when you're on the road as well, just thinking of new ideas. When you get home, you have a moment to breathe a little bit and do stuff, but we're always working.
"We're always recording new stuff," he adds. "We're gonna go in here soon and cut a new batch of work. It's coming soon. I'm not sure when an album will be coming, but we definitely have enough to create one,"
Find "Growing Old With You" and all of Restless Road's tour dates by visiting their website.
Photo Credit: Courtesy of 1220 Entertainment / Angelea Presti