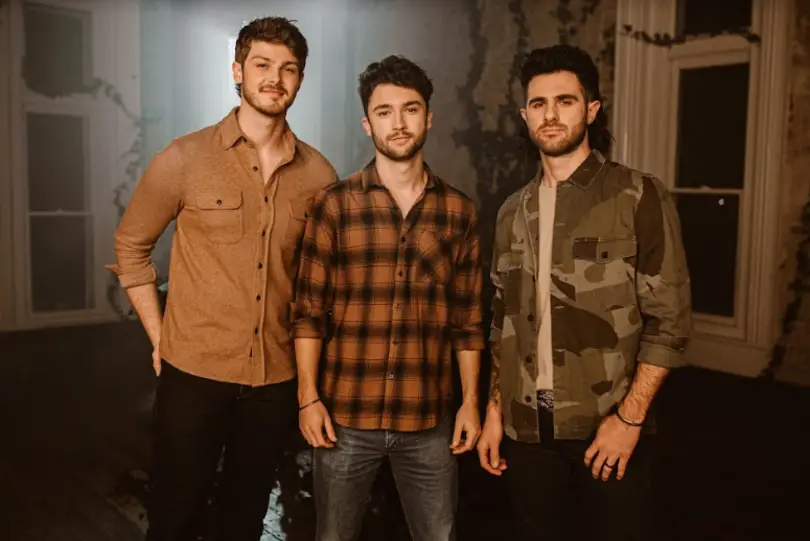 Restless Road is currently signed to Kane Brown's 1021 Entertainment, in partnership with Sony Music, but their relationship with Brown goes back almost a decade. The trio, made up of Zach Beeken, Garret Nichols, and Colton Pack, first met Brown on the X Factor in 2013, when producers wanted Restless Road to be a quartet with the current members and Brown. Brown ultimately declined, but later, as his own career soared, made Restless Road the first act he signed, also bringing them out on the road on his Blessed & Free Tour.
"It does feel really weird," Beeken acknowledges to Everything Nash of their full-circle moment working with Brown. "But it feels really right. Honestly, it feels almost supernatural. It just kind of felt like it was meant to be, and it really means a lot to us to be partnered up with someone who we consider as a friend, and someone that we really care about, and we can tell he cares for us, 'cause he's been in our shoes. He's kind of walked this path before. So it means a lot to have him on our side."
Restless Road didn't waste a minute of their time on the road with Brown, taking plenty of notes night after night as they watched their tour boss perform.
"We learned so much," Nichols says. "Getting to not only just go on that type of tour was a huge blessing, but just being able to sit side stage and watch our friend Kane perform every night, you pick up on so many little things. The way he addresses the crowd, or song selection, or just his performance; you pick up a lot of tricks. He always brings so much energy. And also one thing that he does that we find really cool, and something we're trying to implement in our set is that he has all these great upbeat songs, but then he kind of pulls it back and goes to an acoustic section."
Restless Road paid attention to the songs Brown included in his setlist each night, and the order he sang them in, but they also noted how personal the father of two got each night on stage.
"He really lets the people there know who he is," Nichols says. "So I think when you go there, you have a really fun time and you leave knowing who Kane Brown is. It actually feels like a big family environment. So that's something that we picked up from him and that we're trying to create with our fan base is that when you come to a Restless Road show, we want you to show up and forget about everything. It's gonna be a really fun time, but also we want people to know that they're welcome and they know who we are when they leave."
Restless Road is currently on their Bar Friends tour. Their current single, "Growing Old With You," is at radio now. Find music and tour dates at RestlessRoad.com.