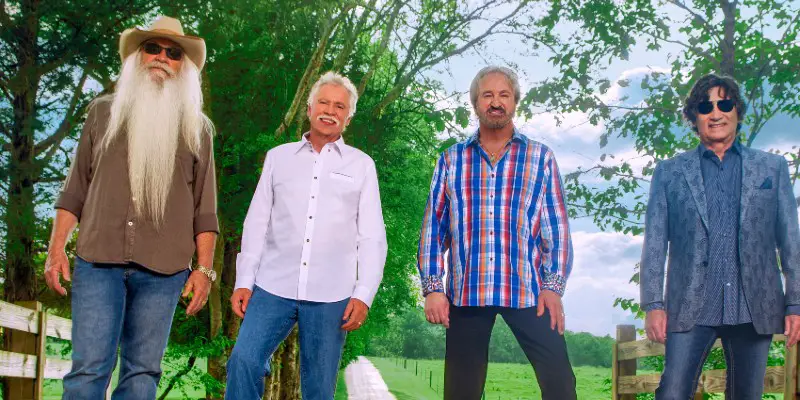 The Oak Ridge Boys' Richard Sterban has been with the legendary group for 50 years, and he'd stay with them another 50 years if he could. The 79-year-old began performing with The Oak Ridge Boys in 1972, and says neither he nor his bandmates have any plans of slowing down anytime soon.
"I think when you keep active, like The Oak Ridge Boys do, I think that helps keep you young," Sterban tells Everything Nash. "Many people have asked us quite often, 'When do you guys plan to retire?' And the answer to that question is we do not plan to retire. I think as long as the good Lord above keeps blessing the four of us with good health, we're gonna keep doing this, because it's what we love doing. There's no question about it."
The Oak Ridge Boys had plenty of unwanted time off of the road in 2020 and 2021, due to the pandemic. It was enough to make Sterban and the other group members realize they still want to perform night after night.
"We got a taste of what it's like not to be able to do what it is that we love doing during the pandemic, and when that was taken away from us, we were not very happy," Sterban says. "I think we realized how much we missed getting on stage, taking our music live to our fans and to our audiences. We missed the performance part of it. But I think what we missed more than that even is the feedback that we get from our fans. That is something that we live for. We miss that. Now we're back doing it again.
"We're experiencing that feeling of people coming out and singing with the Oak Ridge Boys," he continues. "And I think people want to get out. I think people are ready to hear live music again, 'cause live music is very, very healing in nature. It really is. And we're so glad to be able to do our thing that we love doing. And  I think the good Lord above will tell us when it's time to retire. But I don't think that we are there yet. We really are not."
The Oak Ridge Boys have recorded their last four albums with producer Dave Cobb, including their 2021 Front Porch Singin' project. Sterban says they are back in the studio again, working once again with Cobb for their next set of tunes.
"Dave Cobb is one of the hottest guys here in Nashville, and we are honored that he is willing to produce the Oak Ridge Boys," Sterban says. "He refers to us as his crazy uncles. We have a great relationship with him. Everything at this point now is in the talking stages. We probably realistically will not be able to get back into the studio till next spring. So we have some time to work on it. I do not have a title that I can give you. I do not even have a list of songs yet, other than the fact that we know our record label is ready for us to do another project, and Dave Cobb is ready to work with us again. So we definitely have plans to go into the studio. And if we're working with Dave Cobb, you know it's gonna be a very special project."
The Oak Ridge Boys will once again be part of the 2023 Country Music Cruise, which Sterban says is fun for him as much as a country music fan as a performer.
"You get a chance to hang out with some of your favorite country artists, especially this year," Sterban boasts. "We have a very impressive list of artists that are gonna be on the cruise this year … Randy Owen, Clay Walker, Mark Chesnutt, Neal McCoy, Asleep at the Wheel. Ray Benson, by the way, has a voice almost as deep as mine. And Johnny Lee, a good friend, Jimmy Fortune. It's a very impressive list. We plan to have a great time. I can speak for all of the Oak Ridge Boys and tell you that we are looking forward to it very much. We plan to have a great time. We're gonna do our best to make it a great time."
The Country Music Cruise will leave Ft. Lauderdale on the Nieuw Amsterdam on Sunday, January 22, and make stops in St. Maarten and San Juan before returning on January 29.  An exclusive discount for cabins for the Country Music Cruise, available only for Everything Nash readers, is available here.
Find all of The Oak Ridge Boys' music, as well as their upcoming shows, by visiting their website.