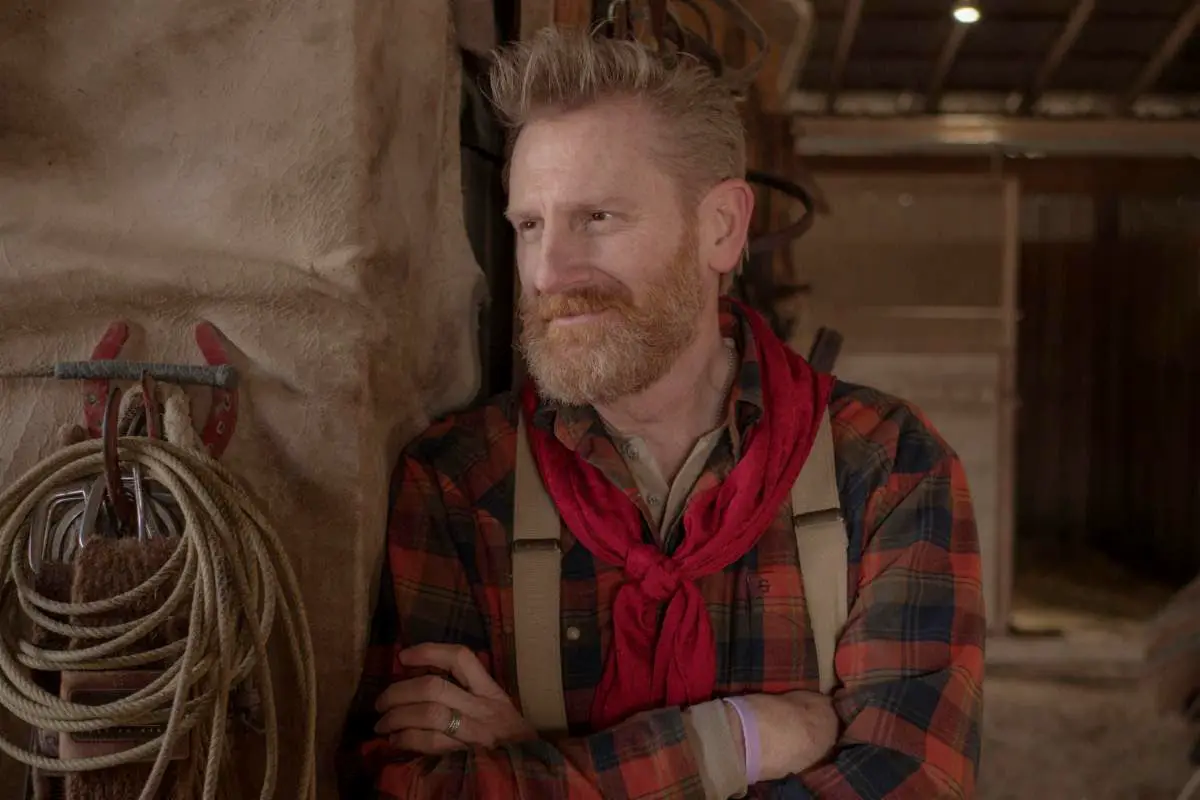 Rory Feek will release his first solo album ever in June, with the release of his Gentle Man album. Making the 14-track record also marked the first time Feek had set foot in the studio since the loss of his wife, Joey Feek, in 2016, a return that Feek once wasn't sure he would ever make.
"It wasn't like I had this desire to do something. It was more like it had been there waiting for me to step into that space," Feek tells CMT. "It has been quite eye-opening for me. Once I was in the studio, and we were recording and singing, it was like, 'Wait a minute, this is what I love. I truly love great songs.' I loved the experience."
Feek has maintained a loyal fan base since his days of recording with his wife as one-half of the Joey + Rory duo, fans who have been clamoring for new music from him for the past several years.
"People have asked me about recording for a long time, and writing and stuff, and I'm still not writing songs," Feek admits. "Joey and I took a year off, the year that Indiana was born, and I stopped writing and I've never started back writing songs yet. Instead, I make a lot of other things."
Those other things include children's books such as The Day God Made You and The Cow Said Neigh!; his memoir, This Life I Live: One Man's Extraordinary, Ordinary Life and the Woman Who Changed It Forever; a film, Finding Josephine; and the documentary, To Joey, With Love.
"I always feel like I still write songs, they just aren't songs anymore," Feek says of his creative outlets. "They're just different little creative things that I do. But when it comes to making a record, people have been asking me for a long time about it, and I just wasn't sure I had anything that I specifically wanted to say or share."
Feek only penned two of the 14 songs on Gentle Man, with one of them a song, "Met Him In a Motel Room," previously recorded by Trisha Yearwood. So it only made sense that Feek would ask Yearwood to join him on his own version of the track.
"I moved to Nashville to be a songwriter, and that was a song that Jamie Teachenor and I had written like 15 years ago," Feek reflects. "Trisha recorded it on her Greatest Hits album. So I had already heard her sing the song, and then to have the opportunity to have her come alongside of me and sing a verse was really neat because it was already a blessing to me to have her sing on our song a long time ago. And then to now have her rejoin me on this, made it even more special."
It's fitting that Yearwood joins Feek on Gentle Man, since it's Yearwood's husband, Garth Brooks, who has inspired much of Feek's career.
"When I was first in town as a songwriter, there were sort of two camps going around: those artists who would also write most of their own stuff, and then there was the other camp, artists like Garth Brooks," says Feek. "He could write all of the songs he recorded, because he's a really good songwriter and you make more money if you do. But he wants to share his moment in the spotlight with other people who have other things to say. He gives his platform and his spotlight to other people.
"I just remember thinking how special that was, and in my opinion, the albums were always better because you can only be as prolific as you can be," he continues. "And there's so many great songs out there. So Joey and I made a real point to try and let the best songs win, to always find great songs from other people. I mean, I probably had a thousand songs I could have chosen from, but that's not the point. It's like, what stories do you want to tell?"
Other artists who join Feek on Gentle Man include Dolly Parton, Ricky Skaggs, Lee Ann Womack, Vince Gill, and more. The record will be released on June 18 on Gaither Music.