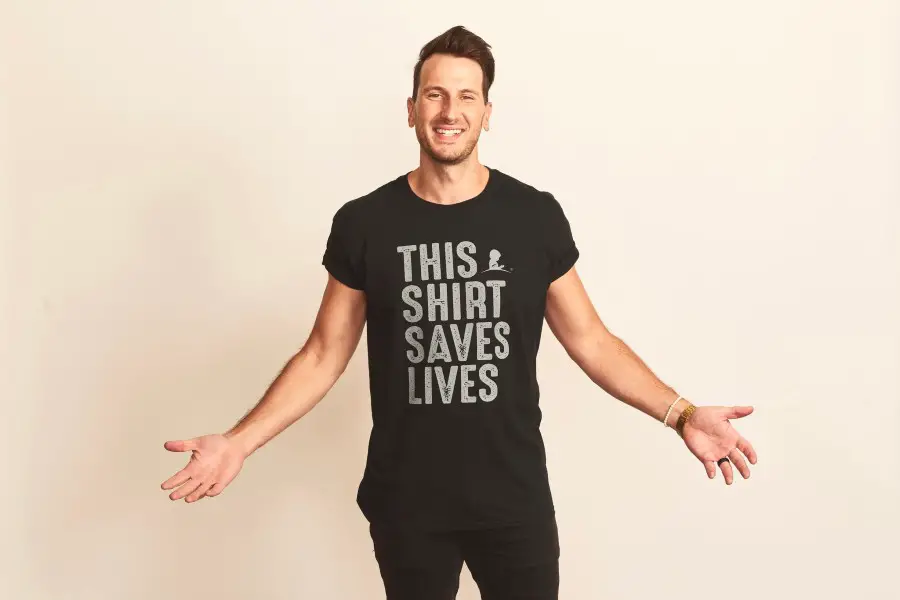 Russell Dickerson is passionate about a few things in life: his wife, Kailey; his son, Remington; his music career, and St. Jude Children's Research Hospital. The 33-year-old first learned of the philanthropic hospital, which offers completely free treatment to children battling cancer and other serious illnesses, early in his career, and has been a staunch supporter of the cause ever since then, although he was initially hesitant to go. Dickerson admits he tries to avoid pain at all costs, and was fearful St. Jude would be a depressing place to visit.
"But when I got to St. Jude it was the complete opposite," Dickerson recalls of his first visit in 2017. "It was full of joy, it was full of hope, it was full of excitement for life. I'm covered in chills now just reminiscing this time of when we walked in there. These families and these kids are grateful for this day only. They're grateful for right here, right now. That is just what knocked me off my feet, was this joy, this gratitude for today.
"We had a craft session," he added. "We made hats and we decorated and we glued and glittered. They were just so happy to be in that moment."
Now that Dickerson has spent time at St. Jude, he isa vocal advocate of the hospital's mission.
"It's not just, 'Hey, come in and get treated,'" Dickerson maintained "It's, 'Hey, come in and we'll make it feel like the least amount of uprooting, make it feel as normal as possible,' just to preserve that 'Home Sweet,' really."
Dickerson might have played all over the world now, but he still feels most at home performing in front of children, like he did during a pre-pandemic visit to St. Jude.
"Man, that's honestly how I got my start," Dickerson said. "I grew up in church, and I played for my youth group. Then I also played for the kids' church. I'd go down to where all the kids were coming to church and I would play just fun, jump, go-crazy songs. Just to tap back into that, it was a great feeling, hanging out with kids playing fun, crazy songs."
St. Jude is once again sponsoring the Dream Home Giveaway, with proceeds going towards St. Jude. Dickerson's new single, "Home Sweet," was inspired by his relationship with Kailey, but the song means so much more. Dickerson, who is an ambassador for the St. Jude Dream Home Giveaway, is using the song to bring the spirit of home to life and show that home is truly where the heart is, which is why he is encouraging everyone to reserve tickets for the St. Jude Dream Home Giveaway in their communities at dreamhome.org.
Download "Home Sweet" here.