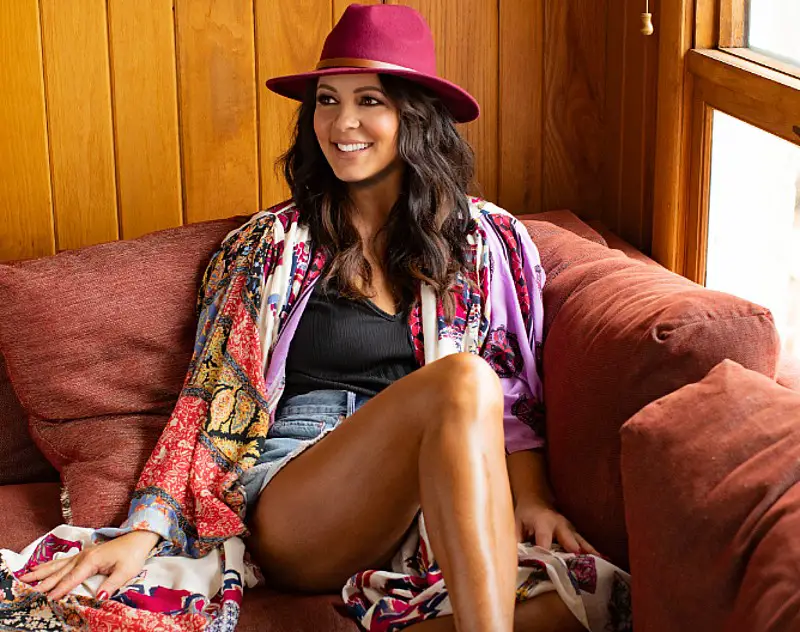 Sara Evans loves country music. She loves it so much that she refused to stray too far from the genre, even when her career could have received a big boost if she had relented. The 50-year-old has been unapologetically who she is as an artist, a trait that makes her music both timeless and relevant. Keep reading to find out 11 things about one of country music's biggest champions.
1. Music is in her blood.
Evans grew up in a musical family in Missouri, and began performing with them when she was just a little girl. Her early talent garnered some attention, which led to her recording a song in Nashville, "I'm Going to Be the Only Female Fiddle Player in Charlie Daniels Band."
2. She almost died in a car accident as a child.
In Evans' Born to Fly memoir, she recalls being hit by a car when she was just eight years old while crossing the street. Evans was thrown 80 feet in the air, resulting in numerous physical injuries. Although those wounds ultimately healed, her emotional wounds took much, much longer.
"I couldn't get a grasp on who I was," Evans says. "It's a feeling I've struggled with my whole life anytime I am stressed. I think it's PTSD from my car accident. I have this feeling of 'Who am I?' It tends to creep up on me after I've had to do a lot of interviews and be on and play the part of 'Sara Evans.' I don't even like writing about it because I am so afraid of having this feeling."
3. The video for her first No. 1 hit, "No Place That Far," starred Vince Gill.
By the time Evans released "No Place That Far," she had already released four singles that didn't crack the Top 40. "No Place That Far" was the title track, and second single released, from her sophomore project. Vince Gill sang on the song with her, and also starred in the video.
"'No Place That Far,' it's a melody that I wrote myself and I really enjoyed writing it," Evans says of the song, which she wrote with Tony Martin and Tom Shapiro. "It's not to say that I won't throw out a song that I've written for a better song that I did not write because there are many, many times that I've been pitched a song that I couldn't write or sounded more like me than something I wrote."
4. She appeared on Dancing With the Stars.
Evans was the first country star to appear on Dancing With the Stars, competing on Season 3 in 2006. Partnered with Tony Dovolani, Evans abruptly left the show midway through the season, citing personal reasons. Shortly after, it was announced she and her first husband, Craig Schelske, were divorcing.
"Unfortunately, I started going through a divorce in the middle of Dancing With the Stars and something traumatic happened," Evans told The Talk in 2020. "We were set to go do the group dance the next day, and I was going to have to leave the kids and be gone for like 15 hours a day and I just couldn't do that. I knew that the kids needed me, so I had to quit."
5. She passed on her musical talent to her children.
Evans is the proud mom to son, Avery, and daughter Olivia and Audrey, with all of them capturing some of their mom's musical talent. In fact, Olivia seems to be determined to follow in her mother's footsteps, releasing her own five-song EP last year.
"I've been waiting my whole life for this moment," Olivia told People. "You can ask my family, ever since I was 11 years old, I would ask, 'Can I make music yet?' I know I needed to grow up and learn a lot of things and all of that. But now, it feels amazing to finally be at this place. It's also really nerve-wracking because people know me, you know, through my mom."
6. Her children suggested she marry her second husband, Jay Barker.
While Evans is currently separated from her second husband, Jay Barker, it was her children, along with his, who suggested the couple tie the knot. Married since 2008, the two began their relationship as friends, before both Evans and Barker's  children suggested they make their relationship official.
"We would get together with our kids as 'just friends,'" Barker previously told AL.com. "Before long, they told us we should be dating."
7. She has traditional values.
Evans might have had an unconventional life, raising her children partly on the road, but she has very traditional values, especially about her role as a wife and mother.
"I'm a really old-fashioned wife, and I believe in being a sweet wife and not just bitching all the time and how the mother sets the tone in the house," Evans tells Everything Nash.
8. She still struggles with the loss of her father, who passed away in 2020 from Alzheimer's.
Evans and her father had a difficult relationship her entire life, one that sadly did not improve before he passed away.
"It was horrible because we were sort of estranged my whole life," Evans tells People. "And then I wasn't able to have any real closure with him before he lost his mental abilities. And so, the most devastating aspect of it was just that we weren't able to clear anything up. And now, he's just gone."
9. She went 30 days without speaking.
Blame it on an unfortunate bout with COVID-19 on Evans being placed on vocal rest for 30 days, a seemingly impossible task.
"I coughed for three weeks straight, and coughing is an absolute no-no for a singer," Evans tells People. "But I had shows to do, so I kept singing on top of the cough. I finally went to my voice doctor, and he did a scope of my vocal cords, and they were just so swollen. They told me I needed to take 30 days without a peep. So, I did not make a sound for 30 days."
10. She has an uniquel way of maintaining a healthy weight.
Evans loves to eat, including meat and snacks, citing Lay's potato chips among her favorites. But while she refuses to eliminate unhealthy foods, she does have a way of eating what she wants and being healthy at the same time, with what she calls the "growl diet."
"It's your body's natural way of saying 'I need food, it's empty,'" Evans tells Redbook, explaining that she won't eat until her stomach growls. "And you eat until you're full, until you're satisfied, and then you don't eat until you're empty again. It's just totally, you know, like gas in the car."
11. She's really, really humble.
Evans might be one of the most famous faces in country music, but don't tell her that. The humble singer prefers to see herself like everyone else, unless she's on stage.
"I don't see myself as famous," Evans explains. "I'll go to the grocery store, and I swear to you, I don't ever think I'm famous. I'm always surprised when people come up to me, because I feel anonymous. Unless I'm working and I'm putting on a concert — then I can't leave my bus, because everyone is there to see me. It's weird; it's hard to see myself in that way."