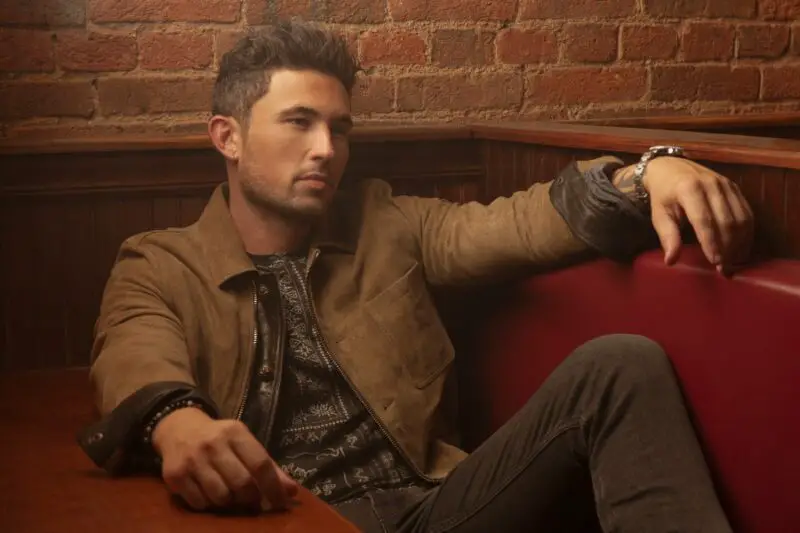 Cheers to Michael Ray, who is celebrating his second week at the top of the charts with his latest single, "Whiskey and Rain."  The song, written by Josh Thompson and Jesse Frasure, is from his latest Higher Education  EP. Not only is the hit single enjoying its second week at the top of the Country Aircheck chart, but it also landed at the top spot on the Billboard Country Airplay chart as well.
"This is incredible," Ray gushes. "I knew this song was something special, but I never dreamed it would be this impactful. I'm so thankful to my team who kept pushing to get this song to No. 1, now for two weeks in a row, and I'm grateful for the fans who found 'Whiskey And Rain' just as special as I do. Your support means everything, and I can't wait to keep bringing you compelling Country music."
The Florida native credits his loyal fans with the success of the song, which marks his fourth No. 1 single.
"I owe this one to the fans who love country music just as much as I do," Ray says. "I knew when I first heard this song, it embodied everything I love about country music, and I hoped people would find it as relatable and personal as I do.
"The support for 'Whiskey And Rain' has been so overwhelming and exciting," he continues, "I can't think of a better way to gear up for 2022 than this: celebrating with a song that's so special to me."
Ray posted an emotional video on social media after realizing he had the No. 1 song in the country.
"WHISKEY AND RAIN IS THE NUMBER ONE SONG IN COUNTRY MUSIC!!!!" Ray shared on social media, along with a video of him wiping away tears as he shared the good news. "Y'all I gotta be real. It's been an emotional one today. Back when we were recording this song I would think about all the things I always loved about [Gary Allan] and the way his music spoke to me and my life growing up in Eustis. I hope this song has been there for you on lonely nights when you've needed it, just like Gary always has been for me. One of my favorites of his goes, 'life ain't always beautiful… but it's a beautiful ride.' Thank y'all for this beautiful ride!!! Thank y'all for loving this song!!! We ain't slowing down!!!
Find all of Ray's music and upcoming tour dates here.