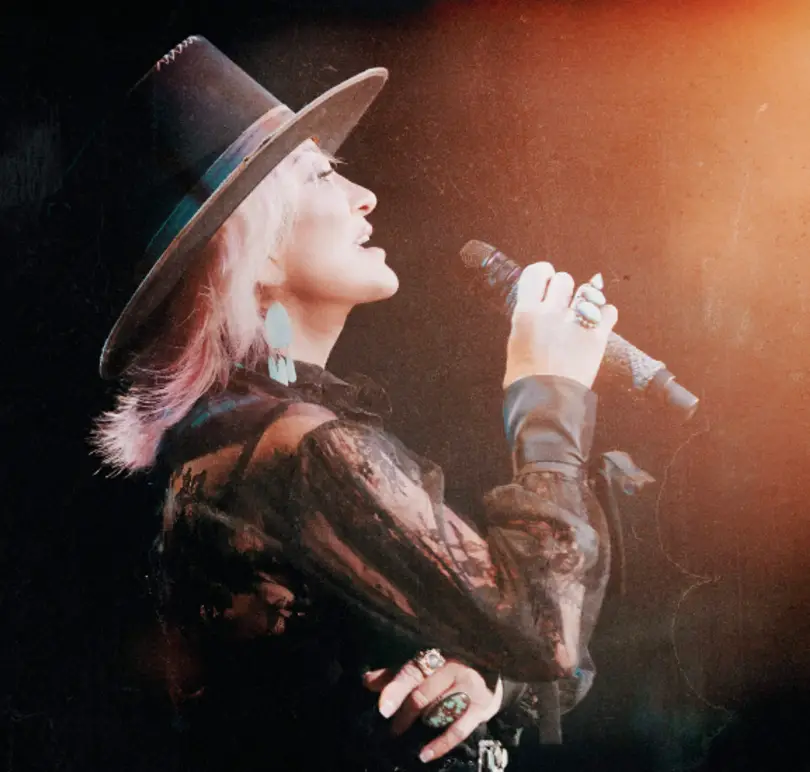 Tanya Tucker is heading to the Ryman Auditorium! The country music legend will perform at the hallowed hall on April 10, in honor of the 50th anniversary of her debut single, "Delta Dawn," which was released on April 10, 1972, when Tucker was just 13 years old.
"There's no room in the world like Ryman Auditorium," Tucker says of the honor. "Every time I walk on that stage I feel the energy of all the legends who've graced the The Mother Church of Country Music before me. I can't wait to return in April and bring a few friends with me!"
Alex Harvey and Larry Collins wrote "Delta Dawn" in 1972, based on the life of Harvey's own mother. Although other artists, including Helen Reddy and Bette Middler, recorded the song, "Delta Dawn" became the hit Tucker was known for, even though she was just a child when it was released. It was her producer, Billy Sherrill, who introduced her to "Delta Dawn."
"He played me the demo of Alex Harvey, who wrote the song, playing guitar and singing 'Delta Dawn,'" Tucker recalled. "He started singing, 'She's 41' … he didn't start out with the chorus. I said, 'That's my song, that's it.' So Billy said, 'Let's get a key' So we went to the piano. Billy said, 'Let's start with the chorus.' Ok, I know what the chorus [is]. Then he said, 'In fact, let's do it a cappella.' I said, 'A cappella, what's a cappella?'"
Tucker will spend part of 2022 on her Hard Luck Tour. The 63-year-old planned on being on the road in 2021 as well, but was forced to cancel those dates, amid COVID-19 concerns, as well as her ongoing recovery from hip surgery.
With my damn hip still healing slowly & my increasing concerns with covid-19, I've made the heartbreaking decision to cancel all 2021 dates. I must keep my fans, band & crew safe. I ❤️ my team, & most of all, I❤️U, the fans. We'll be back in 2022 ready to kick some ass.

Tanya pic.twitter.com/DVwT5VoH0c

— Tanya Tucker (@tanyatucker) September 10, 2021
A documentary celebrating Tucker's extraordinary life and career, The Return of Tanya Tucker, will debut at the South by Southwest Film Festival in March.
Tickets for Tucker's Ryman Auditorium show will be on sale beginning on February 18 at 12:00 PM CT at Ryman.com.  See a list of all of Tucker's upcoming shows below. More information, as well as all of Tucker's music, can be found at TanyaTucker.com.
Hard Luck Tour Dates:
April 10 Ryman Auditorium – Nashville, Tenn,
June 3-5 Riverbend – Chattanooga, Tenn.
June 4 Harrah's Cherokee Event Center – Cherokee, N.C.
July 8 River Spirit Casino – Tulsa, Okla.
July 9 Sugar Creek Casino – Hinton, Okla.
July 14 River Cree Resort & Casino – Enoch, Alb.
July 14-17 Country Thunder Saskatchewan – Craven, Sask.
Aug. 4 Blue Gate Performing Arts Center – Shipshewana, Ind.
Aug. 4-6 WE Fest – Detroit Lakes, Minn.
Aug. 5 Lake Superior Big Top Chautauqua – Bayfiedl, Wis.
Photo Credit: Courtesy of Adkins Publicity / Derrek Kupish