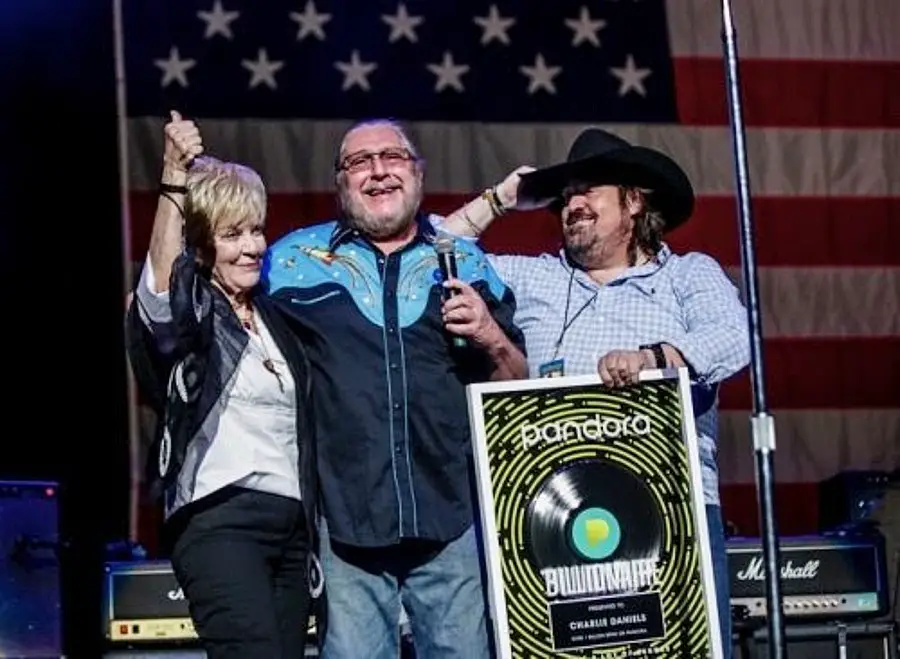 Charlie Daniels passed away a little more than a year ago, but his legacy continues. The Country Music Hall of Fame member was posthumously honored with Pandora's Billionaire Award, commemorating one billion streams on the music platform throughout his career.
A plaque was presented to Daniels' wife, Hazel, and his son, Charlie Daniels, Jr., during last week's 2021 Volunteer Jam: A Musical Salute to Charlie Daniels, by the Marshall Tucker Band's Doug Gray.
"This special award and the entire night brought tears to my eyes, to see how much his fans loved him, because he loved them, too," Hazel said. "It was such an honor. I wish everyone had fans as loyal as Charlie's."
"In what was an exciting, uplifting and emotional night, one of the highlights of this year's Volunteer Jam for me was the presentation of the Pandora Billionaire Award," Daniels, Jr. added. "For an artist whose main success was when record sales were measured by gold and platinum albums and decades before the advent of streaming to reach that milestone, this is a real testament to dad's legacy and to his millions of fans who continue to listen to his music. He would be honored and humbled."
Ricky Skaggs, Larry, Steve & Rudy: The Gatlin Brothers, Randy Travis (w/ James Dupré), Travis Tritt, Chris Young, Big & Rich, Lorrie Morgan, The Isaacs, Scooter Brown Band, 38 Special, Jenny Tolman, Michael W. Smith, CeCe Winans, Exile, The Allman Betts Band,  Travis Denning, Johnny Lee, Rhett Akins and more artists performed in Daniels' honor. The event was held on August 18, which Tennessee Governor Bill Lee declared Charlie Daniels Day.
"The Volunteer Jam is a proud Tennessee tradition, and this year we're bringing music fans together for a special tribute to the legendary Charlie Daniels," Lee said. "For over 50 years, Charlie shared his talent with people across our country, and I'm proud this celebration will carry on his legacy and showcase Tennessee's rich musical heritage."
Daniels had already started planning for the Volunteer Jam, which had to be rescheduled because of the pandemic. He passed away on July 6, 2020, after suffering a hemorrhagic stroke. David Corlew, Daniels' longtime manager, and close friend, vows to continue the work with The Charlie Daniels Journey Home Project, helping veterans in need, in Daniels' absence.
'I'm doing what I think Charlie would expect of me," Corlew told Everything Nash. "Obviously I'll always miss him. He's been such a big part of my life. I spent my entire adult life — I spent more time with him and anybody else in a lifetime. So I miss him every day. There's always something that reminds me one way or the other of our friendship and relationship. I'm going to keep moving forward, keep doing what he would expect of me. Do the work."
Photo Credit: Courtesy of Absolute Publicity / Kayla Schoen