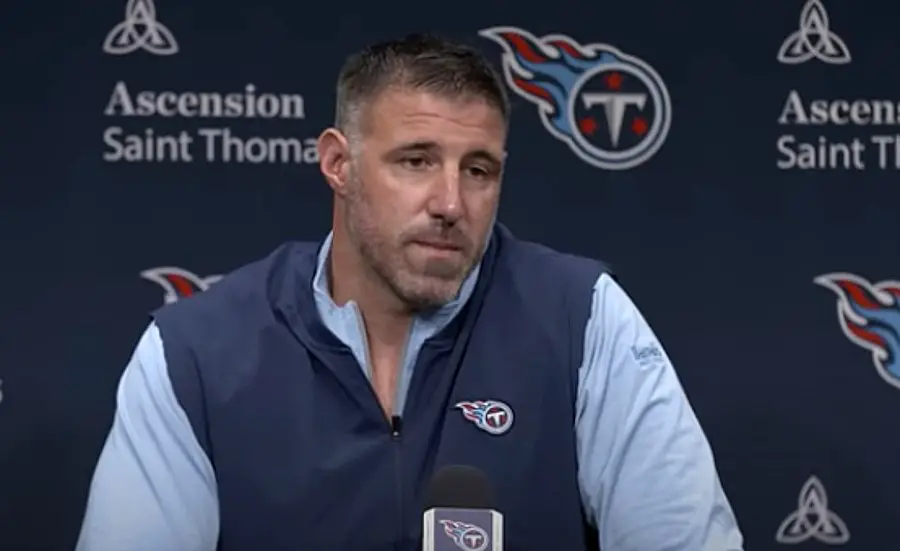 The Tennessee Titans will not be heading to the Super Bowl, after losing to the Cincinnati Bengals on Saturday, January 22. While much of the blame for the loss seemed to fall to quarterback Ryan Tannehill, coach Mike Vrabel says the blame needs to be shared by all.
"Well, I don't think Ryan or myself or anybody did enough to win the game," Vrabel said in a press conference after the game. "That's how it goes. It's never going to be about one person, not as long as I'm the head coach, which will be a while. So, it'll never be about one person. We have to play better, get open, not fall down. Defense has got to get some turnovers. But we can't turn the ball over; we know that. We can't get stopped on downs.
"Those are all the things we talk about and reasons why you lose," he added. "Our third-down conversion wasn't good enough, our ability to score touchdowns in the red zone, but we all have to play better. We have to coach better."
Tannehill also spoke out about the loss, and his surprise that they weren't getting ready for the next playoff game.
"It was a frustrating day all the way around," Tannehill conceded. "A great opportunity and we didn't make the plays we needed to win. The defense played a heck of a game, really dominated. It was really fun to watch them play. We didn't make enough plays to win it. This hurts, hurts bad. I didn't think we would be having this conversation right now. It was not my vision for the game at all. We had an opportunity at the end and there was no doubt in my mind that we were going to go down and get points."
While all of the Titans players are mourning the end of their season, Vrabel says no one feels it more acutely than Tannehill, who was expected to lead the team to the Super Bowl.
"Obviously, the guy pulling the trigger is going to get blamed," Vrabel said. "I mean, that's just what happens. But we all have to do a better job of taking care of the football. Ryan, nobody feels worse than Ryan does. You know, there was some contact, and, I mean, on the last one it's like, where would you want him to put the ball any differently, in a better spot? So, they let them play, and that's how it goes."
The Bengals will play Kansas City Chiefs on Sunday, January 30, at 3:05 PM ET, followed by the San Francisco 49ers playing the Los Angeles Rams at 6:30 PM. The Super Bowl takes place on Sunday, February 13, at 6:30 PM ET.