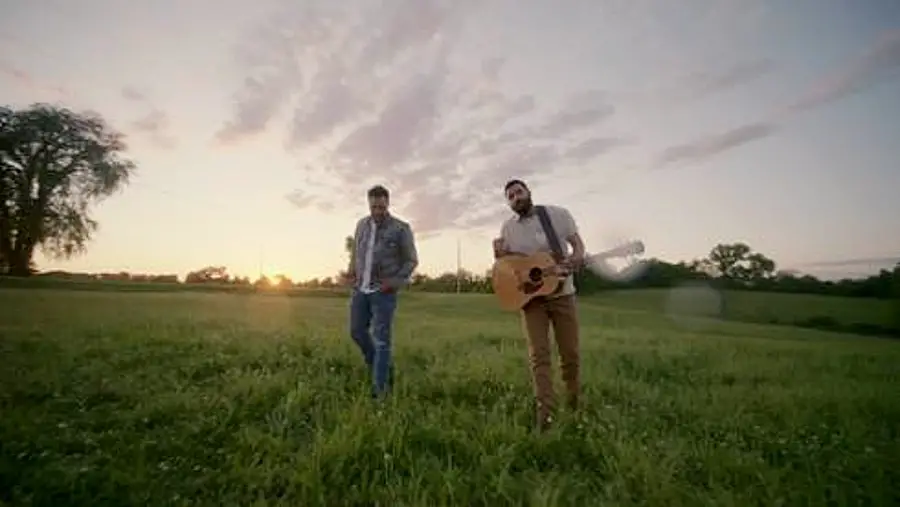 Jordan Davis is celebrating his fourth No. 1 hit with "Buy Dirt." The song, a collaboration with Luke Bryan, was written by Davis, along with his brother, Jacob, and Matt Jenkins and Josh Jenkins, and was inspired by a scripture Davis heard the morning that they wrote the song.
"We took a writer's retreat a little south of Nashville, me and three of my favorite writers in the world – Matt Jenkins, Josh Jenkins and my brother Jacob. We started every day – we were down there three days," Davis recalls to his record label. "We started every day with coffee on the back porch, and Josh would lead us in some type of devotional. He would find some scripture and then we would just kind of chew on it for a little bit.
"That day he had read, and I need to remember the exact scripture, but it was something about being planted, being planted in the dirt, and having a strong root system so you can weather storms and rain," he continues. "That is really the start of 'Buy Dirt.' And I don't know if that song comes if we don't wake up early and get out there and kind of start talking about real life. That was where it all started, and I'm grateful, grateful that I (laughs) didn't sleep in that day."
Davis knew soon after he finished "Buy Dirt" that he wanted to ask Bryan to join him on the reflective tune.
"I met Luke three or four years ago at an awards show after party, and got to hang with him," Davis recalls to UMG. "But I really got to sit and talk with him after a round of golf one day, and we just really talked about everything under the sun aside from music. Luke kind of embodies what that song is. You know a lot of people get to see Luke on American Idol or on stage, but Luke Bryan really is a great guy."
"Buy Dirt" might have been propelled a little quicker up the charts because of having Bryan on the song, but the superstar insists he wasn't doing Davis any favors by joining him on the tune.
"I don't want anybody patting me on the back for it," Bryan says (via 94.3 Kat Country). "I want people celebrating Jordan Davis for writing an amazing song. I mean, they're telling me 'Good job' like I had something to do with it, and the first thing I said is, 'Hey, I'm honored to be a part of it. Jordan asked me.'"
Davis is extending his Buy Dirt Tour into 2022. He also just announced he will make his debut this fall at the Ryman Auditorium in Nashville. Find all of Davis' upcoming shows, as well as his music, at JordanDavisOfficial.com.