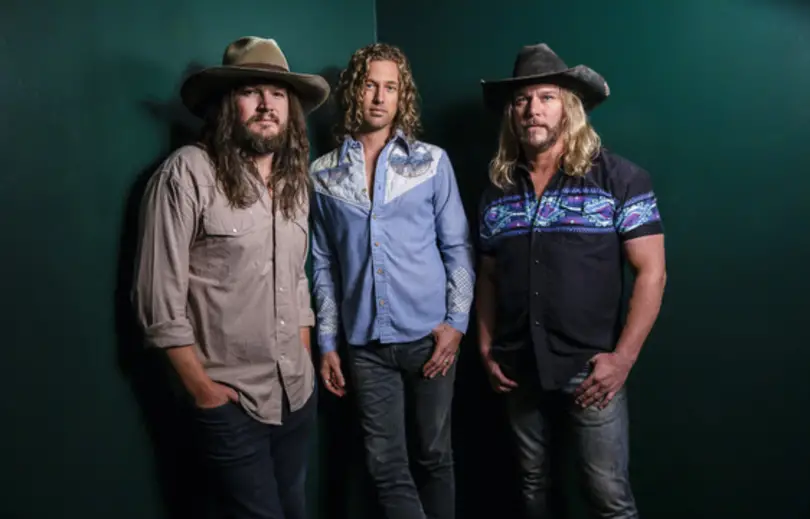 Texas Hill is hitting the road in 2022! The country supergroup, made up of The Voice contestants Adam Wakefield and Craig Wayne Boyd, and American Idol finalist, Casey James, just announced 24 shows on their upcoming Heaven Down Here Tour, which kicks off on Thursday, February 17 in Decatur, Georgia.
The Heaven Down Here Tour includes both headlining dates and supporting shows for country music icons Travis Tritt and David Lee Murphy.
The news comes less than a month after Texas Hill released their first full-length album, Heaven Down Here, as a trio.
"All three of us were thrust into situations where millions of people made snap judgements on our talent and ability in 90 seconds, and that's why this project has been so cathartic for us," Wakefield says of the record. "There are so many things we're proud of on this record. I think the one I'm most proud of is how diverse and raw it is. At a time where new music coming out of 'Music City' can be formatted and predictable, we let the music lead; and it took us to a lot of different places … I think there's something for everyone on here."
It was Boyd who had the idea to form Texas Hill, when he was at a bit of a personal and professional crossroads.
"I was sitting in my garage thinking about what I wanted to do in my own personal career," Boyd tells Everything Nash. "I felt beat up a little bit, and I just wanted to get back to the love of music. And one of those things for me was singing harmonies and singing in a group. In talking with my wife, who is the brilliant one, she asked who I would want to sing with. And both of these guys are my first choices. This is who I would see if I had my dream vocal group. I like their voices. I'm a fan of both of them, so I called them up."
See a list of all of the Heaven Down Here Tour dates below. Find their music, and more information on all of their upcoming shows, at TexasHillOfficial.com.
Photo Credit: Courtesy of Elicity PR / Jeff Fasano
Texas Hill's Heaven Down Here Tour Dates:
Feb. 17 – Eddie's Attic – Decatur, Ga.
Feb. 18 – Songbirds – Chattanooga, Tenn.
Mar. 12 – Gilley's – Durant, Okla.
Mar. 13 – Bowman Backyard – San Antonio, Texas
Mar. 14 – Rio Grande Valley Rodeo – Mercedes, Texas
Mar. 16 – Coastal Bend College – Beeville, Texas
Mar. 26 – Don Gibson Theater – Shelby, N.C.
Mar. 31 – Victory Theater – Evansville, Ind.*
Apr. 1 – Show Me Center – Cape Girardeau, Mo.*
Apr. 7 – Madlife Stage & Studios – Woodstock, Ga.
Apr. 9 – Cocoa Beach Amphitheater – Cocoa, Fla.*
Apr. 10 – Destination Daytona Pavilion – Ormond Beach, Fla.*
Apr. 21 – Westgate Ranch & Rodeo – River Ranch, Fla.
Apr. 22 – Charlotte Sports Complex – Port Charlotte, Fla.
Apr. 23 – The Rockin Ranch – Ormond Beach, Fla.
Apr. 30 – Fat Daddy's Live – Mansfield, Texas
May 11 – Augusta Civic Center – Augusta, Maine
May 26 – Roasting Room – Bluffton, S.C.
May 27 – The Boathouse – Myrtle Beach, S.C.
May 28 – Southern Social – Middleburg, Fla.
May 30 – Rock the Boat – Panama City, Fla.
June 15 – Lava Cantina – The Colony, Texas
June 18 – Miller Outdoor Amphitheater – Houston, Texas^
*w/Travis Tritt
^w/David Lee Murphy