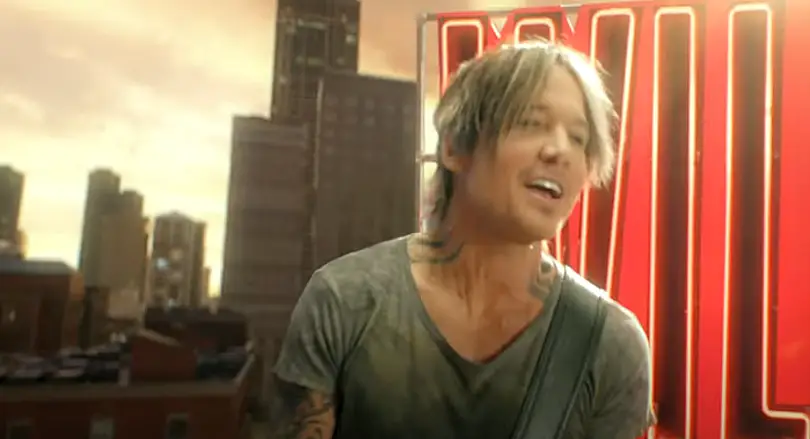 Keith Urban just dropped the video for his latest single, "Wild Hearts." The video for the song, which was written by Urban, along with Runaway June's Jennifer Wayne, Old Dominion's Brad Tursi and Eric Paslay, became a metaphor for Urban's own career, from his humble beginnings in Australia to his massive upcoming 2022 The Speed of Now World Tour.
"I wanted to create the feeling of the journey I've been on from day one – hoping that one day I'd be playing live in front of as many people as can be jammed into a concert hall," Urban says of the song, adding, "It represents the beginning, when I had no band, and I just played to a couple of people."
"The building I'm playing on starts rising higher, as the audience grows," continues the singer. "All of this leading to a starry sky becoming a sea of camera phones in the air – a phenomenal sight to see from any stage."
Urban acutely felt the pain of life largely off of the road the last two years because of the pandemic, which began just as the father of two was ready to embark on another tour. But now, with dates crossing the globe on the calendar this year, no one is more ready than Urban to perform in front of his fans again.
"All of this gives me the same adrenaline rush," says the 54-year-old. "Knowing that we're heading back out on the road again – it's been so long since we've done that (because of COVID). I feel like a caged animal kicking at the gate to be let out!"
Urban asked for, and received, permission from the other "Wild Hearts" writers to tweak the lyrics to make them personal to him and his story. The end result was a fast turnaround on a song that has become one of Urban's favorites he has ever recorded.
"This whole thing came together faster than probably any song I've ever done," Urban shares with his record label. "I got sent the song in early May, and I rewrote the lyrics within a couple of weeks of getting the track without the vocals on it, so I could work on that. And once I got those where I wanted them, I went down into my studio and put down a vocal on the song and then I added guitars and I sort of built out the demo that I got sent. Everything was done so quick, and then I sent it to my manager to say, 'Hey, we just did this last week. What do you think about this song?' And he said, 'I think we should put that song out.' I went, 'When?' He was like, 'Now!' (laughs) He's like, 'This just sounds great.'"
All of Urban's upcoming shows can be found at KeithUrban.com.