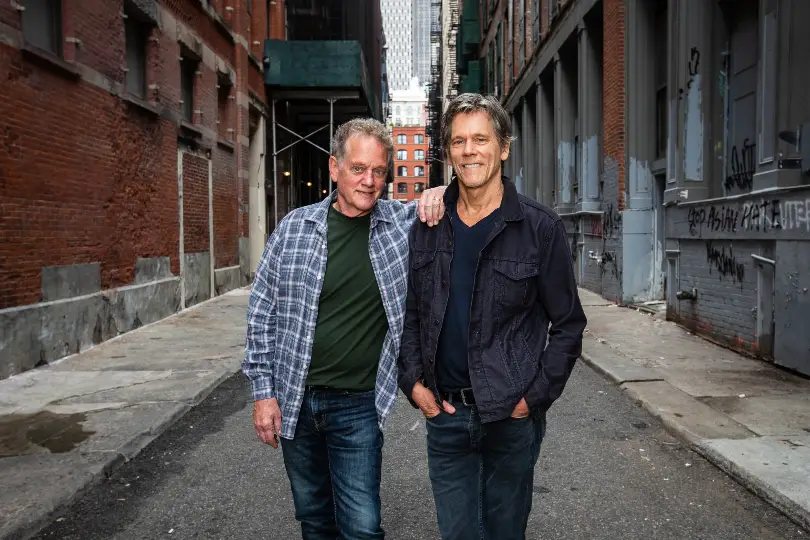 The Bacon Brothers have new music to share with the world. The duo, made up of musician and composer Michael Bacon, and his brother, actor Kevin Bacon, released a new EP, Erato, on July 8. The five-track record shows how the Bacon Brothers have progressed and evolved in the 25 years since their debut Forosoco was released.
"The muse, the lightbulb that pops on, the elusive port that opens for a few moments and gives energy to a creative act that is comprehensible by a disinterested party, this is what we're constantly trying to find," Michael tells Everything Nash.
The title, Erato, is especially meaningful to Kevin, who admits he had a bit of a creative block when trying to pen songs for their new project.
"Erato is the goddess of music and lyrical poetry and all things erotic," Kevin says. "I was having a hard time coming up with anything to write about, which happens when you are a songwriter, and I read about this Erato who is supposed to be a muse. And I guess for this one moment she was because I wrote a song about being uninspired and hoping that a muse would come along and give me some inspiration, so that's the title track for this record."
Both Michael and Kevin have evolved, individually and together, since Forosoco came out in 1997.
"It's night and day," Michael says of how they have changed. "Even though I'd already been a professional songwriter/performer for 25 years previously, my skills are way surpassed by what I can do now. Almost every new song we learn challenges my technique both as a singer and instrumentalist."
"We are a songwriting band," adds Kevin. "We never really had a sound, or our sound was always kind of like a lack of sound. I think that the five-song EP is a really good indication of that because we have songs of all kinds of vibes on this one. From things that sound like classic singer-songwriter stuff to electronic and rock. That is just kind of who we are as singers and songwriters. Our first record, Forosoco, was 25 years ago and I really feel like I have gotten better. I've gotten much better as a songwriter, I've learned a whole bunch about writing songs from both doing it and from people that I have written with. And from hanging out with excellent musicians who are better than me.
"There's nothing that makes you better as a musician than playing with musicians that are better than you," he adds. "And that is a great blessing of what I have had in The Bacon Brothers and I feel like we've definitely taken a step up."
Michael, who has made a name for himself penning scores for films and TV shows, enjoys exercising his creative muscles, however challenging it might be, for the music the Bacon Brothers perform.
"Composing for film is a solitary profession, responding to the needs of the project, which is why I characterize film scoring as a craft, not an art," he explains. "Songwriting, arranging, production and performance are arts, existing only for their own sakes, is a much more personal and, perhaps, vulnerable place."
Kevin is a talented singer, songwriter and musician, but his notoriety comes from his acting career, starring in iconic films like Footloose, Tremors, Flatliners, A Few Good Men, Apollo 13 and more, as well as having the starring role in the Showtime series, City on a Hill. For a man who has been fearless in his acting roles, the 64-year-old admits that creating music can be intimidating to him.
"Being on a set is something that I've done for my entire life," explains the seasoned actor. "I feel like I'm in my living room. When I walk on set it's a very familiar and easy place for me to be. When I first started singing and writing songs, I had never done it before and even though I started when I was very young, as a performer, that was something that was completely new. Songwriting is very personal to me, I tend to write about things that I feel very deeply about. Exposing those things to the world and standing up in front of people with your guitar and saying 'Hey, here is a song about my feelings about the world or life or love or my kids or my wife,' that is a very vulnerable place to be."
The Bacon Brothers have performed in venues all over the country and beyond, growing their following of fans who celebrate their unique music. While both Michael and Kevin are grateful for the success The Bacon Brothers has had, they still believe there is a larger audience out there for them and their music.
"I never stopped believing that we could have a song that explodes in the public domain," Michael maintains, citing the lyrics of Larry Jon Wilson's "Let Me Sing My Song to You," which says in part, "I hope one day I can write a song that everyone can like . Dream about it day and night, but 'til I do / Let me sing my song for you."
As Kevin continues to work on his flourishing acting career, while also touring and performing as part of The Bacon Brothers, he is focused on pursuing his passions, regardless of the commercial outcome.
"We don't even look to the future that much to tell you the truth," Kevin says. "We just try to keep doing what we're doing. Hopefully, we will keep writing songs and keep putting out music and go out and play in front of people."
The Bacon Brothers will perform at City Winery in Nashville for two shows, on Saturday, July 16. Tickets to their City Winery shows can be found here. Find Erato and all of The Bacon Brothers' music and tour dates by visiting their website.
Photo Credit: Courtesy of devious planet / Charles Chesler