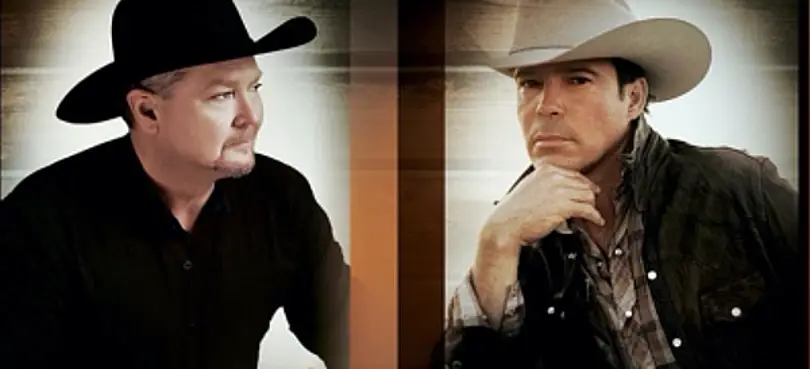 Tracy Lawrence and Clay Walker are heading back out on tour, together! The two singers announce that they are resuming their joint headlining show for a series of concerts in November.
"We're doing it again!" Lawrence announces on social media. "Catch me and Clay Walker this November! Get pre-sale tickets for Norfolk, Knoxville, Columbia & Spartanburg this Thursday at 10am local time with code ICONS, general on-sale Friday at 10am. Fayetteville & Macon, pre-sale starts 7/21, on-sale 7/22!"
Walker has a lot of praise for Lawrence for his longevity with his career, which has spanned more than 30 years, and is still going strong.
"His longevity is because of that great voice," Walker tells Everything Nash. "That guy's got one of the best country music voices of all time."
Lawrence and Walker wanted to tour together, after performing a few shows together in 2021, and realizing how much fun they had sharing a stage.
"We wanted to do more of it," Lawrence explains. "Last year, we did a four-day run. We went in to do rehearsals and it really went so well that we were trying to find places to do more of it last year, but our tour schedules were slammed. We got nine of these done and there may be more as we look down the road. I think that's the plan is to try to do more of them."
While Lawrence and Walker each continue to churn out new music, both men say they enjoy singing their classic hits on tour as well.
"Tracy and I both have to look at it like a fan does, 'cause we're both fans of country music too," Walker says. "You know, if I could go see George Strait, I don't want to hear new stuff … Tracy and I both, we have too many hits to get done in one show, honestly, with both of us on stage, and that's a good thing. But we also have worked hard, both of us, to make a new album, and there's a lot of heart and soul that goes into that. And so we won't fill up the night with new material, but I think both of us will at least do one off of our new record."
Walker will appear on the 2023 Country Music Cruise, along with The Oak Ridge Boys, Randy Owen, John Berry, Neal McCoy, Mark Chesnutt and many more. A discount on cabins, exclusive to Everything Nash, is available here.
All of Lawrence's upcoming shows can be found here, while Walker's list of concerts is available here.