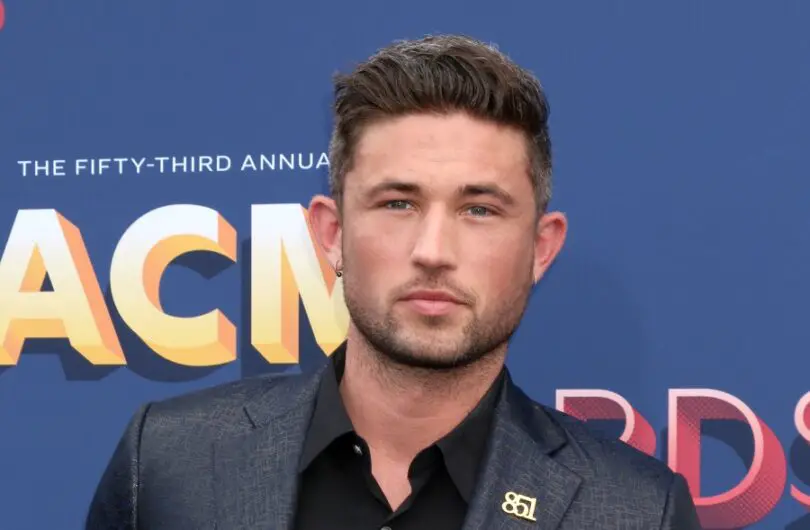 Michael Ray is already emerging as one of country music's biggest stars, and he's just getting started. The Florida native released his Higher Education EP in August, which includes songs written by Corey Crowder, Ashley Gorley, HARDY and more.
Ray has already released two albums, both his eponymous freshman debut and Amos, out in 2018, and his Kiss You In the Morning EP. Ray's had numerous hits at radio and album cuts that have become fan favorites. Keep reading to learn more about ten of Ray's biggest hits.
10. "Real Men Love Jesus"
"Real Men Love Jesus" is from Ray's freshman record. The song cracked the Top 20, but sounds like it easily could have hit No. 1. Written by the Warren Brothers, along with Lance Miller and Adam Sanders, the message of the song was something that Ray easily understood.
"I wanted a song that represented the guys that are overlooked," Ray told Taste of Country. "One of the lines in the song that stuck out the most to me was 'To say I love you / They don't need a reason / Real men love Jesus.' My grandfather would call you back if he didn't say 'I love you' … I say it to my dad everyday."
9. "Run Away With You"
Ray wrote "Run Away With You" with Big & Rich's John Rich. Big & Rich first released the song, from their Gravity album, before Ray also released it, on his debut album. Ray was mentored by Rich for the TV show The Next: Fame Is At Your Doorstep, learning plenty from him in the process.
"When you get around people with that amount of passion and drive like John has, it's contagious," Ray previously told All Access. "I think that's why you try to surround yourself with people that have that drive and vision of always being an artist and always wanting to pursue it, but how to branch out, help another artist out, to keep an ear out for a song that maybe it's not for me, but hearing it for so-and-so.
"Being around him, you just shut up and listen and learn from artists like him that have a mindset in not only music but business," he added.
8. "Picture"
Ray wrote "Picture," one of two songs he penned from Higher Education, about the loss of his own Uncle Terry.
"We were preparing for his service and going through pictures with my buddy Ryan," Ray told Everything Nash. "It was late at night and he looked over at me and said, 'Man, isn't it weird that no matter what you do in your life, no matter what you make, no matter where you go, one day all we'll be are pictures that people carry on and tell stories about?' And so, the songwriter in me, I wrote down 'all we're going to be is pictures,' and put it in my pocket, and didn't say anything. The next day I had a writing session with David Garcia and HARDY and they helped me bring it to life."
7. "One That Got Away"
"One That Got Away" became a No. 1 hit for Ray, and with good reason. The infectious uptempo tune, from Amos,  was written by Jesse Frasure, Josh Osborne, Matthew Ramsey and Trevor Rosen, but felt as personal to Ray as if he had written it himself.
"This song is definitely one of those that I have lived," Ray told Billboard. "I thought of someone where I kind of saw it coming, but I agreed to be a part of the ride. But, I think that everything in your life sets you up for where you need to be, and it's all about the journey."
6. "Higher Education"
Ray can't even quite believe he pulled off "Higher Education." The title track of his EP, the song was written by Tim Montana, Derek George, Jeremy Bussey, Monty Criswell, Frank Rogers, but brought to life when Ray enlisted his good friends Lee Brice, Tim Montana, ZZ Top's Billy Gibbons and Kid Rock to join him on the song.
"Our friend group is so eclectic that I told Tim, 'If this comes together, if we do this, I'm not telling anybody,'" Ray told Everything Nash. "'We're just going to go and do it. And then we'll deliver this train to the station. We'll deliver it already put together to management, to label to everybody,' because we were during quarantine … I knew in my mind how great it would turn out. I just had to bring it to everybody to show everybody."
5. "Think a Little Less"
"Think a Little Less" is from Ray's freshman record. Written by Thomas Rhett, Barry Dean, Jon Nite and Jimmy Robbins, Ray thought Rhett would want to record it, but as soon as he found it it was free, he snatched it up for himself — and has never regretted that decision.
"It's been the song that I don't have to introduce anymore," Ray told The Boot shortly after it was released. "People hear the front riff, and then you see it live … I was just able to, thankfully, be very lucky to be the guy they let take their creation and take it out to the world."
4. "Drink One For Me"
"Drink One For Me" wasn't a single, but we wish it had been. The last track from Amos, the song felt personal to Ray, since he has several friends who have served in the military.
"The biggest thing they wanted was just to make home stay the same," Ray told Rolling Stone. "So, no matter where they're at in the world, they know that, 'Hey, I know what my buddies are doing right now.' It's just celebrating our soldiers and our men and women in uniform. It's us saying, 'We'll keep home the same for you. You just come home to us.'"
3. "Kiss You In the Morning"
"Kiss You In the Morning" was Ray's first single — and his first No. 1 hit. Penned by Josh Wilson and Michael White, Ray was pleasantly surprised at how well country music fans latched onto the song.
"The success of 'Kiss You in the Morning' was mind boggling," Ray said (via People). "Before it was even out, people were singing it at shows. Country radio just literally open-arm embraced it. It was the coolest ride to be on because I grew up listening to country radio. The Top 40 countdown on Sundays was like a religious thing I did after church."
2. "Whiskey and Rain"
"Whiskey and Rain" was the debut single from Higher Education, and in many ways the song that let fans discover who Ray really was. With a '90s throwback feel, in both the song and video, the tune, written by Josh Thompson and Jesse Frasure, was Ray giving a not-so-subtle hint about the kind of music he wants to make moving forward.
"It's what I've always had in my head," Michael told Everything Nash. "I guess I always knew that I wanted  more of a traditional country sound. That's what I grew up on, what I listen to, to this day. And I just always felt like that was the record I wanted to make. It took this year, I guess, to really realize that on my own. So this song, it was just that catchy, hooky melody, that throwback to the Gary Allan. It sounds like Gary Allan, Dwight Yoakam — all of that. It just stood out. And really, we felt was a great way to introduce this new record and new sound."
1. "Her World or Mine"
"Her World or Mine" has one of the best lyrics, and best vocal deliveries, of any song in country music. Brett Beavers, Travis Denning and Jamie Paulin wrote the heartfelt song, which is about one person mourning the relationship another person happily left.
"That one struck a chord for sure," Ray told PopCulture.com. "That one's probably the song on the record that was tough to sing a few times. One of the things I love about that song is that it's kind of open, where the listener can put their own story into that. It really doesn't say who's who. It doesn't say who got stuck and who went on."