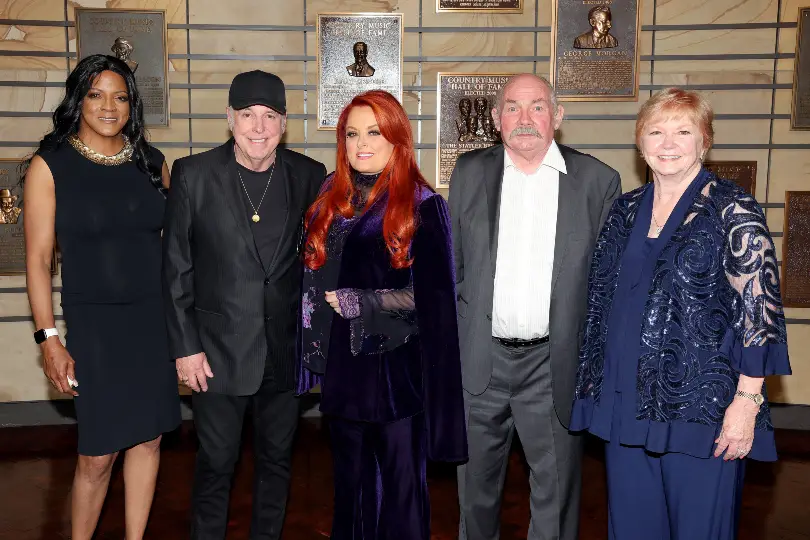 The Country Music Hall of Fame inducted four new members on Sunday, May 1. The Judds, the late Ray Charles, drummer Eddie Bayers and the late Pete Drake were all inducted, celebrating their numerous accomplishments in country music.
Pete Drake, one of the most influential pedal steel guitarists of any genre, was inducted into the Recording and/or Touring Musician category. Drake, who passed away in 1988, played on the projects of numerous artists throughout his lengthy career, including Joan Baez, George Harrison, Elvis Presley and more.
Elizabeth Cook sang "I'll Be Your Baby Tonight" and Wendy Moten sang "He Stopped Loving Her Today" before Charlie McCoy inducted Drake into the Hall of Fame. Drake's wife Rose and son Johnny were on hand to accept the honor on his behalf.
Drummer Eddie Bayers was also inducted into the Recording and.or Touring Musician category. Bayers has spent more than four decades playing on recordings in Nashville. His percussion can be heard on recordings by Ricky Skaggs, The Judds, Kenny Chesney, Vince Gill, Alan Jackson and more.
In honor of his induction, Gill sang "When I Call Your Name," and Trisha Yearwood sang "Walkaway Joe."
"My first sessions back, it was interesting because everybody I worked for went, 'My God, Eddie, you're playing better than you ever have. It's like you hit a new zone,'" Bayers said. "I spent three months not knowing whether I'd ever play again — much less whether I'd live. When you get on the back side of that, you're thrilled. I've appreciated everything I've done."
Ray Charles, who passed away in 2004, was inducted into Veterans Era Artist category, was a pioneer in numerous genres, including country music. Charles' 1962 Modern Sounds in Country and Western Music album is considered to be one of the best records of all time. Charles also released his Friendship album in 1984, which included duets with numerous country artists, such as Johnny Cash, Willie Nelson, Merle Haggard, the Oak Ridge Boys and more.
To honor Charles' induction, The War and Treaty sang "You Don't Know Me," Garth Brooks sang "Seven Spanish Angels, and  Bettye LaVette performed "I Can't Stop Loving You. Ronnie Milsap formerly inducted Charles into the Country Music Hall of Fame. Valerie Ervin, President of the Ray Charles Foundation, accepted the honor on Charles' behalf.
The Judds, made up of Naomi and Wynnona Judd, were inducted in the Modern Era Artist category. Wynonna and her sisster, actress Ashley Judd, attended the ceremony together, only one day after Naomi unexpectedly passed away.
"I didn't prepare anything tonight, 'cause I knew mom would probably talk the most," a tearful Wynonna said from stage. "My heart's broken and I feel so blessed, and it's a very strange dynamic to be this broken and this blessed."
"Though my heart's broken, I will continue to sing," she added. "This is the first time I've talked since saying goodbye. At 2:20, I kissed her on the forehead and I walked away and this is the first place I've been. "
Carly Pearce performed "Grandpa (Tell Me 'Bout the Good Ole Days)" in their honor, while Gillian Welch and David Rawlings sang"Young Love" and Tommy Sims performed "Love Can Build a Bridge."
Skaggs officially inducted The Judds into the Country Music Hall of Fame.
"We're not gonna be sad today. We're gonna have joy," Skaggs said. "Seeing so many wonderful people and wonderful things, seeing these two strong women is just so amazing to me.''
The Country Music Hall of Fame induction ceremony concluded with "Will the Circle Be Unbroken," led by Marty Stuart.