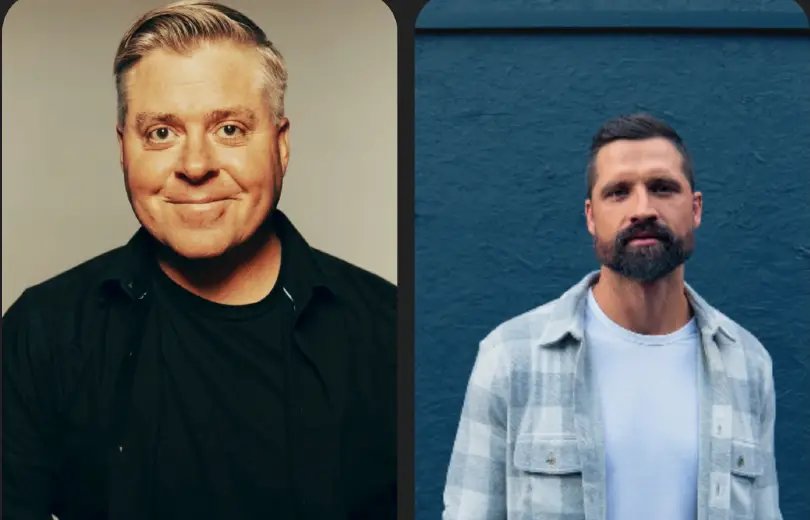 If there was ever an unlikely friendship, it might be with Walker Hayes and Craig Cooper. Hayes met Cooper when he was despondent about his lack of success in the music industry, struggling to support his family financially, drinking heavily, and wanting nothing to do with the Christian faith Hayes' wife Laney believed in.
But when Hayes reluctantly went to church one Saturday — a place he didn't want to be because he reserved Saturdays for drinking — Hayes met Cooper, who was pastoring the church Hayes' wife and children visited. From there, a friendship between Hayes and Cooper began, and grew and grew, and grew. Their friendship, and the changes that have happened in each of them as a result, are detailed in the book Glad You're Here, which both men co-authored.
"This is something that we actually started over COVID," Cooper tells Everything Nash. "He moved in next door, providentially, right as the pandemic hit. They had decided to move next to us and we were thrilled about it. Then the world basically shut down, and they were right here, so we decided to quarantine together. We ended up ripping the fence between our two backyards, and it enabled the families to be able to go back and forth from each back deck and come in and out.
"We did dinners together, one night over here, one night over there, back and forth, back and forth," he continues. "And then all of his writes got canceled and he came off the road. Everybody did. Touring and all of that just went to a screeching halt. In the afternoons we would sit down, and we would write songs together."
Interestingly, when they began writing together, no one — not even Cooper or Hayes — could have predicted the massive success Hayes would soon experience with his viral hit, "Fancy Like."
"This was in 2020, so way before 'Fancy Like' or 'AA' or Country Stuff the Album or 'U Gurl,' any of that," Cooper says. "We were just having fun talking about our stories and talking about his journey of faith and talking about the stuff we had worked through together in the past, and then when we came together and how God just did remarkable things in our friendship, and we got excited about it. And then about Chapter 5 is when like 'Fancy Like' hit."
When Cooper was first becoming friends with Hayes, it was his idea to give Hayes their minivan. The generous gift inspired the song "Craig," which appears on both Hayes' 2017 Boom album, and also on Country Stuff the Album, the latter with MercyMe.
"At that time and even now, they were family to us," Cooper maintains. "They were just so, so close, and dear, dear friends. And so, there was a progression to that. We met them in January of 2014, and they came to church that night. Laura [Cooper's wife] actually had invited Laney, and Walker talks about how he hated Laura for that. He thought he was done with the whole church visiting phase, but we had just planted a church."
Cooper's wife might have invited the Hayes family to join them, but Cooper was still stunned when he saw Hayes, Laney and their children walk through the front doors.
"The first thing I said to him was those three words, 'Glad you're here,'" Cooper recounts. "He felt it, and we became fast friends. Even that night, I remember just going, 'Hey, have you guys eaten? You want to go eat?' We ended up going to a Mexican restaurant that they liked, and we did that nearly every Saturday night so that they would come to church … We all took over the restaurant and then started spending time at each other's kids, sporting events, baseball games, basketball games."
Now that Hayes is open about his faith, Cooper is in awe of the transformation in his friend's life.
"It's been remarkable," Cooper gushes. "It's been amazing to have a front-row seat to what God has done. To sit at the table and watch it all unfold is one of the greatest privileges of my life. I just wanna see God do that over and over and over and over again."
Glad You're Here is being officially released on May 3. it is available for purchase at WalkerandCraig.com, as well as all major retailers.
Photo Credit: Jeremy Cowart / Robert Chavers