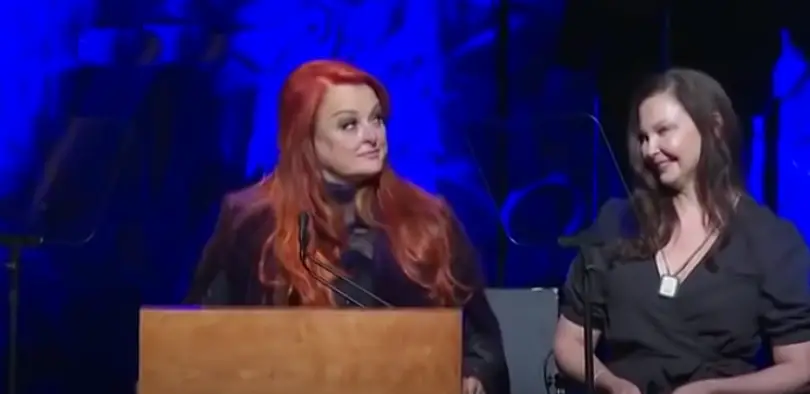 The Judds are officially members of the Country Music Hall of Fame, but their induction was far from celebratory. Wynonna Judd was on hand to be inducted, accompanied by her sister actress Ashley Judd, honoring the life and legacy of their mother, Naomi Judd, who passed away one day before the ceremony.
"I didn't prepare anything tonight, 'cause I knew mom would probably talk the most," a tearful Wynonna said from stage. "My heart's broken and I feel so blessed, and it's a very strange dynamic to be this broken and this blessed."
Wynonna, who closed her speech by reciting Psalm 23, vowed to keep making music, even without her mother by her side, also recalling her final moments with her mother.
"Though my heart's broken, I will continue to sing," Wynonna said. "This is the first time I've talked since saying goodbye. At 2:20, I kissed her on the forehead and I walked away and this is the first place I've been. "
Ashley also honored Naomi, as well as Wynonna, for being inducted into the Country Music Hall of Fame.
"My mama loved you so much, and she appreciated your love for her, and I'm sorry that she couldn't hang on until today," Ashley said. "Your regard for her really penetrated in her heart, and it was your affection for her that did keep her going in these last years …. And while this is so much about The Judds as a duo, I want to take a moment to recognize my sister, A GOAT. This voice around the house, first picking out 'The Pink Panther' on the piano when I'm almost still in diapers, but then listening to Hazel [Dickens] and Alice [Gerrard], and her picking out those harmonies with mom.
"And then of course it was Joni Mitchell … and Led Zeppelin  — all the things to which you listened, and I just got to bask in this voice that was around the house. I've always been so proud of the music and so proud of you, but perhaps never so much when you walked out on stage with Steven Tyler," she added with a laugh.
The Judds were inducted along with Ray Charles, Eddie Bayers and Pete Drake.