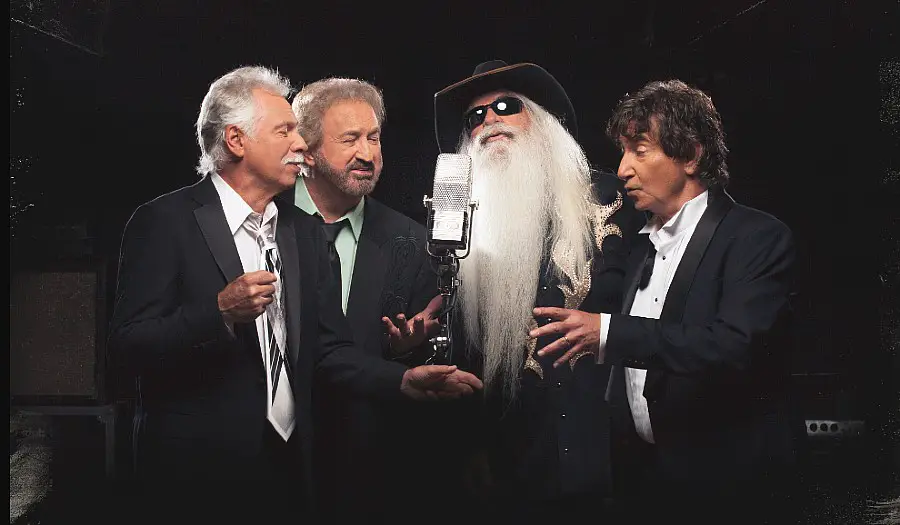 The Oak Ridge Boys will release their latest album, Front Porch Singin', on June 11. The 11-track record, produced by Dave Cobb, was inspired by, and recorded, during the coronavirus pandemic, when the historic group was forced off the road for the first time in more than 40 years.
"I think it's something that we felt we wanted to do, and needed to do in the middle of that pandemic," the Oak Ridge Boys' Joe Bonsall tells Everything Nash. "As we all know, everybody in the music industry was shut down. It didn't matter if you played first string violin for the symphony, if you were a hip hop artist or a country star or a Broadway star, you were told to go home. Your switch has been flipped off now. No money, no income for all your people, and just sit this thing out and try not to get sick, which was just unbelievable. I just turned 73 years old, and I've never seen anything like it in my life."
Bonsall's father served in World War II, which is the closest the singer can come to comparing the impact of the pandemic.
"I guess this COVID thing has been kind of our World War II," he reflects. "It doesn't compare to what that was exactly, but as far as shutting a whole country down, and the craziness, and people getting sick and dying, and then the crazy politics that's going along with, it's just been a nightmare. So in the middle of all of that, we decided, let's cut an album."
Front Porch Singin' not only became a reprieve from the challenges the world was facing, but also a way for the Grand Ole Opry members to share still another side of their music and performance, even within the confines of a studio.
"We've been around since the earth began to cool," Bonsall quips. "We've done everything … On our Christmas show every year — we've done a Christmas tour for 30 straight years — we have a rocking chair segment. We'll bring out four rocking chairs, and we all sit in front of a fireplace and a tree. Everybody tells a little bit of stories about Christmas growing up, and we sing in the chairs. Dave Cobb wanted us to cop that attitude on an album. Four Oak Ridge boys, sitting on a front porch.
"One guy starts singing, so everybody falls right in and sings with them, and let's keep the voices way up front," he continues. "Let's do sparse instrumentation; let's sing some old gospel, some new gospel, some old country, some new country. We had some songwriters write us songs that just fit this whole project so well. We brought out some of our oldest gospel and some new as well."
In August, the Oak Ridge Boys gathered in the historic Studio A to record Front Porch Singin', which felt especially meaningful after so much time apart.
"It brought us together, which music can and does do, and our own singing after being home for five straight months — no shows, no nothing, no income — to go down there and see each other every day, it was a blessing," Bonsall says. "I think all of that came out on this album. I think it's magical. I don't think we planned it, but with songs like 'Love, Light and Healing,' and 'Life is Beautiful,' some of the gospel on there, I think we may have inadvertently recorded the perfect album for the times we're living in."
The Oak Ridge Boys are also ready to get back on the road, something they — and their fans — have missed within the last year.
"The Oak Ridge Boys are one of the older, established Hall of Fame acts that people look to," Bonsall notes. "Families look to. We're starting to crank again. We're starting to get back into the shows, and the crowds are just on fire. On fire. And I think they will be for this album too. In fact, they've released three singles already, or three songs already … The response has been unbelievable. I think this album is going to do really  well."
Pre-order Front Porch Singin', and find tour dates at OakRidgeBoys.com.