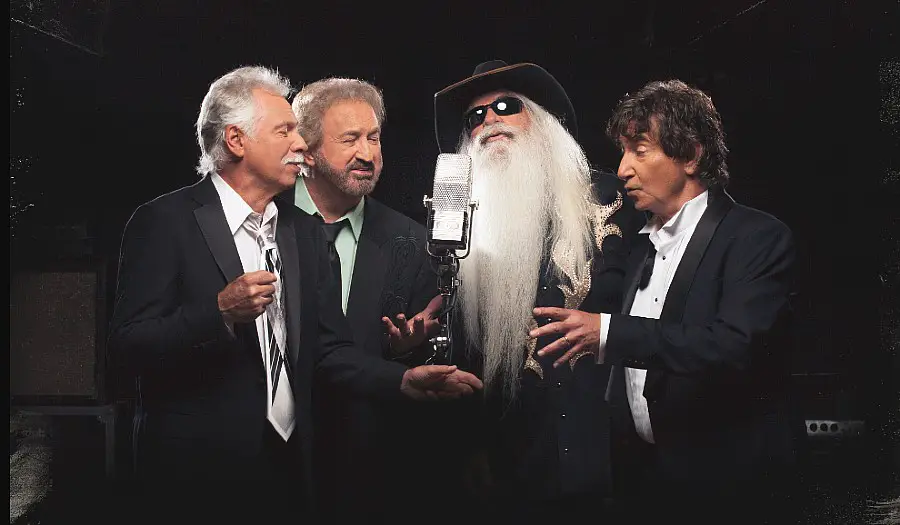 The Oak Ridge Boys have had numerous hit singles over their career, which has spanned more than 50 years, but none with quite as much impact as "Elvira." Released by The Oak Ridge Boys in 1981, the song, written and first recorded by Dallas Frazier, became one of The Oak Ridge Boys' biggest hits, and is still a staple in their set list, more than 40 years later.
Richard Sterban, who sings the famous bass line in "Elvira," had an inkling that the tune would be a big hit for the quartet, but even he could have never predicted the global impact the song would have.
"I think the first time we all heard 'Elvira,' we felt like it was a special song," Sterban tells Everything Nash.  "I remember sitting in Ron Chancey's office — Ron Chancey was our producer back then. He produced most of the hits on the Oak Ridge Boys. And I remember we were sitting in his office listening to demos and he said, 'Fellows, I've got something here I want to play for you guys.' And he played Dallas Frazier's version of 'Elvira,' and we all sat up and looked at each other, went, 'Wow. This may be the song we've been looking for.'
"Some of the other guys had heard the song," he continues. "It was the first time I'd ever heard it. Some of the other guys were familiar with Dallas Frazier's version, and said they had heard it before, but we all agreed immediately that this could be the song that we have been looking for."
The Oak Ridge Boys' version of "Elivra" is included on their 1981 Fancy Free album. By then well-versed in recording songs for a project, Sterban still recalls the atmosphere in the studio when they did "Elvira."
"I remember the day we recorded this song, it felt like it was a hit," Sterban recalls. "It felt like it was something very, very special. All the musicians were smiling. Everyone was having fun. 'Elvira' is that kind of a song — you can't listen to 'Elvira' or sing 'Elvira' without wanting to smile and have a good time. It's that kind of a song. So 'Elvira' was a special song. We felt very good about it after we recorded it the day of the session, but I still don't think we realized how special the song was going to be until the very first time we performed the song in person."
The 79-year-old still vividly recalls the first time The Oak Ridge Boys performed "Elivra." It was in Spokane, Washington, at The Opera House when they debuted the song, unaware of how much their entire career was about to change.
"Right in the middle of our show, we decided to try out some new songs from our new up-and-coming album," Sterban recounts. "'Elvira' was one of those songs. And when we performed 'Elvira' right in the middle of that show, people just went crazy. People stood up, they were cheering, dancing. You could tell it had a special feeling to it. And after the song was over, the applause would not die down. It kept going on and on and on. We had to encore the song three times, right in the middle of the show. Then we added it at the end of the show and had to encore there again. The rest of that west coast trip that we were on, we got a very similar reaction. So we realized then that we do have something special on our hands."
It was the crowd reaction to "Elvira" that made The Oak Ridge Boys realize the song needed to be their next single, and soon.
"We called our record label and said, 'We gotta get this thing out. We've got a monster hit on our hands,'" Sterban remembers. "And sure enough, in 1981, it was one of the biggest records of the year. And it's really, to this very day, our signature song, and even now over 40 years later, we just hit the intro of that song in our shows, and people stand up. They start dancing, they start singing along, they start smiling. And one of the most fun things for me personally, is when I get to the 'Giddy up oom poppa,' to look out in the audience and watch all the men trying to sing along with me. That's a lot of fun."
The Oak Ridge Boys will once again be part of the 2023 Country Music Cruise, which Sterban says is as fun for him as much as a country music fan as a performer.
"You get a chance to hang out with some of your favorite country artists, especially this year," Sterban boasts. "We have a very impressive list of artists that are gonna be on the cruise this year … Randy Owen, Clay Walker, Mark Chesnutt, Neal McCoy, Asleep at the Wheel. Ray Benson, by the way, has a voice almost as deep as mine. And Johnny Lee, a good friend, Jimmy Fortune. It's a very impressive list. We plan to have a great time. I can speak for all of the Oak Ridge Boys and tell you that we are looking forward to it very much. We plan to have a great time. We're gonna do our best to make it a great time."
The Country Music Cruise departs Ft. Lauderdale on the Nieuw Amsterdam on Sunday, January 22, and will make stops in St. Maarten and San Juan before returning to Florida on January 29. Find all of The Oak Ridge Boys' music, as well as their upcoming shows, by visiting their website.
An exclusive discount for cabins for the Country Music Cruise, available only for Everything Nash readers, is available here.