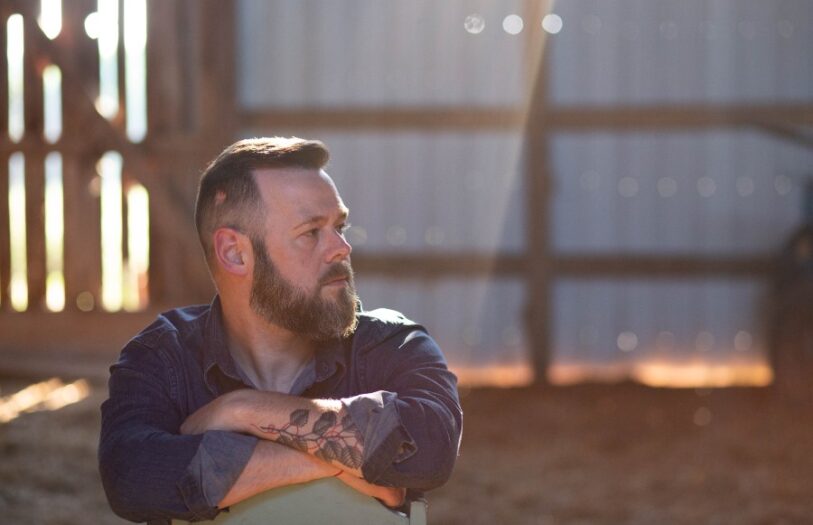 Todd Tilghman's debut album, Old Photos at Christmastime, is out! The Season 18 winner of The Voice released his five-track EP on Friday, December 10, with four Christmas classics, including "O Holy Night" and "O Come, O Come Emmanuel," along with one original song with the title track.
"There's a lot to that actually, more than it might seem on the surface," Tilghman tells Everything Nash, explaining why he made his first project a holiday one. "First of all, I am still sort of in the process of putting together what I want this whole music thing to be. It's weird, But I'll say this: I kind of reached a place musically where I'm like, I do try to take advice from people who know what they're doing. And so I don't want to just ignore that. But I got to this place where I'm like, I'm still independent. So if I'm gonna be independent, I might as well just do whatever I want to do instead of doing what I feel like I should do to get me to a certain end."
The father of eight is still figuring out what music will look like for him after winning The Voice, which is why he chose a Christmas album as his first full introduction of music to the world.
"The reason that it's a Christmas album is because a non-Christmas album, I'm still not fully 100 percent sure what that looks like," Tilghman explains. "And number two, I love Christmas, and I love Christmas music, and pretty much everything about Christmas. I understand there are parts of it that can be stressful, and I understand that it's a time of year that is tough for a lot of people, and so I try to be respectful of that, but I love it."
The title track of Old Photos at Christmastime was written by Tilghman, along with Don Poythress and Tony Wood, and inspired by Tilghman's nostalgia at his own Christmases in years gone by.
"It dawned on me that when I was a kid — really my entire childhood, but especially after my grandmother passed away, who was really special to me and I was really close with her — every Christmas I would drag out all these photo albums and just sit and look at them. I would look at all the photos from Christmas, I've got photos of me standing in front of my stocking with like an ET belt sticking up out of it, because ET had just come out. I've got photos of me and my brother standing in front of the Christmas tree crossing our light sabers, from Star Wars."
It was Tilghman's reflection of not only his childhood, but recent Christmases as well, which served as the impetus for "Old Photos at Christmastime."
"As a kid, you don't know how much stress and pressure there can be surrounding Christmastime," Tilghman acknowledges. "But even as an adult looking back, you can see that after that day and that time, all of the stress and pressure just kind of goes away, and we're just enjoying it, even though it's nuts, There's paper everywhere and toys and stuff strewn everywhere, but everyone's just enjoying it."
Now that Old Photos at Christmastime is out for the world to hear, the 43-year-old is eager to have his project in the hands of his loyal fans.
"I'm really excited about it … I feel like did a really good job," Tilghman says. "I think, especially that song. I think it's reaching people, and I think it's mattering to people. And so, in this moment, I'm probably more excited than I am nervous, just because of the response that I've gotten  from all the songs, but especially the original one."
Old Photos at Christmastime is available for purchase here. Find all of Tilghman's music, as well as his upcoming shows, by visiting his website.