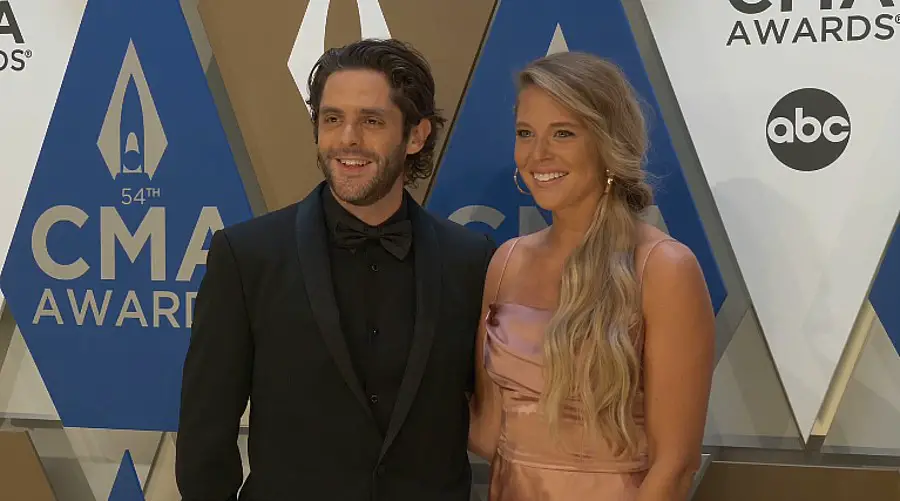 Thomas Rhett and Lauren Akins will host this year's CMA Country Christmas! The couple announced the news during a virtual appearance on Good Morning America.
"My wife and I are going to be hosting CMA Country Christmas, which will be on November 30 this year," Thomas revealed. "We can't wait for you all to get to watch that, and get in the holiday spirit with us."
It's fitting that the parents of three are hosting CMA Country Christmas, since Thomas admits they love everything about the holiday season.
"We go straight from Halloween to Christmas, pretty much, " Thomas said. "We've even had Halloween decorations up inside and Christmas lights outside."
"I feel like this year, everyone's needed things to celebrate and look forward to, and so it was like, the second Halloween was over, we started — I started — decorating for Christmas," Lauren added.
Lauren also got to present an award at the recent 2020 CMA Awards, handing the New Artist of the Year trophy to Morgan Wallen. After years of gladly watching her famous husband be the center of attention, she acknowledges it is a bit odd to have the focus be on her.
"It's been a lot of firsts happening this year, and everyone's been really awesome to work with," Lauren said. "I'm excited and pretty nervous."
"She's a natural," boasted her proud husband.
Thomas also opened up about his new song, "What's Your Country Song," which he wrote with Jesse Frasure, Ashley Gorley, Parker Welling and his own father, Rhett Akins.
"It's really just a song about how everybody's got that one song that really just takes them back to a moment in time," shared the singer. "The entire song is flooded with country song titles from the '80s and the '90s to now … I'm so glad it's out. So glad to have new music out there. It's been one of my favorite songs that I've gotten to record. I'm really excited about it."