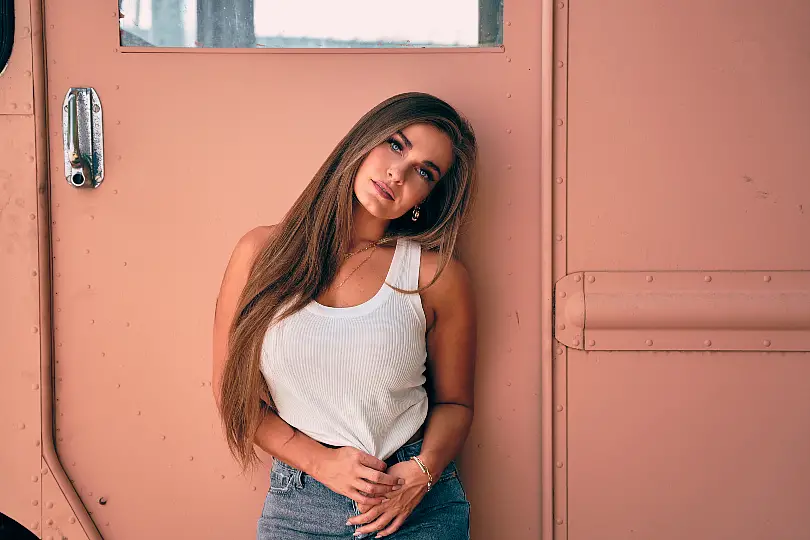 Tiffany Woys is giving Everything Nash readers an exclusive first look at the acoustic performance of "About Love." The song, written by Jason Saenz, Sara Haze and Sam Ellis, is from Woy's forthcoming All About Love EP, out on Friday, March 18. Woys takes a new spin on "About Love" with the stunning acoustic performance, putting an intimate and ethereal spin on the positive tune.
"This song was just so much fun. It's kind of that top down, windows down, let your hair blow in the wind," Woys explains of the song. "Everything about this EP is all about love. That's why I named this EP All About Love. It's about finding love, and how you can't be scared to do it. You just gotta go for it, even if it's gonna end poorly. It's about trying to describe falling in love, because falling in love to me is so hard to describe, because it's a feeling. It's not words. This song is trying to describe falling in love with using various descriptions of how it could feel."
Woys, who is engaged to Jeff Siddiqi and planning to be married later this year, says love is her favorite subject to sing about, now more than ever.
"I always love singing about love," Woys tells Everything Nash about her new single. "That's the thing that I love the most. I like the bad, the ugly, the good, all of it. And that's what life is about. Life's about love. And I think frankly, we all need a little bit more of it. So to me, it's the best thing to put out into the world is just sing about things that everyone is going through and love."
The "About Love" video was shot in downtown Nashville, bringing Woys' vision of the song to life.
"The 'About Love' music video was so much fun," Woys recalls. "I always have these crazy concepts that my director and friend Robert [Chavers] always makes come to life. And this time, I said I wanted to be on an empty Broadway, and that's probably no easy task. So we got there at like 4:30 in the morning, and it was so much fun. Alex, who is in the video with me, was so easy to be around all day. It was kind of showing this moment of a first kind of catching feelings, falling in love, love at first sight, almost, and going on a joyride through the night until the sun comes up."
Find all of Woys' music, and order All About Love, at TiffanyWoys.com.
Photo Credit: Courtesy of Monarch Publicity / Robert Chavers