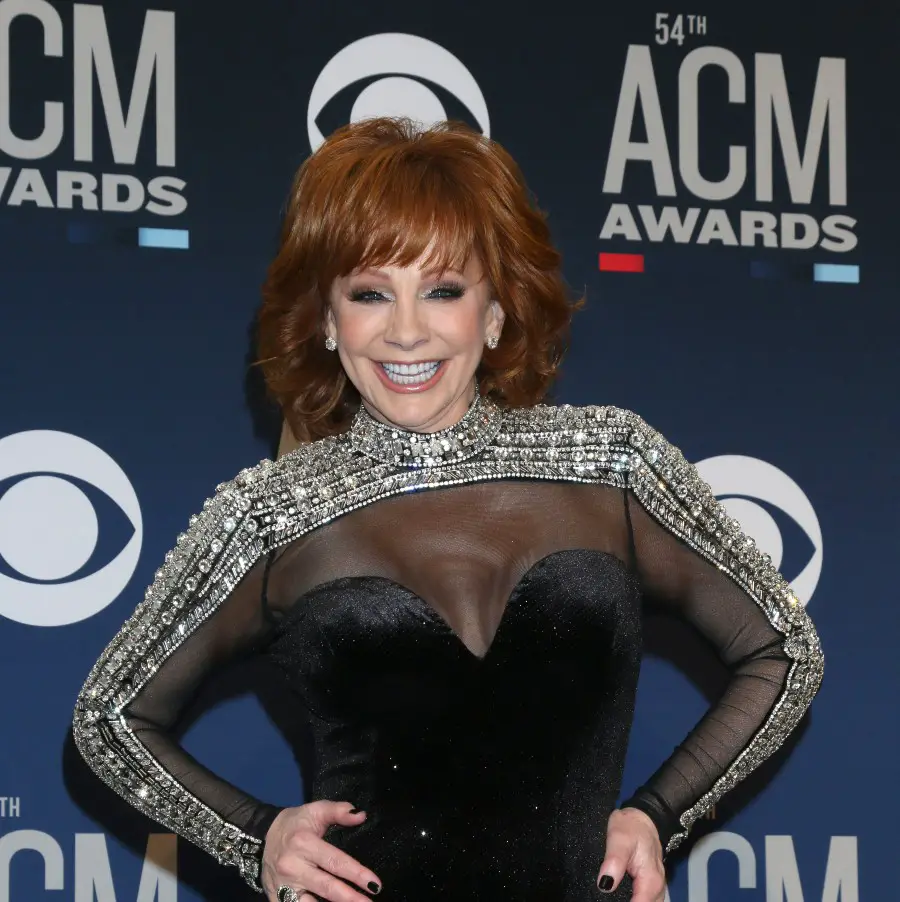 Reba McEntire is living the good life, and she knows it. The Oklahoma native is back on the road, on her Reba: Live in Concert Tour, accompanied by her boyfriend, actor Rex Linn, whom she has been dating since 2020. It's a chapter in her life that she wasn't sure would come, which is why she is more grateful than ever for all that she has now — and determined to use all of it for good.
"I'm happier than I've been in so long, and I thank God every day for that blessing," McEntire tells the Chicago Sun-Times. "To have this joy and fun and appreciation and thankfulness, it's just overpowering. It's more, sometimes, than I can comprehend. So, I always pray, 'Holy Spirit, walk for me, talk for me, speak for me, sing for me. And if there's anybody in the audience that needs You, let me be the conduit.' I take that job very seriously."
McEntire postponed her current tour not once but twice. So now that she is back touring, and getting to interact with her fans night after night, she is making sure to give them an experience they will never, ever forget.
"It's a big victory that we are doing things that we haven't been able to do in a while," McEntire maintains "When I went back to doing concerts, I just wanted to stay out there with the audience, but I know the audience loves the theatrical aspect of it. So now we are back to doing a bunch of clothing changes throughout the show."
McEntire has been performing, quite literally, for her entire adult life. But in spite of her longevity and experience, she is still blown away by how responsive the large, multi-generational crowd is, night after night.
"They're just amazing," the 66-year-old boasts. "[These audiences are] just bigger and better than I ever could have dreamed … There are kids in the audience that look to be 11 or 12 years old. I have to say thanks to their mothers and their grandmothers for letting them listen to my music. There is one part of the show where I ask, 'For how many of y'all is this your first Reba concert?' and it sounds like it's 90 percent of the crowd. I'm ecstatic that they're coming out to see me."
The Country Music Hall of Fame member might have decades of success to her credit, but she still soaks up each accomplishment and accolade like it's her first.
"Everybody wants to be loved and accepted," McEntire reflects. "Every mama wants to feel needed, but to put on a concert and get that kind of reception after doing it as long as I have is just incredible. I mean, I signed with Polygram Mercury [Records] in October of 1975."
Professional success aside, McEntire is also thriving in her relationship with Linn, especially after enduring her heartache. McEntire and Narvel Blackstock, her manager and husband of 26 years, split in 2015. In the immediate aftermath, McEntire said the divorce was not something she wanted, and she was heartbroken to see her marriage end. But now, she feels grateful for another chance at love, especially with someone like Linn.
"Rex is loving being out on the road with us," McEntire insists. "Rex is our ambassador. He goes to the opening acts' dressing room and talks to them and gets to know them and their band. Then, he goes over to visit with my band and pumps them up while I'm getting ready."
McEntire's My Chains Are Gone: Hymns and Gospel Favorites CD and DVD will be released on March 25. The 12-track record includes some of McEntire's favorite hymns, and features several guest artists, including Trisha Yearwood and Kelly Clarkson on "Softly and Tenderly," and The Isaacs on both a medley of "In the Garden" and "Wonderful Peace," as well as on "It Is Well With My Soul." Lauren Daigle also joins McEntire for the CD version of My Chains Are Gone, for an acoustic version of "Back to God." Pre-order is available here.
Find all of McEntire's tour dates at Reba.com.