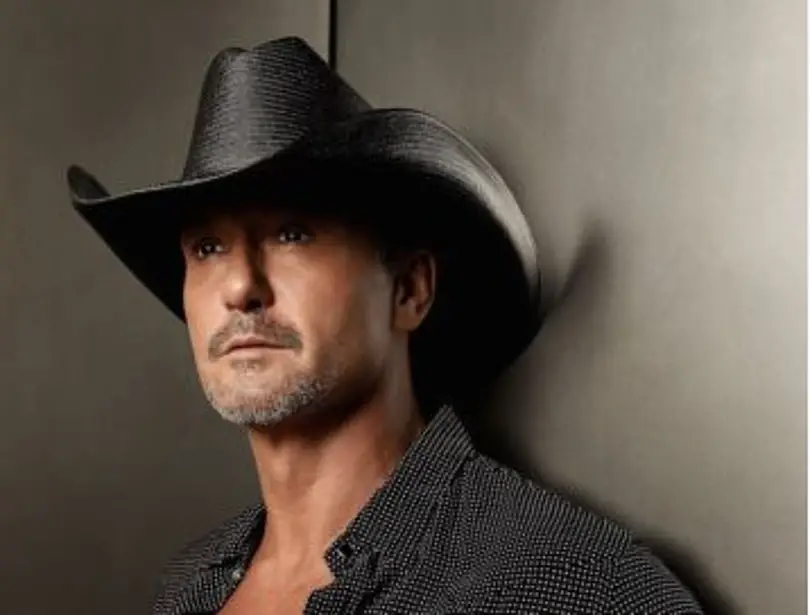 Tim McGraw is working on a new album! The 55-year-old, whose last studio album, Here on Earth, was released in 2020, says he is hard at work on his next set of tunes, although he is unsure when it will be ready to share with his fans.
"I'm in the middle of it," McGraw revealed on Country Countdown USA. "I've probably mixed eight so far, and will record a few more soon. I'm always looking to beat what I did last time. I'm sure we'll have something off the new album here before too long. I don't know when the album will drop."
Of course, McGraw didn't have much time to work on new music while he and his wife,  Faith Hill, filmed the first season of 1883. The father of three says they both poured their heart and soul into their roles as James and Margaret Dutton, including doing the very-challenging stunts in some of the scenes required.
"We did over 90 percent of them," McGraw boasted. While they will reprise their roles for the second season of 1883, neither McGraw nor Hill will star in the newly-announced 1883 sequel.
"They changed the title to 1923 and it'll be Harrison Ford and Helen Mirren," McGraw said. "Faith and I want 1883 to live in its own world. We thought it was such a special project, we don't want to water it down. We want it to stay in that world. We were so proud of the show and so proud of the characters, we don't want to take anything away from 1883."
McGraw is currently enjoying a Top 5 hit with "7500 OBO," which might be his final single from Here on Earth. The video for the song stars his youngest daughter, Audrey, making it one of his favorite videos he has ever made.
"I've done a lot of videos in my career, but this is pretty cool," McGraw explained last year. "When the idea for this video came in for '7500 OBO,' instead of it being  a story about a guy and his truck, we made it a story about a teenage girl and her truck."
"When the treatment came in, they really wanted my youngest daughter, Audrey, who's 19, because they had seen photos of Audrey, who does some modeling and stuff," he continued. "First of all I asked the boss, my wife, and then I asked Audrey, after Faith approved. That was one of the coolest things I'd done, is work with her in the video, and just watch her perform. and watch her act. My girls are the light of my life. They're the sweetest things in the world, and I'm just so proud of her."