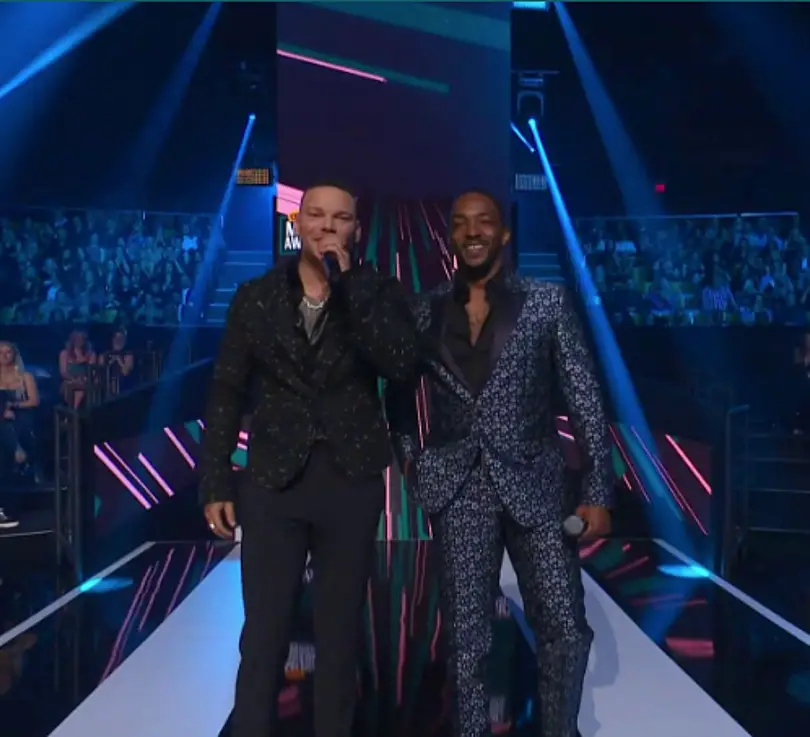 Kane Brown accepted a last-minute invitation to host the 2022 CMT Music Awards with actor Anthony Mackie, after the show's original co-host, Kelsea Ballerini, revealed she had contracted COVID-19. Brown, who hosted the CMT Music Awards the last two years, was on the road when he got the phone call to pitch in.
"The day before yesterday, while I was in Pennsylvania, we had to rush back and then pulled up and rehearsed, yesterday," Brown revealed on CBS Mornings. "It was cool. I'm excited. It's very interesting how we got it set up with Kelsea. I'm just so excited to get to do it again. I was honestly kind of bummed when I found out that you can only do it two years in a row and then they pass it on to somebody else. So, I'm glad I get to come back and do it."
Ballerini is glad she still gets to participate in the star-studded night, even if it isn't in-person as planned.
"I'm feeling much better. I'm more bummed than anything," Ballerini said. "Luckily I'm physically feeling okay at this point. Just a bit of a broken heart."
Brown led the list of CMT Music Awards nominees with four nods, including one for the night's highest honor, Video of the Year, with "One Mississippi."
"I'm just really excited because this is the one that fans get to participate in," Brown said. "Regardless, I'm excited that I'm up with some amazing artists and friends of mine. I'm just excited for the fans, they get to see what happens, and I'm excited to get to see what happens."
Ballerini was nominated for a total of three CMT Music Awards, including for Collaborative Video fo the Year, for "Half of my Hometown" with Kenny Chesney. Regardless of if she wins any awards, the Tennessee native says she is honored to be included in the list of nominees.
"This show honors what the fans want to hear, and it honors the videos that tell the story of the song," Ballerini says. "So to me it's really the full picture of what country music's about, and what country music's about right now — what it looks like and what it feels like this year. I think that's really special."
Ballerini shared the news that she had COVID-19 on social media.
"All right friends, I have some bad news, and I have some good news," Ballerini began. "The bad news is that, a couple of days ago, I tested positive for COVID, and the CMT Awards are tonight. So unfortunately, I cannot be there in person anymore, and I am devastated. I am gutted. But the good news is I am feeling a lot better. A lot better. And the incredible CMT family and my team have brought part of the CMT set to my house, to my little bubble, and set it up so I can still host and perform.
"It is certainly not what we expected or planned for, but we are doing our damn best," she continued. "So I will still see you tonight on the awards, and let's make some lemonade together out of these very bitter lemons. I'm so sorry. But have so much fun for me, through going to the show. And if you're watching on TV, I will see you there."
Photo Credit: Courtesy of CMT