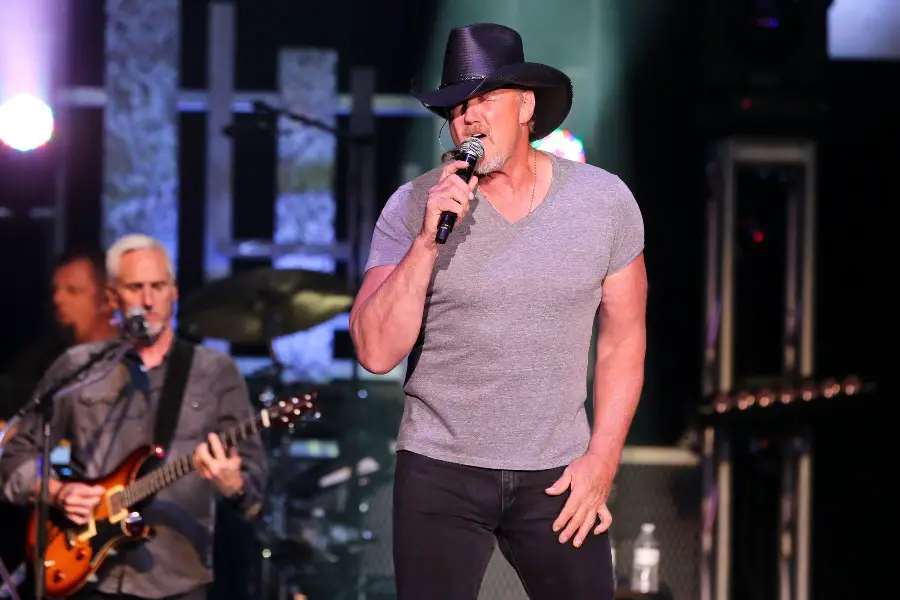 Trace Adkins had an unexpected No. 1 hit with "You're Gonna Miss This" in 2008, from his American Man: Greatest Hits Volume II album. Although the song, written by Ashley Gorley and Lee Thomas Miller, became one of the biggest hits of his career, earning multi-platinum status and landing in the Top 20 on the Billboard Hot 100 chart as well, it was a song that Adkins was vehemently opposed to recording, at least at first.
"I was doing this album with Frank [Rogers], and we had a bunch of great songs, so it kind of got pushed to the back," Adkins reveals on Circle Presents: Country Sessions. "I just thought, 'It's so sappy. It's such a sappy song.' We got to the very end of the whole process, We were running out of time. And so I had this one song left to sing. Frank goes, 'Okay man, we've got like ten minutes. Would you just go in there and sing this song a couple of times? We have a vocal track. Who knows, you might do something good.'"
Rogers convinced Adkins to record "You're Gonna Miss This," but barely, with Adkins making it clear that he wanted nothing to do with the sentimental tune.
"I got two passes of the song, and that was it, because he was determined the song was not going to make the record," Rogers recalls. "And then it came time to mix the record. I went and mixed it, and he said, 'Why are you mixing that song?' I said, 'Just give it a shot.' … That song, from the first time I heard it, it was just so unique. It was so great. It was so well put together. With Trace, he had all these daughters, and he was going through that. It just to me made sense that that one could be a special song for him."
In hindsight, Adkins acknowledges that Rogers was right all along, an insight he didn't have until after the song was completed.
"Producers, the good ones, that take the time to get to know the artists that they're working with, on a deeper level than just X's and O's, they can have an insight into that artist that maybe the artist doesn't even recognize at the time," concedes the singer. "Frank knows me well enough to know, 'This may not be something that you would have written, but it's something that you need to think about and listen to this and just consider it.'"
Not only did "You're Gonna Miss This" become one of the biggest-selling hits of Adkins' career, it also won numerous awards and accolades, including an ACM Award for Single of the Year.
"This was a song that I literally threw away," Adkins says with a laugh. "I just threw it away. I went in and did two runs at it, and told Frank, 'I hope you got what you need, because I'm not going to sing it anymore. I got something else to do, and that was it. And it ended up being Song of the Year."
Adkins' latest album, The Way I Wanna Go, is out now. The 25-track project, which includes collaborations with Melissa Etheridge, Pitbull, Blake Shelton, Luke Bryan, Keb' Mo', Stevie Wonder and Snoop Dogg, was Adkins' way of celebrating his longevity in country music.
"I wanted to do a 25th-anniversary record," Adkins tells Everything Nash. "I could not let my 25th anniversary go by and not be commemorate it somehow. That's a milestone in my life and I wasn't going to let it go by unnoticed, if for nobody else other than my family, I wasn't going to let that go. I'm gonna make you listen to this."
Find music and tour dates at TraceAdkins.com.